Tech Mahindra 5G the NXt of Manufacturing Summit – MWC20 Barcelona
5G the NXt of Manufacturing Summit provides the prime focus on manufacturing at MWC20. 5G manufacturing is set to introduce significant advances in creating more efficient, secure and sustainable factories and introducing industrial automation at scale. 5G in manufacturing enables new concepts and control across the whole ecosystem from supply chain, through production management to warehousing and logistics. Hear from senior level manufacturing and operator executives on how they are using 5G today to create more flexible factories and more efficient supply chains around the world. Speakers include senior executives from Tech Mahindra, Alsthom, KPN and Cisco.
Agenda
Time
Session
Speaker
10:30 – 10:40
Welcome & Introduction
Neill Young, Emerging Enablers Lead, GSMA
10:40 – 11:00
Keynote 1 – 5G and IoT Tranforming Manufacturing
CP Gurnani, CEO & Managing Director, Tech Mahindra
11:00 – 11:20
Keynote 2 – 5G Importance to Manufacturing
To be announced
11:20 – 11:40
Keynote 3 – CSP EXEC
To be announced
5G NxT of Manufacturing Business Opportunity
11:40 – 11:50
Manufacturing Business & Market Opportunity
To be announced
11:50 – 12:20
Panel Session on Business Opportunity
To be announced
12:20 – 12:30
Closing Remarks and Thanks
12:30 – 13:30
Lunch (Crew Break)
5G NXt of Manufacturing – Are the Enterprises Ready?
13:30 – 13:50
Keynote – The Road to Smart Manufacturing- Turning Manufacturing Digital
To be announced
13:50 – 14:05
Last Mile to the 5G Factory and Connected Industry 4.0
To be announced
14:05 – 14:20
Building the Digital Factory with 5G
To be announced
14:20 – 14:35
Closing Remarks and Thanks
5G- Business or Buzz? Unlocking the Potential of 5G for Manufacturers
14:35 – 14:50
The 5G Opportunity for Operators
To be announced
14:50 – 15:20
Panel Session: Unlocking the 5G Potential
To be announced
15:20 – 15:30
Closing Remarks and Thanks
15:30 – 16:00
Break (Crew Break)
5G Future a Matter of Fact
16:00 – 16:10
Transforming Manufacturing – Factory of the Future
To be announced
16:10 – 16:30
Who is the real winner in Europe?
To be announced
16:30 – 17:15
Panel Session: What's next for smart manufacturing in the 5G Era? What's needed to scale market & maximise benefits
Moderator: Neill Young, Emerging Enablers Lead, GSMA
17:15 – 17:20
Summary & Wrap Up
17:20 – 19:00
Networking Reception & Tech Mahindra Manufacturing Pavilion Exhibition
Speakers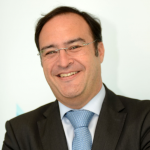 Andres Escribano
New IoT Connectivity Director, Telefonica
Andres Escribano
Andres Escribano is the New IoT Connectivity Director. He takes the responsibility to develop the business around 5G IoT and Industry 4.0 areas. He was responsible for the Global IoT connectivity business in Telefonica during the last 4 years (more de 18 Mll IoT lines around world), including the Telefonica IoT Platform Global Product Area, IoT Parnerts Program & Business Technology Area) and part of the IoT World Alliance Executive Board, GSMA Connecting Living Group.
For 8 years, he implemented and managed the ERP/PDM information systems in EADS (Airbus), Later he joined Telefonica in 1999 where he was responsible for IT and Security in Quam Switzerland (TEF Mobile Operations). For 8 years in different organizations in Telefonica (Spain and Latam Corporation & MNCs) managed the Presales Area in the Corporate/Multinationals Segment, focus in the B2B Business.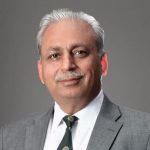 C. P. Gurnani
CEO & Managing Director, Tech Mahindra
C. P. Gurnani
CP Gurnani (popularly known as 'CP' within his peer group), is the Chief Executive Officer and Managing Director of Tech Mahindra.
An accomplished business leader with extensive experience in international business development, start-ups and turnarounds, joint ventures, mergers and acquisitions, CP led Tech Mahindra's transformation journey, and one of the biggest turnarounds of Indian Corporate History – the acquisition and merger of Satyam.
In a career spanning 36+ years, CP has held several leading positions with Hewlett Packard Ltd, Perot Systems (India) Ltd. and HCL Corporation Ltd. CP has also served as a Chairman of NASSCOM for the year 2016-2017. An outstanding people manager, CP has an entrepreneurial style of management that is a blend of enthusiasm and dynamism. He has always focused on people's strength to bring out the best in them. 'Work hard and play hard' is his motto and he applies it to all aspects of his life with complete passion.
A chemical engineering graduate from the National Institute of Technology, Rourkela, he is a distinguished and active alumnus of the Institute. CP has also been felicitated with an honorary Doctorate degree by Veer Surendra Sai University of Technology. He also serves as active Chairman of IIM Nagpur.
CP has been chosen as the Ernst and Young 'Entrepreneur of the Year [Manager]', CNBC Asia's 'India Business Leader of the Year', Dataquest 'IT person of the Year' – in 2013 and Business Standard 'CEO of the Year' in 2014. He was also awarded the 'Best CEO of the Year' at the Forbes India Leadership Awards held in 2015. Recent addition to the bucket was 'Asia One Global Indian of the Year – Technology' in 2016. CP was also listed among the top 100 global CEOs as part of The Wall Street Journal CEO Council 2016.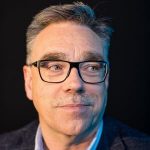 Jacob Groote
Jacob joined the KPN Research lab in 1990, after finishing his PhD in Physics. The main topics of his research at KPN were how to use Artificial Intelligence tools within network and service management as well as how to improve billing and customer services within KPN.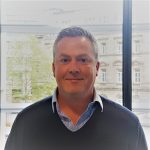 Neill Young
IoT Emerging Enablers Lead, GSMA
Neill Young
Neill is IoT Enablers Lead in the IoT team at the GSMA, working with mobile operators on Edge Computing for IoT. He has over 10 years experience of building M2M and IoT services and ecosystems within both mobile network operators and vertical service providers. Neill has been involved with programmes such as the rollout of smart meters and smart grid, introduction of connectivity for the first connected cars and development of several IoT strategies and standards for the home and city. He has most recently worked with mobile operators on building their smart city strategies. As IoT Enablers Lead, Neill is currently working on new roles for mobile operators in the IoT market that are being enabled by emerging technologies such as Edge Computing, Distributed Ledger and 5G.
Phil Skipper
Head of IoT strategy and M&A, Vodafone
Phil Skipper
Phil joined Vodafone in 2013 having amassed a wealth of experience across a broad range of industries including defence, FMCG, manufacturing and media.
A long-term exponent of telemetry, M2M and IoT and having worked within many of the world's leading enterprises including Siemens, Landis & Gyr and Mars in the US, UK, Switzerland and New Zealand, Phil brings a highly strategic view of this rapidly changing and evolving market.
"IoT is central to the current wave of digitisation and as Head of Strategy there are few other markets where there is so much opportunity to drive value for our customers. The potential for IoT to revolutionise the way we do business but also to have a positive social impact is a really exciting prospect and I am particularly excited to play a key role in driving this future direction"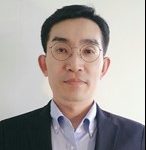 YongGyoo Lee
Senior Vice President & Head of 5G Platform Development, KT
YongGyoo Lee
As a Senior Vice President and the head of 5G Platform Development Unit in KT, Yong Gyoo Lee is in charge of cultivating KT's 5G B2B platform business and AI/Digital Transformation Convergence Platform. In detail, He orchestrates development of 5G AI MEC(Mobile Edge Computing) platform services, AI/Digital Transformation Convergence Platform for major industries based on 5G and coordination of cooperative partnership to support those platform services.
In 2018, serving as the head of 5G Business Unit, he devoted himself on KT becoming Global No.1 5G operator by developing differentiated 5G business, as well as, solidifying the entire 5G business structure and system through acquisition of 5G service frequency, development of 5G system& devices , and deployment of those 5G technology. Furthermore, from 2015, he has successfully coordinated and deployed the world's first KT 5G services in 2018 Winter Olympic Games, grasping the Global 5G leadership for KT.
Working abroad, he has been an Alternate Board Member of NGMN (www.ngmn.org), 5G Board Core Committee member since 2015 and the Vice chair of TTA (www.tta.or.kr ) STC3 ( 5G Standard ) working group since 2018.
Moreover, He has made essential contribution in the event of KT winning the "Outstanding LTE Contribution and Outstanding Overall Mobile Technology-The CTO's choice" at GSMA MWC GLOMO Award 2014, held in Barcelona and "Most Significant Development for Commercial LTE Network by an Operator" at LTE Award 2012.