Connected Skies Webinar
7pm UK / 2pm ET US / 11am PT US
Join Industry Insights Webinars for the "Connected Skies" webinar on Thursday May 26, 2022 to hear from our panel of experts and industry leaders as we turn our eyes to the skies. The live virtual event will discuss the drivers and challenges for drones and satcom, with a look at the technologies used and forward-looking thoughts for the future of advanced air mobility.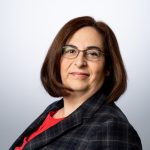 Barbara Pareglio
Executive Director for Advanced Air Mobility and IoT Technical Director, GSMA
Barbara has over 20 years of experience in the mobile industry. She has been part of the GSMA Internet of Things Programme since 2014, working on several aspects of the IoT such as the development of the Mobile IoT Technologies (LTE-M, NB-IoT), GSMA IoT Security Guidelines, GSMA Drone Interest Group and looking at a variety of emerging technologies, like machine learning/AI and edge computing, for helping the mobile industry to create trusted solutions for the IoT. Before joining the GSMA Barbara worked in R&D in several areas of telecommunications, including Intelligent Networks, IMS, Service Enabling and M2M/IoT. She also participates in and actively contributed to several standards.
The GSMA Internet of Things helps operators to fully realise the opportunity in the IoT, operators must deliver secure IoT networks as well as scalable value added data services for the world's industry and machines beyond connectivity. This is to be achieved by industry collaboration, appropriate regulation, optimising networks as well as developing key enablers to support the growth of IoT.