GSMA Foundry at MWC Barcelona 2022
The GSMA Foundry is a successful initiative where GSMA members and industry players come together to rapidly develop real-world solutions to industry challenges, nurture new ideas through initial commercial trials and scale proven solutions at a regional and global level to forge our digital future.
Submit your ideas to become part of the next great GSMA Foundry project!
The GSMA Foundry Forge – Industry City
09:00 – 19:00 | Monday 28 February – Thursday 3 March | Industry City, Hall 4
The GSMA Foundry Forge is the go-to place at MWC Barcelona for cross-industry collaboration and making positive change happen. Here you can discover the latest GSMA Foundry projects, bringing together GSMA members and key ecosystem partners to solve real-world industry challenges.
Highlights:
Autonomous Drone Flight with AI Analytics
This demo features a vertical drone flight which includes autonomous take-off & landing, and multiple object or person recognitions using AI, whilst live streaming the result to a screen over a 5G network. This showcases the GSMA Foundry project '5G Autonomous Drones' by Telefonica and Unmanned Life.
Unlocking the Full Potential of 5G: GSMA 5G Transformation Hub and 5G mmWave
Launched at MWC Barcelona, this is a new 5G innovation portal showcasing many of the world's finest 5G solutions sharing best practice around the globe. The GSMA 5G mmWave Accelerator Initiative will showcase 5G mmWave technology features, benefits and latest industry activity.
GSMA Foundry Fire Screen
Attendees can learn about a vast array of successful GSMA Foundry projects delivered by global MNOs and industry partners.
These will include:
GSMA Foundry Networking Reception – Let's Shape the Future Together!
17:30 – 19:00 | Tuesday 1 March | Industry City Networking Lounge, Hall 4
Join us at MWC Barcelona 2022 to celebrate the success to date of the GSMA Foundry. This networking drinks reception, open to all, will be a great opportunity to socialise with your peers, make new contacts, and learn about this growing initiative and its key projects to date. Here you can meet the GSMA Foundry project members, and you may even want to submit your ideas and become part of the next GSMA Foundry project!
GSMA Foundry in the Conference Agenda
5G mmWave Summit
10:00-12:00 | Wednesday 2 March| CC3.13, Upper Floor, Hall 3
5G mmWave provides maximum data capacity at very high speeds and very low latency – facilitating reliable and high-quality connectivity in busy areas and for high-traffic scenarios, such as densely populated residential areas, public transport hubs, large entertainment venues and fixed wireless access (FWA) in homes.
Join this summit to understand how 5G mmWave is unlocking the full potential of 5G and hear from leading industry experts about 5G mmWave progress to date and global outlook, the economics of 5G mmWave, key applications and early adopter markets, real-life use cases, challenges, priorities and next steps
Aviation Summit – Discovering Commercial Opportunities in Advanced Air Mobility
10:30 – 11:15 | Thursday 3 March| Industry City Stage, Hall 4
This session features the GSMA Foundry project '5G Autonomous Drones' with Telefonica and Unmanned Life
The aviation industry is entering a completely new era, with drones at the heart of this, bringing in opportunity and innovation. However, for drones to deliver scalable and sustainable commercial solutions, they need to be autonomous and operate beyond visual line of sight (BVLOS). Once this is achieved then the commercial potential is immense. SESAR suggests a European demand of a valuation in excess of EUR 10 billion annually by 2035 and over EUR 15 billion annually by 2050 (for governments and commercial businesses). And Drone Industry Insights indicates that drone application in the energy sector is expected to reach a global market value of up to US$6 billion by 2025.
Join this informative session at MWC22 to find out how to turn this commercial potential into successful real-world solutions. Senior MNOs and specialist service providers will bring their own unique perspectives on the challenges faced in new business development and offer advice for successful cross-industry collaboration.
Time
Topic
Speaker
10:30
Welcome and Introduction
Barbara Pareglio, Executive Director for Advanced Air Mobility and IoT Technical Director GSMA
10:35
MNO roles in the Digitization of Airspace Management for UAS
Francesca Stockton, Product Manager, Aviation Connectivity Services Skyward, a Verizon Company
10:43
5G Autonomous Drones
Jorge Muñoz, Vice President for Business and Marketing, Unmanned Life, Miguel Álvaro Fernández , Drone Sales Specialist, Telefónica and Lorena Senador-Gómez Lázaro. Global Sales Director at Telefónica Ingeniería de Seguridad
10:55
Panel Discussion: Challenges faced in new business development and how cross -industry collaboration can be successful
Moderator: Svetlana Grant, Head of IoT Strategic Technology Partnerships, Vodafone

Nora Metzner, Droniq
Marc Beltran, Independent Consultant
Elena Neira, MITRE Labs
Thomas Neubauer, TEOCO

11:15
Close 
 
Speakers
Ralph Schepp
Co-Founder and COO, Droniq
Ralph Schepp is co-founder and COO of Droniq GmbH, a joint venture of DFS the German Air Navigation Service Provider and Deutsche Telekom.
The 45-year-old is driven to create the future by bridging upcoming next generation technology to the market. Prior to Droniq, Ralph led the units Spectrum and Technology Strategy for the Deutsche Telekom Group as Vice President for technology innovations. 2016 Ralph initiated the project "Connected Drones" which was the origin of today's Droniq.
As COO of Droniq Ralph continues to pursue his passion for identifying, developing and bringing disruptive ideas to market. At Droniq he leads technology, IT and product development. In this role Ralph benefits from over 15 years of professional experience in information and communication technology (ICT).
Ralph holds a Master in business administration of Lüneburg university. He has three kids.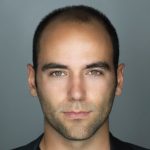 Marc Beltran
CEO & co-Founder , EU Drone Port™
Marc Beltran is a the CEO & co-Founder of the EU Drone Port™. He holds a BSc & MSc in Aerospace Engineering. He has co-founded several drone businesses, worked at the Canadian Center for Aerospace Research in Vancouver, and at the German Aerospace Center (DLR) in a project in cooperation with NASA.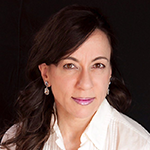 Elena M. Neira
Head of 5G Standards, MITRE
Elena Neira is Head of 5G Standards at MITRE Labs. She is responsible for technologies and strategies towards 3GPP, GSMA and other SDOs aim at demands of government sponsors and industry partners.
Elena is a recognized technology expert in the mobile communications industry and its standards, specification, and compliance groups – 3GPP, ITU, O-RAN, IETF, FCC, ARIB and GCF. Her career spans over 15 years and includes leadership, management and executive responsibilities in R&D, P&L, product design, standards development and supply-chain operations in Fortune 500 companies (Verizon, Texas Instruments, Ericsson) and in disruptive startups in the mobile communications space (Vanu Inc). Her in-depth expertise in telecom platforms, combined with her background in large-scale high-availability carrier-grade radio, core, and services, provide her a unique acumen to transform, lead and influence technology standards at-scale.
Elena holds a Dual Master's Degree from the Massachusetts Institute of Technology, an Engineer's Degree from Universidad Politécnica de Madrid. She is an IEEE Senior Member and served in its Board of Governors as Director, and in IEEE Communications Technology News Board and Best Readings as Editor-in-Chief.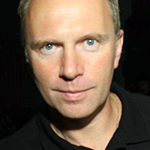 Thomas Neubauer
VP of Business Development and Innovations, TEOCO
Thomas Neubauer is VP of Business Development and Innovations at TEOCO.
He has about 20 years of experience in the management of wireless networks. Among other innovations, Thomas is a co-creator and inventor of AirborneRF, a software solution specialized for connecting cellular network operators with aviation (ATM/UTM/FIMS) systems.
On behalf of GSMA and GUTMA (Global UTM Association), Thomas is leading the "Interface for data exchange between Mobile Network Operators (MNOs) and UTM ecosystem" Work Group, focusing on global standardization of interfaces between cellular and unmanned aviation systems including 4G, 5G technologies.
He holds a Ph.D. in telecommunications engineering from the Vienna University of Technology.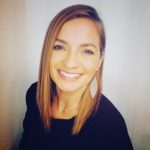 Francesca Stockton
Aviation Connectivity Product Manager, Verizon Robotics
Francesca Stockton is an influential, results-oriented technology leader in the aerial cellular technology, drone, and robotics industries. She currently works as the Aviation Connectivity Product Manager for Skyward, a Verizon company. Through her keen business acumen and  unique background, she is leading efforts on the development of cellular network services for use in the aviation industry, with a special focus on the integration of drones into the National Airspace System (NAS). As an industry expert, she supports several teams including R&D, product development, policy and regulatory, and flight testing to assess how network features, services, and configurations work in the sky.
Prior to joining Skyward, Francesca was a hardware and applications engineer in contract product design and consulting. Currently, she is focused on 5G and advanced network services, and how this transformational technology can be applied to aviation. Francesca holds a Bachelor of Science in Electrical Engineering from Washington State University. She is from the Pacific Northwest and is currently based out of Atlanta, GA.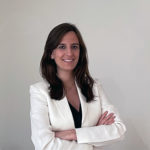 Lorena Senador-Gómez Lázaro
Global Sales Director, Telefónica Ingeniería de Seguridad
ENG:
Lorena Senador-Gómez Lázaro is a Telecommunications Engineer by UPM (Universidad Politécnica de Madrid), MBA at IE and PMP. She has developed her professional career in Telefónica for 15 years, leading several positions of responsibility in the field of integrated technological security. Today, she is also the Global Sales Director at Telefónica Ingeniería de Seguridad for Spain and Latin America.
ESP:
Lorena Senador-Gómez Lázaro es Ingeniero de Telecomunicación por la Universidad Politécnica de Madrid, MBA por el Instituto de Empresa y PMP. Ha desarrollado su carrera profesional en Telefónica durante 15 años desarrollando varios puestos de responsabilidad en el ámbito de la seguridad tecnológica integral. A día de hoy es, además de directora Comercial y Desarrollo de Negocio en Telefónica Ingeniería de Seguridad para España y Latinoamérica.
Miguel Álvaro Fernández
Drone Sales Specialist , Telefonica
Miguel Álvaro Fernández is a Telecommunication Engineer who works in Telefonica Ingeniería de Seguridad as Drone Sales Specialist. Drone pilot, robotic enthusiast and entrepreneur, Miguel has more than 10 years of experience in security and border surveillance, drone and Counter-UAS international projects.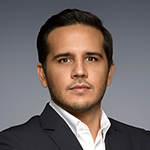 Jorge Muñoz
Vice President for Business and Marketing, Unmanned Life
Jorge is a seasoned executive with a strong international experience in Europe, US, and the Middle East with a special focus on strategic marketing in technology & innovation, enterprise business development, and branding. He has achieved successful multiple international engagements with Fortune Global 500 companies and leading public institutions and governments. Before joining Unmanned Life, Jorge was a Key Account Manager at one of the world leading advertising agencies, Saatchi & Saatchi, from Publicis Media Group, where he was responsible for key accounts across different B2C and B2B fields. He has a strong vision for marketing in the technology era which he has translated into a strong advocacy in pan-European non-profit activities dedicated to promoting diversity, entrepreneurship, and innovation in the tech ecosystem.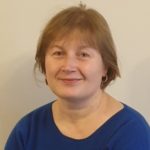 Svetlana Grant
Head of IoT Strategic Technology Partnerships, Vodafone
Svetlana Grant heads Vodafone's Partnerships and Ecosystem team in Vodafone New Platform Business Development organisation, where her team manages strategic partnerships and develops innovative technologies and platforms. Svetlana joined Vodafone in January 2020 to lead the Strategic IoT Technology Partnerships team. Her passion is innovation and new technologies for connected machines, including blockchain, drones, 5G, edge computing, machine learning and AI. Prior to joining Vodafone in January 2020, Svetlana was the Director for the GSMA IoT / Connected Living programme, where she managed Mobile IoT / Low Power Wide Area initiative, Smart City and Smart Energy market development projects.
Barbara Pareglio
Senior Technical Director, Smart Mobility Lead, GSMA
Since 2014, she has been the technical lead for several areas of focus within the GSMA such as 5G, IoT, automotive, aviation and more. Looking at how to best utilise new technologies and services from the constantly evolving mobile networks, like 5G-Advanced.
Barbara is also leading several activities and communities with the GSMA members, like the activities related to smart mobility, including automotive and advanced air mobility. The latter by leading the GSMA Drone Interest Group and the Aerial Connectivity Joint Activity, to investigate and help the mobile industry to create a trusted solution for commercial unmanned aircraft. Exploring features and capabilities of 4G and 5G needed for the aviation.
Barbara has over 20 years of experience in the mobile industry. Before joining the GSMA, Barbara worked in R&D in several areas of telecommunications. She also participates and actively contributed to, several standards.