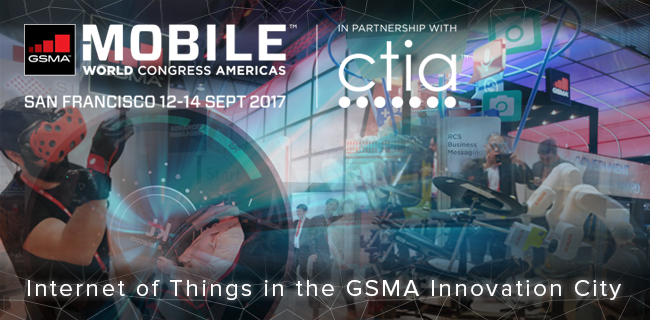 IoT in the Innovation City at MWCA
See below for a list of Internet of Things demonstrations in the GSMA Innovation City
With the nationwide launch of Mobile IoT in the USA, multiple industries in the Americas are discovering the many ways in which this new family of network technologies can fundamentally improve their services and transform everyday operations.
The GSMA Innovation City at this year's Mobile World Congress will host a variety of Mobile IoT demonstrations that will provide insight into its unrivaled ability to securely and reliably deliver low power wide area solutions. Having demonstrated its role in the 'Internet of the Seas', this inaugural event will showcase how Mobile IoT can be used in commercial drones to form part of the 'Internet of the Skies' – a rapidly unfolding area of the IoT.
Elsewhere in the event's mock urban environment, attendees will be able to discover other ways in which mobile technology is playing a crucial role in developing the IoT. Our showcase of  'Smart London' will provide insight into how mobile IoT Big Data can be used to improve air quality of the busiest and densely populated urban environments.
To assist with the deployment of IoT solutions, we will also be exhibiting the SIMbae solution, which enables any standard SIM to host and execute IoT diagnostics and applications. This creates secure basis for a standards-based IoT device architecture that immediately works with the infrastructure of all MNOs globally.
Join us from 12-14 September at Mobile World Congress Americas and discover how mobile network technology is realising the IoT, making everyday life, safer, easier and rich with new experiences.
See below for a list of Internet of Things demonstrations in the GSMA Innovation City:
Demonstration 
Partners
Description
Smart London – Improving London's air quality with IoT Big Data
GSMA
A smarter city is a cleaner city and air quality can be improved by monitoring multiple key metrics such as weather, pollution levels, vehicle mobility, traffic volumes and industrial activity. IoT Big Data supports these solutions and can be scaled more effectively through data harmonisation achieved through common mobile data specifications.
SIMbae: Unleashing the Power of the Standard SIM
Able Device Inc
SIMbae enables any standard SIM to host and execute IoT diagnostics and applications. This creates a very secure basis for a standards based IoT device architecture that immediately works with the infrastructure of all MNOs globally.
Internet of the skies
Commercial drones are set to change the world providing flexible delivery services, building inspection, aerial photography and even agriculture. Mobile networks provides a trusted platform enabling the growth of drones by providing complete constant connection and secure drone identification.
Intelligent Traffic Management
Verizon
This turnkey solution empowers traffic agencies by providing them with 24/7/365 high resolution traffic data.

  

Data is collected through a configuration of wireless sensors, integrated to the existing traffic controller infrastructure and then backhauled via LTE M to a cloud hosted analytics and reporting engine.
ThingSpace IoT Platform
Verizon
Quickly go from a simple IoT prototype, to a market-leading solution. This demonstration illustrates how Verizon's ThingSpace prototype uses Verizon Cat M1 network to transmit sensor data to the ThingSpace IoT platform where it can be displayed and analyzed. From idea to prototype in minutes. Rapid development using cutting edge platform and one of the most advanced examples of this new network technology
The GSMA Innovation City is open from 09:00-17:00, 12 – 14 September, the Moscone Center, Stands S.1428 & S.1128, Mobile World Congress Americas
Back