Interview: Oi Brasil Crowdsources Internet of Things Innovation
Alberto Boaventura explains how Oi's new IoT Lab is working with developers, universities and businesses to develop smart solutions and services
Alberto Boaventura, Technology Strategy and Innovation Manager, Oi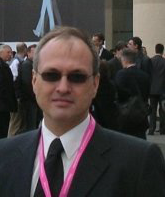 Oi, a leading telecoms operator in Brazil, has established an Internet of Things (IoT) laboratory in Rio de Janeiro to support the development of innovative solutions based on 4G technologies. Oi provides fixed, mobile and TV services to approximately 70 million customers in Brazil.
Oi established the IoT lab, which became operational in mid 2016, together with Nokia Networks to accelerate the development of the IoT ecosystem in Brazil. The two companies also created a working group to study IoT opportunities, develop joint projects and test innovative solutions, such as agribusiness, connected cars, homes, smart cities and e-health.
Alberto Boaventura, Technology Strategy and Integration Manager at Oi, says the new lab provides a comprehensive test environment for existing networks and services, as well as for future technologies. The Rio de Janeiro facility is the first reference laboratory in Latin America supporting the development of the new low power, wide area technology Narrowband-IoT (NB-IoT) and evolved Machine Type Communications (MTC), he adds.
Alberto Boaventura says Oi see the IoT as a huge opportunity, particularly for telecoms operators with both mobile and fixed assets. "The IoT will bring great opportunities for telecom operators for value-added services, mobile connectivity and, fundamentally, fixed services, which are forecast to account for around 70% (including fixed and short range connections) of the total objects connected in 2025," he says. "Oi is at the centre of the IoT because it has a mobile operation and is a fixed operator incumbent with a presence in 90% of the municipalities of Brazil. And, of the 5,570 Brazilian cities, Oi has fixed broadband connectivity in 4,703 cities."
New technologies and business models 
At the same time, Oi recognises that realising the full potential of the IoT will require telecoms operators to make fundamental changes to both their technical architectures and their business processes. Some IoT solutions have quite extreme requirements, such as very low power usage or very dense sensor networks. "The IoT/M2M will bring huge challenges in the horizontal and vertical provision of technology, infrastructure and services," says Alberto Boaventura. He notes that connecting machines often requires new business models, new network architectures and new network requirements, together with changes in network planning, governance and service management, and fundamentally, given the number of connected objects, in the certification and validation of the solutions. "The effect of thousands of objects connected with errors and bugs in the implementation can be disastrous for a network that is shared with multiple services and users, affecting not only the services of the connected objects, but all other services," he adds.
The new IoT lab is addressing these issues by enabling the ecosystem to evaluate the impact of the IoT on different network elements (including terminals, the access network, the core network and platforms), as well as devices and applications developed by third parties in Brazil and elsewhere in Latin America. The lab can also certify new devices to be connected to the network, thereby ensuring they will function properly and reducing the risk of operational problems.
The new lab enables Oi's partners to prototype, develop, validate and demo a new solution on a platform that supports both fixed and mobile technologies. Spanning 1,000 square metres, the lab is equipped with a wide range of network infrastructure, including alpha and beta software and hardware, and is staffed by dedicated professionals that can assist the development process, says Alberto Boaventura. About half the lab is given over to equipment / racks and the other half is used for test benches and by personnel.
The lab's end-to-end infrastructure enables developers to test solutions across a variety of access technologies, transport protocols, network service platforms and business service tools (see chart).  As more NB-IoT equipment becomes available, the lab will also enable Oi's partners to test IoT solutions with this newly-standardised low power wide area technology. Moreover, the lab provides an Oi software development kit (SDK) with a set of application programming interfaces (APIs) to enable the development of customised solutions within the Oi environment.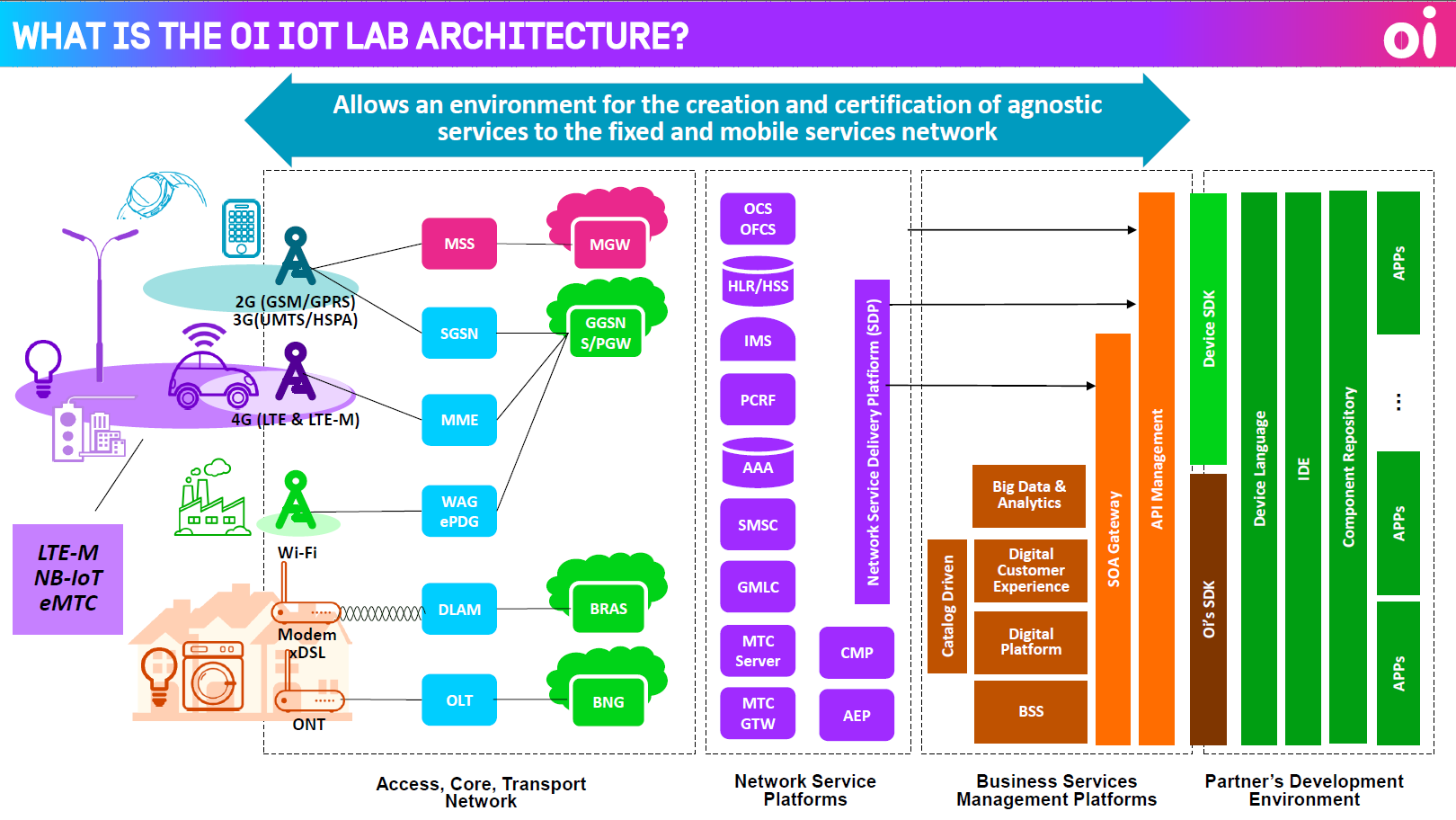 Collaboration and crowdsourcing
More broadly, Alberto Boaventura says the Rio lab is designed to bring multiple companies together to jointly develop compelling IoT solutions. The goal is to enable collaborative development by encouraging the use of open source technologies and partnerships. By opening its doors to developers, start-ups, universities and other companies, the lab is effectively crowdsourcing IoT innovations and applications for the Latin American market.  Oi provides accommodation for technicians and developers near the lab, which is located in the South Zone of Rio de Janeiro, in Copacabana, near Santos Dumont Airport.
Oi has a track record of developing innovative products and services in partnership with other companies. Developed together with Accenture and TIM Brazil, its RAN sharing solution won a GLOMO award at the GSMA Mobile World Congress in 2016.  Moreover, Oi have already launched some IoT products, such as, Oi Smart with strategic partner, which covers a range of smart building products, including a connected home monitoring system with motion sensors, door and window monitors, cameras and a control panel with biometrics. These solutions are now commercially available in Brazil.  For example, Oi charges 149 Brazilian reals (approximately US$45) a month for its "monitoring plus" solution, which includes two motion sensors, two door and window sensors, one smart button, a camera with 30-day storage capacity and the central control unit.
As more 3GPP-compatible low power wide area equipment becomes available during 2017, the Rio lab will explore a wide range of use cases for these new technologies. Alberto Boaventura says Oi plans to extend the IoT lab and further integrate it into the Brazilian marketplace.  "Our ambition is not only to expand the physical space, but also to contribute to the development of local industry, be it in the training of professionals and technological positioning, or in the creation of partnerships with universities and industry in the region," he says.
Back