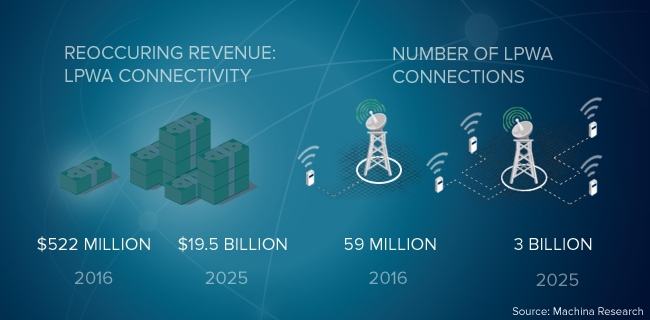 LPWA Market Forecast: Connections Will Grow by 3 Billion in Under Ten Years
The number of low power wide area (LPWA) connections is set to grow to 3 billion in 2025, up from 59 million in 2016, according to Machina Research. The latest data from the research house indicates that 2017 alone will see the addition of 83 million connections, coinciding with the commercial launch of Mobile IoT in the same year. From thereon, the number of additional LPWA connections is expected to increase each year until at least 2025.
Strongest overall growth in Asia, while Europe will lead the way in the utilities sector
Machina indicates the strongest growth will be Asia, which will account for just over 1 billion of the world's LPWA connections by 2025, up from 10 million in 2016. North America will contain the second largest number of connections, with 917 million in 2025; followed by Europe, which will have 850 million by the end of the same year.
The same research suggests that the greatest application of this technology will be in the home, with building automation, security, white goods and household information devices accounting for over a billion connections by 2025.
The utilities sector is also set to undergo a fundamental transformation of its everyday operations, with an estimated 410 million connections in 2025. Europe, with its relatively strong pan-national initiatives and standards in the utilities sector, is predicted to have a plurality of these connections, with 153 million in 2025.
Smart Cities, Connected Industry, Connected Business and Connected Health are also set to invest heavily in LPWA technologies, all of which are each expected to have well over 300 million LPWA connections by year end 2015. LPWA could have a huge impact in healthcare in North America, with the continent containing 194 million connections – well over half the global total in healthcare– in 2025.
Revenue opportunity in connectivity
The growth in connections will create huge revenue opportunities for all companies in the wider LPWA ecosystem. Those companies providing connectivity can expect a huge rise in the revenue generated from LPWA, with the overall revenue derived from connectivity predicted to increase from $522 million in 2016, to $19.5 billion in 2025.
Although it is uncertain what proportion of these connections will be according to 3GPP standards, research notes released earlier this year suggest that the LPWA market could be consolidating around licenced spectrum, following a flurry of pilots and commitments from major Operators and technology partners. Indeed, Mobile IoT now seems to have the backing of the large majority of the world's leading Operators, many having committed to the launch LPWA solutions of either EC-GSM, LTE-M or NB-IoT technologies in 2017.
Back