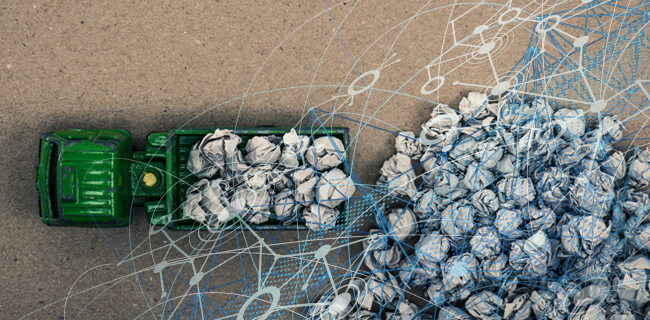 LPWA: Streamlining Waste Collection (Use Case)
Veolia harnesses the Mobile IoT to cut the number of truck journeys made to empty bins
As cities expand and the urban population grows, municipalities need to collect more and more waste. To minimize both costs and the impact on the environment, city administrations are looking to make waste collection smarter.
To that end, Veolia, the global water, waste management & energy services group, is adding connected sensors to residential bins that can signal when they need to be emptied.  The routes taken by waste collection vehicles can then be optimised accordingly. Veolia plans to connect bins using NB-IoT – one of the newly-standardised Mobile Internet of Things (IoT) technologies that can piggyback on existing cellular networks and licensed spectrum.
An early adopter of the IoT, Veolia has created an end-to-end solution that employs its own software to capture the information supplied by the connected bins, which can be configured to only send a message when they are full or to send updates once a day. That data will enable Veolia to reduce the number of trucks needed for waste collection and thereby curb greenhouse gas emissions. The sensors can also detect fires in the bins.
Although Veolia is currently using its own proprietary wireless network to connect bins, it plans to switch to NB-IoT, which uses the existing cellular infrastructure to provide low power wide area (LPWA) connectivity. Mikael Balpe, IoT Program Manager at Veolia, says NB-IoT, which is being deployed by mobile operators around the world, will benefit from economies of scale, enabling his company to lower costs and expand usage, particularly in a residential context.
Global operational efficiency gains
Veolia tested the NB-IoT bin monitoring solution in labs before demonstrating it at Mobile World Congress in Barcelona in February 2017. The next step will be to pilot the solution in the field. As it has operations across several continents, Veolia plans to run pilots in 12 different countries, in preparation for a commercial launch by the end of 2017. The pilots will enable Veolia to gauge the cost of the solution and help quantify the benefits. "If we can reduce the usage of the waste collection trucks, we are going to have operational efficiency gains," says Mikael Balpe. "And when we renew our waste contracts with municipalities, they are increasingly asking for a smart element. We need to meet that demand."
Veolia, which is looking to use Mobile IoT across a range of use cases, is working with standards body 3GPP to refine the technologies. As well as connecting bins, Veolia has also connected two million smart meters in France using its own network. "Smart water metering is one of the most challenging use cases for us, as we need a battery life of 15 years," says Mikael Balpe. "When we installed proprietary technology, we also had to use repeaters to get the necessary coverage."
At the Mobile World Congress, Veolia received first prize for NB-IoT innovators in the Mobile IoT Innovators Showcase' competition. The competition was designed to encourage the development of new and innovative LPWA solutions based on licensed Mobile IoT standards.
Watch the short interview with Mikael Balpe from Mobile World Congress 2017
Back