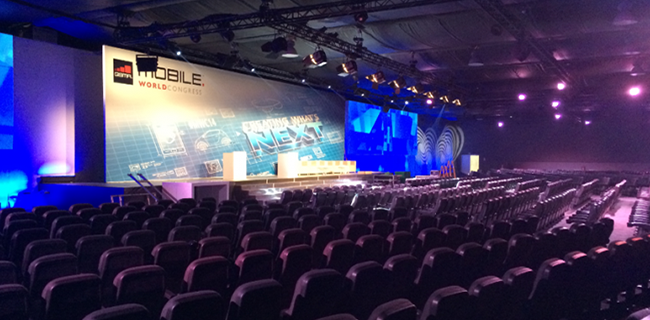 Mobile Industry will convene at MWC to discuss commercial strategies for Smart Cities, IoT Big Data and Mobile IoT
The mobile Industry's principal commercial strategies for the IoT will again be debated at this year's Mobile World Congress, following confirmation of seminars on the subjects of Smart Cities & IoT Big Data and Mobile IoT (LPWA).
The seminars, which have gained a reputation for attracting some of the most senior figures in the industry, have grown in popularity in recent years following a number of successful mobile-led IoT initiatives.
This year's seminars reflect the increasing need for operator support across three lucrative areas of the IoT, particularly the Mobile IoT which, over the last year, has been increasingly recognised as the long-term option for reliable, low power wide area networks. Ahead of its widespread commercial launch this year, the Mobile IoT seminar 'Mobile IoT: Open for Business' presents the ideal opportunity for the wider IoT industry to learn more about pilot accomplishments, discover upcoming rollouts and align commercial strategies.
One of the primary applications of this technology will be the smart cities sector, where it will be used to vastly improve water management, smart traffic, work environments and dozens of other vertical markets. These new network technologies are complementing existing operator-led smart city solutions, many of which will revealed in the GSMA's other IoT seminar 'IoT Elements: Bringing the Smart City to Life'.
Here, operators and adjacent industries will have the chance to find out how operators can now offer more advanced, wholesale and tailored support for those in the smart cities sector. Those in attendance will also benefit from understanding more about regulatory support for smart cities and operator involvement in the drone sector. The seminar will also feature new contributions operators are making to IoT Big Data, where they are Harmonising big data sets, making them fit for customers and useful for developers.
It is clear that as the IoT gathers apace, operators are becoming more important for delivering connected services. These seminars are therefore the ideal opportunity to discover how operators have built on their previous experiences, and how they can provide essential support in the years to come. You can find out more about our Mobile World Congress seminars below.
Mobile IoT (LPWA): Open for Business
Time & location
March 1 – 13:30-15:30 @ Seminar Theatre CC1, Fira Gran Via, Mobile World Congress
Confirmed Speakers
Dr. Alexander Lautz, Senior Vice Preseident, M2M, Deatsche Telekom, AG
Axel Hansmann, Vice President, Strategy & Marketing M2M Business, Gemalto
Andres Padillas, Director of New IoT Solutions, Telefonica
Luke Ibbetson, Chief Engineer, Group R&D, Vodafone, Chair of GSMA NB-IoT Forum
Register for the seminar Mobile IoT (LPWA): Open for Business
IoT Elements: Bringing the Smart City to Life
Time & location
February 28 – 12:00-14:00 @ Seminar Theatre CC1, Fira Gran Via, Mobile World Congress
Confirmed Speakers
Michael Zeto, General Manager, Smart Cities, AT&T
Paul Copping, Chief Innovation Officer, Digital Greenwich
Mike Lee, Executive Vice President of Enterprise & Carrier BU, FarEasTone
Jose Manuel Cantera Fonseca, Senior Technologist, Telefonica
Prof. Luis Munoz, Department of Communications, University of Cantabria
Adam Amer, Global Business Development and Innovation Manager IoT, Vodafone
Register for the seminar IoT Elements: Bringing the Smart City to Life
Register for Mobile World Congress
Back