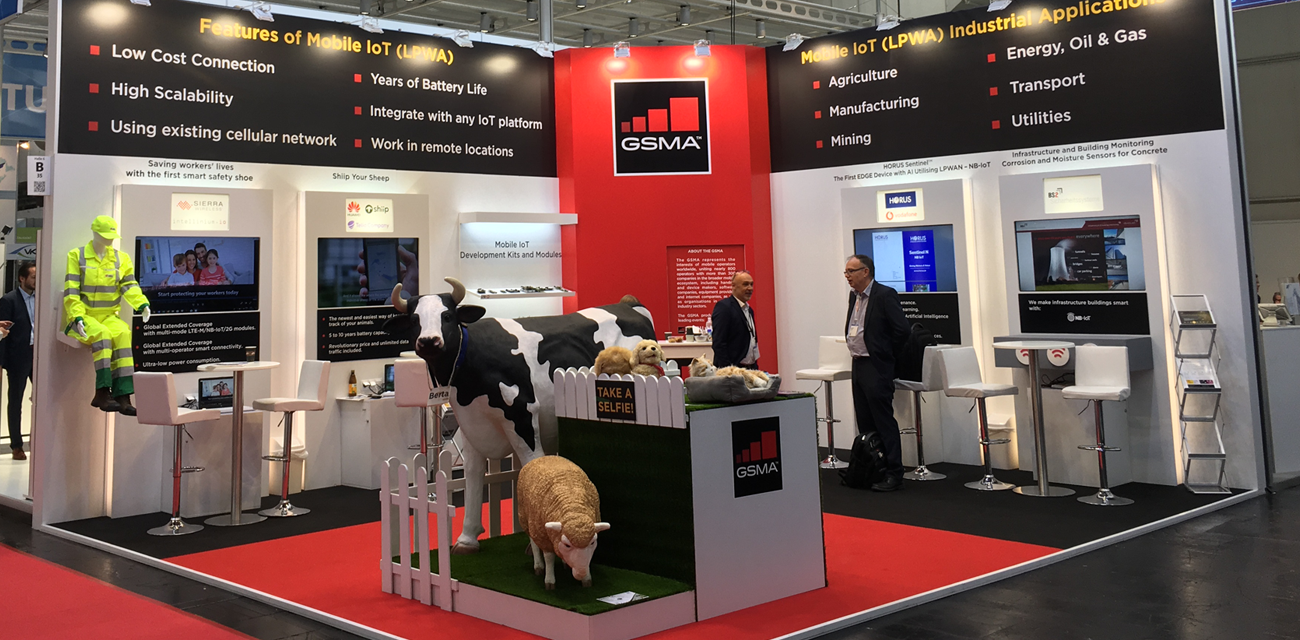 Mobile IoT Meets Industry 4.0
Showcase at Hannover Messe highlights how mobile connectivity will help drive the next industrial revolution
Mobile IoT is set to play a central role in delivering Industry 4.0 – a fourth industrial revolution involving the extensive use of data analytics to optimise and automate the production of all kinds of goods. At Hannover Messe, the world's leading trade show for industrial technology, the GSMA partnered with BS2, Horus IIoT, Huawei, Intellinium, Shiip, Sierra Wireless and Vodafone to showcase how Mobile IoT is helping to deliver the Industry 4.0 vision. Mobile IoT employs standardised low power wide area (LPWA) technologies, LTE-M and NB-IoT, operating in licensed spectrum.
Horus demonstrated its Sentinel solution, which combines artificial intelligence (AI) with NB-IoT connectivity to enable automatic machine monitoring, alerting a facilities manager when equipment needs maintenance. "Its an autonomous device and is the first of a new genre of devices we call cognitive AMUs or cognitive autonomous monitoring units," says Patrick Robinson, Sales and Marketing Director at Horus. "The AI algorithms allow Sentinel to do machine learning and pattern recognition in order to carry out machine condition monitoring."
Although Sentinel can send alerts over any low power wide area network, Horus is harnessing NB-IoT because the technology can be use to upgrade a device's firmware over-the-air. For example, Horus intends to upgrade Sentinel to harness IBM's Watson AI solution to perform forensic and trend analytics, as well as predictive maintenance and machine condition monitoring. "Once we can get data into Watson, we can then see what that can let us do. This will be a significant research and innovation effort," explains Patrick Robinson. "Within 12 months we [also] intend to implement augmented reality… field engineers [will be able to] walk into a plant room and hold their phone up and see which piece of equipment is failing."
Dublin-based Horus expects the first volume shipments of Sentinel in early October. "BAM is our first customer and we expect about 260,000 units to be deployed in BAM buildings in UK, Ireland, Netherlands, Germany and Belgium over the next three years," says Patrick Robinson. "Other facilities management companies are keen to work with us, but as we developed for BAM, they get the first shipments."
Working with Vodafone, Deutsche Telekom and Telstra, Horus is focused primarily on using Sentinel to serve facilities management companies. But the company is also seeing demand from utilities for solutions to monitor energy and water grids. "From the show in Hannover, we also now have a requirement from a Saudi oil company to monitor their pipeline," says Patrick Robinson. Horus intends to equip Sentinel with an IP 68 enclosure with an external antenna, to provide protection from extreme temperatures, enabling the solution to be deployed outdoors on substations, transformers, grid infrastructure and in the Middle East on oil pipelines.
Mobile IoT solutions can also be used to monitor the health of core infrastructure, such as buildings, bridges, tunnels and roads. BS2, which is based in Rheinland-Pfalz, has developed connected sensors that can be embedded into a building to monitor the chloride and moisture in concrete steel structures. These connected sensors can provide an early warning of any corrosion of steel rebars or concrete reinforcement.
Working with Deutsche Telekom and Huawei, BS2 is now using NB-IoT to provide the connectivity. This Mobile IoT technology offers a low cost way to retrieve data from the sensors, while enabling BS2's systems to reach deep inside the structure of buildings, according to Alexander Rinke, the company's Sales Director. Designed for use globally, the solution is aimed primarily at the construction sector and companies managing facilities in ports, airports and utilities, as well as offshore facilities.
Protecting animals and people
Mobile IoT can also be used to enhance food production by reducing livestock losses. At Hannover Messe, Shiip of Norway demonstrated a solution that can enable farmers to keep track of their animals. "Farmers in Norway found that when gathering sheep off the rural countryside, around 10% were often unaccounted for," says Eric Macody Lund of Shiip. "The cost, time and resource that farmers have to spend on trying to recover and look for their sheep is great, whilst the welfare of the sheep is at risk." To address this problem Shiip has developed a tracking solution that uses an LTE-M or NB-IoT connected collar to track an animal's location. An alert is sent to the farmers using an app if the sheep steps outside a pre-defined area. Following a pilot in Norway, involving 1,000 sheep, Shiip plans to start shipping a commercial solution in the summer of 2018. Working with Telia Norway, Nortrace and Huawei, Shiip is now marketing the solution in Norway, Canada and the Faroe Islands, but intends to take advantage of the widespread deployment of Mobile IoT to go global from the third quarter of 2018.
Eric Macody Lund says using Mobile IoT connectivity enables Shiip to provide customers with lower prices, more flexibility, a longer battery life, better coverage and two-way communications, as well as enabling a global solution. The next step will be to enhance the collars to help monitor the health of animals, as well as their position, while also creating products that can be used to track cats, dogs and other pets.
Mobile IoT can also be used to protect humans. In Hannover, Intellinium and Sierra Wireless demonstrated their connected work shoes, which use Mobile IoT networks to send an alert in the case of a fall or another incident. "Our innovation is the first smart and connected PPE (personal protective equipment) integrated on top and into a safety shoe which can protect and save workers' lives," says Mathieu Destrian, CEO of Intellinium, which is based in Aix-en-Provence. "Several safety features are available such as man-down, alert button, geofencing, danger and area notification or emergency mass notification." The system can also support real-time bidirectional haptic communication between workers in very noisy environments where machines are vibrating.
The connected work shoe is aimed at four industrial sectors: construction, utilities, mining and energy. As it is focused exclusively on safety, security and health, Intellinium says it has deliberately ensured the solution can't be used to monitor employees' productivity. "We make very clear that we do not track workers and we will not track workers in the future," says Mathieu Destrian.
Using Mobile IoT technologies allow Intellinium to provide the same solution to international workers travelling from one country to another, while ensuring coverage deep inside buildings at a low level of power consumption, and at low cost.
The connected work shoes are currently in field trials in Europe, potentially to be followed by trials in the US or Canada. "We are getting a lot of interest from some Asian countries as well," adds Mathieu Destrian. "Intellinium's ambition is not only to be the leader in smart safety shoes, but also in the overall smart PPE ecosystem. For instance, we are currently working on a smart t-shirt/bra that can detect fatigue or heart issues thanks to electrocardiogram (ECG) sensors."
Intellinium's product roadmap also includes a wearable solution for detecting gas, which could make portable gas detectors obsolete, and a system that will enable a worker to receive or make an emergency call through Mobile IoT connectivity in the safety shoes, using a wireless ear piece.
Back