GSMA IoT Security Guidelines – Complete Document Set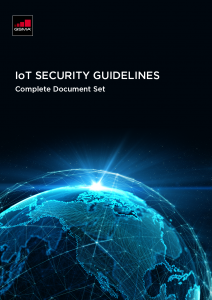 The GSMA IoT Security Guidelines promote best practice for the secure design, development and deployment of secure IoT services throughout their lifecycles. The documents provide recommendations on how to mitigate common security threats and weaknesses within IoT services.
The scope the document set is limited to recommendations pertaining to the design and implementation of IoT services and network elements. This document set is not intended to drive the creation of new IoT specifications or standards, but will refer to currently available solutions, standards and best practice.
The GSMA IoT Security Guidelines have been updated by the industry to extend the scope to Mobile IoT technologies, specifically NB-IoT and LTE-M, the 3GPP industry standards for low power wide area technologies in licensed spectrum.