IoT WebTalk: Reaching New Heights – The Future Role of Mobile Networks in Aviation and Drones
In this IoT WebTalk, senior industry speakers outline their vision for the future of aviation and drones.
Hendrik Bödecker
Founder and CFO, DRONEII
Hendrik is an expert in aviation law and UAV with over 10 years of experience in the field. At Lufthansa Technik he was the single point of contact to Civil Aviation Authorities (CAA) of Germany, Middle East and Asia. He used this experience to form the backbone of regulatory expertise at Drone Industry Insights. Not only has he built up a portfolio in assisting clients in regulatory matters, but he also authors DRONEII's yearly drone investment report.
Andreas Perotti
Chief Marketing Officer, Europe, EHang
Andreas Perotti is Chief Marketing Officer, Europe for EHang. The Nasdaq listed company is the world's leading autonomous aerial vehicle (AAV) technology platform company. EHang provides customers in various industries with AAV products and commercial solutions: air mobility, including passenger transportation and logistics, smart city management, and aerial media solutions. Andreas has over a decade of extensive international marketing and communications experience with senior marketing roles in the aerospace industry, government and telecom sectors, including the European Parliament, Telekom Austria Group or FACC. For more information, please visit www.ehang.com.
Daan van Dijk
Innovation Consultant, KPN
Daan van Dijk (28 years – Rotterdam, The Netherlands) started his career with KPN in 2017 after finishing his master in Innovation Management at the Rotterdam School of Management, Erasmus University. He works within KPN's innovation department and pays specific attention to drones and aviation.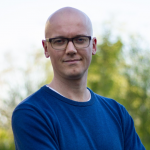 Jef Geudens
Head of Technology and Flight Ops, Skyports
Jef is Head of Deliveries at Skyports. As the technical lead for the Drone Services side of the business, Jef works together with drone manufacturers and systems suppliers to enable the BVLOS capabilities for the Skyports fleet while making sure that the aircraft also adhere to the Skyports aircraft safety requirements. At Skyports, Jef developed the company's BVLOS Concept Of Operations which lead to Skyports becoming the first drone service provider to conduct hospital-to-hospital drone deliveries in the UK earlier this year. Jef has a background in Aerospace Engineering and worked as an aviation management consultant before joining Skyports.
Barbara Pareglio
Senior Technical Director, Smart Mobility Lead, GSMA
Since 2014, she has been the technical lead for several areas of focus within the GSMA such as 5G, IoT, automotive, aviation and more. Looking at how to best utilise new technologies and services from the constantly evolving mobile networks, like 5G-Advanced.
Barbara is also leading several activities and communities with the GSMA members, like the activities related to smart mobility, including automotive and advanced air mobility. The latter by leading the GSMA Drone Interest Group and the Aerial Connectivity Joint Activity, to investigate and help the mobile industry to create a trusted solution for commercial unmanned aircraft. Exploring features and capabilities of 4G and 5G needed for the aviation.
Barbara has over 20 years of experience in the mobile industry. Before joining the GSMA, Barbara worked in R&D in several areas of telecommunications. She also participates and actively contributed to, several standards.
Q&A
How can mobile network technologies add value to the integration of drones in the Dutch air space?
Daan van Dijk, KPN: The opportunities are broad. We position KPN as a horizontal enabler of Drone operations in The Netherlands. Next to offering mission-critical communication links for command & control of drones, we believe that we can also enable safe and efficient integration of unmanned air traffic with current manned air traffic. Network-based Remote ID & Positioning, interfaces to allow data sharing between telecom and aviation, connected drone corridors etc. are aspects that mobile network operators can bring into the game and that eventually add value to the integration of drones in the Dutch air space.
How can mobile networks enable Beyond Visual Line of Sight (BVLOS) drone delivery?
Daan van Dijk, KPN: Imagine that you would like to deliver spare goods to a ship at an anchorpoint offshore. First of all, you would like to know whether connectivity needs can be met along the flight path. It is therefore necessary to create a data exchange between an MNO and drone operators. Ideally, you would like to have this flight authorized immediately as well. A data exchange between MNO, drone operator and ANSP is therefore crucial. During the flight an MNO can add value by transferring telemetry and identification data over the mobile network so that the drone will be visible for other air space users as well. These are just some examples of aspects of mobile networks that can enable BVLOS drone operations.
Can you briefly share what EHang Urban Air Mobility (UAM) looks like and your vision for the future, including the timeline for the UAM?
Andreas Perotti, EHang: We provide an integrated platform for autonomous flying including vehicles, command & control and different solutions for different use cases (people, cargo, smart city mgmt). We believe in the huge potential of drone technologies for mobility use cases. It is just the starting point and depending on the global regions, it will develop throughout the next decade in different speeds.
How important are mobile networks for EHang operations?
Andreas Perotti, EHang: Very important, they are the core layer for command & control supported by other tech like sensors, GPS, radar, etc. They are also necessary for other elements like IFE.
How can mobile operators support the adoption of 4G for drone operations?
Jef Geudens, Skyports: 1. Demonstrate to frequency regulators that using 4G for drone operations can be safe and doesn't impact the service provided to terrestrial users in any way. Skyports is very happy to work with telcos on this.
2. Provide 4G coverage maps up to 500ft AGL (coverage maps today are typically only provided at ground level).
3. Share information on 4G tower locations with BVLOS operators.
4. Make dynamic population density data available to BVLOS operators. This supports the overall risk assessment that is required by regulators to get permission for BVLOS operations.
5. Develop dedicated drone sim-cards that guarantee priority access to the network and for example are run on a separate APN server.
What kind of information do drone operators need to safely use 4G?
Jef Geudens, Skyports: 1. Expected coverage at various altitudes.
2. Link Latency info.
3. Quality of signal information during flight.
4. Status of the overall network in the area.
What are the dangers of using a Cards On The Spot (COTS) SIM card for drone operatons?
Jef Geudens, Skyports:1. During our initial testing period with commercial off the shelf cards, we noticed that sometimes the card would get blocked during flight if the drone was in range of too many towers at the same time. This then triggered an automatic return to home.
2. COTS sim-cards can route the data abroad before returning back to the ground control station, increasing overall latency. The data doesn't always take the shortest route.
3. COTS cards also allow the telco to throttle the bandwidth assigned to the card, resulting in a lower quality connection between the drone and the ground control station.
What kind of connections are appropriate for drone operations?
Jef Geudens, Skyports: 1. We personally value the 4G bonded VPN connection the most. This results typically in <200ms latency and works well even in very rural areas.
2. By using a bonded VPN, we know that the link is secure and that it always uses the shortest available route between the drone and the GCS.
3. with our dedicated IOT sim-cards we also know that the bandwith won't be trottled and that the roaming sim-card will only connect to a number of pre-set networks that guarantee a 4G connection at all times.
Are there systems on EHang drones that can create adhoc networks for emergency coverage?
Andreas Perotti, EHang: Not yet, but thats an interesting thought which we will elaborate further.
Are any of your businesses considering hybrid/multilink connectivity models in order to prove to the aviation regulators that you can meet the minimum C2 performance requirements (e.g. 4G/5G + satcom)?
Jef Geudens, Skyports: 1. We are already using a hybrid link that combines wi-fi connectivity at take-off and landing, and 4G + satcom during flight. Skyports has developed a first prototype link with a partner 2 years ago and has since further matured the solution with other partner OEMs.
2. This solution has been vital to demonstrating to the CAA that a connection can be maintained at all times and was instrumental in Skyports becoming the first operator in the UK to fly BVLOS between two hospitals earlier this year.
How does weather impact your Service Level Agreements and maintenance costs?
Andreas Perotti, EHang: Maintenance not really, but operations of course. In storms and heavy rain/snow it will not be possible to fly, similar to commercial aircraft
Are 5G service providers making connectivity available for drones? Are there network updates necessary to support widespread use of 4G or 5G cellular for Beyond Visual Line of Sight (BVLOS) use?
Daan van Dijk, KPN: 5G will bring a 'more flexible' network that can be more tailored towards the drone operators. Lower latency and the aspect that more devices can be interconnected play a role in this. We've seen plenty of succesful drone operations over 4G already, but we expect that drone operations over 5G will add more efficiency and safety aspects to the game. So we certainly make our network available for drones.