Smart Cities Communities
More emphasis on citizen engagement is helping cities become smarter. This approach is about empowering city inhabitants to identify problems which affect them directly, and become part of the solution in fixing these. Examples of this include the coordination of street maintenance, creating user friendly building access for disabled people, and arranging for deliveries to take place within set times. Smart city solutions allow for a more targeted approach to solving problems and helps build up strong, supportive communities within cities.
You can view our list of communities resources below. To find out more about how operators can assist you in the deployment of community IoT solutions, please contact us.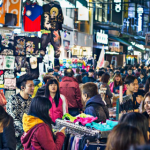 October 9, 2016
Smart Cities Communities
Case Study
GSMA
"A Smart City for All" is a project that Chunghwa Telecom launched in 2015 with the goal to build a more accessible city for the citizens of Taiwan. Administered by the Taiwanese Industrial Development Bureau and the Ministry of Economic Affairs, Chunghwa Telecom worked together with …