Increasing Mobile Operator Investment Is Fuelling 4G Deployments and Coverage Expansion Across the Region
4G-LTE networks will cover more than three-quarters of Latin America by 2020, according to new data from GSMA Intelligence published at Mobile World Congress today, a result of accelerating 4G deployments across the region. The new data calculates that 4G coverage will be available to 76 per cent of the Latin American population by the end of 2020, up from 35 per cent at the end of 2014.
4G currently accounts for a single digit share of mobile connections1 in Latin America, but GSMA Intelligence expects 4G to account for more than one in four connections by 2020. Total mobile connections in Latin America are forecast to grow from 709 million at the end of 2014 to 889 million by 2020, with 4G accounting for 28 per cent (245 million connections) by this point.
Rising Levels of Investment by Latin American Mobile Operators
Capital Expenditure (Capex) by mobile operators in Latin America is increasing significantly and is forecast to reach a cumulative US$193 billion in the seven-year period between 2014 and 2020. Latin American operators invested almost US$8 billion in spectrum licenses in 2012-2015, primarily to support 4G deployments. The total amount of spectrum assigned to mobile services since 2012 was 1472MHz, in the 700MHz, 850MHz, 1800MHz, 1900MHz, AWS (Advanced Wireless Services: 1700-2100MHz), and 2.6GHz bands.
Accelerating Smartphone Adoption in Latin America
As well as expanding 3G/4G coverage reach, the migration to higher-speed mobile broadband networks is also being driven by increasing smartphone adoption. Smartphones accounted for 32 per cent of Latin America connections in 2014 and is expected to account for 68 per cent of the total by 2020. By this point, Latin America will have the second-highest installed base of smartphones in the world, behind only Asia Pacific. Below is a breakdown of smartphone adoption in Latin America:
Smartphone adoption as percentage of connections in top ten largest Latin America markets: 2014 and 2020 (forecast). Source: GSMA Intelligence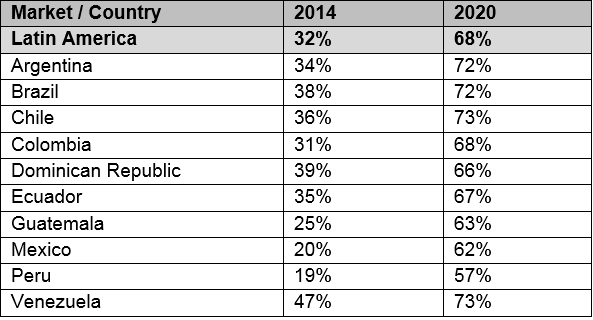 Mobile is considered the primary method of accessing the Internet for many of the Latin American population, particularly for those in rural areas. The number of mobile broadband connections surpassed fixed broadband connections in the region in 2011. This is the case in the five largest Latin American markets, including in Brazil, where there are over five times more mobile broadband than fixed broadband connections.