Mobile and Fixed Network operators are evolving towards IP infrastructures with the advent of 4G, IMS and NGNs. The interconnect medium between these networks and the applications provisioned on top of the network infrastructure are all converged on IP protocols.
Aicent IPX architecture consists of a global, private, IP transport network which provides end-to-end quality of service and application level service gateways to provide service awareness towards variant services in and amongst mobile operators, fixed network carriers, and enterprise entities.
Aicent integrates a congestion free private IP infrastructure supporting end-to-end quality of service and service aware proxy gateways bringing these advantages:
Aicent's MPLS network ensures carrier class quality and global coverage.
A private, global, and resilient Multi Protocol Label Switching (MPLS) based network to provide the GRX/3GRX access service with proven, reliable service performance and dedicated customer care and support to Tier 1 MNOs.
Multiple state-of-art service aware gateways integrate multiple services on single network transport.
Beyond GRX/3GRX services, Aicent has developed several Value Added Services for mobile operators, leveraging Aicent's network coverage and addressing customers' most urgent needs, for example messaging and RIM BlackBerry Connectivity.
Value added services derived from the application of service awareness within the network transport
Aicent's RIS (Roaming Intelligence Suite) provides visibility into Aicent managed devices and allows the operator "see" the data roaming sessions from Aicent's point of view. This capability is vital to troubleshooting data roaming problems between two roaming partners.
Aicent IPX Services & Functions
On top of the secure and end-to-end QoS enabled IPX network infrastructure, Aicent deploys a wide range of service functions and features supporting all IP based service communications between two mobile operators and their corresponding enterprise customers. These IPX supporting functions are the essential building blocks for making the IPX services successful.
By converging their voice and data services into IP packets and exchanging over the IPX network, mobile operators will be able to enable rapid service deployment, reliable service support, and control of each service aspect while maintaining visibility at the individual subscriber level.
Aicent IPX service framework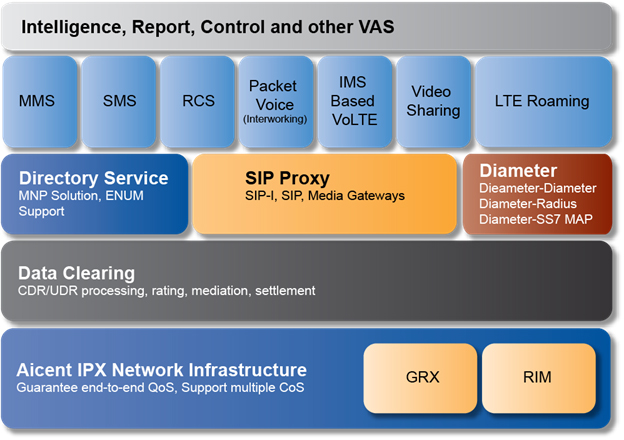 Figure 1 Aicent IPX Service Framework Building Blocks
Highly secured, resilient and dedicated private IP network with end-to-end QoS transport
Directory service including global MNP solution and ENUM support
Data clearing service and support for multiple services
RADIUS and DIAMETER proxy gateways for user signaling and control
SIP proxy gateways for service application signaling and control
Media gateways for voice and video payload data session management
Messaging gateways for SMS and MMS interworking
Service route election and automated tools for implementation
Security management on network and service access
Roaming intelligence from GTP session analysis
Integration of GTP session and DIAMETER session monitoring and control
Integration of network level and application service level monitoring and support
Aicent IPX Network Infrastructure
Aicent IP Service Network (AISN), Aicent's private IPX network infrastructure consists of a network access layer and a core backbone network. The network architecture is illustrated in
Figure 2.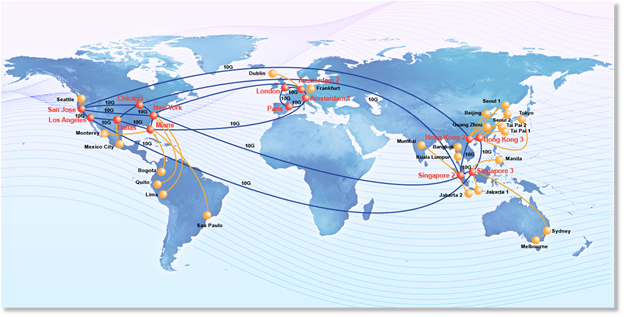 2 Aicent Global IPX Network Infrastructure
The network access layer is used to connect mobile operator's networks to AISN. The access layer consists of Aicent POP's in Asia Pacific, the Americas, and Europe.
The core backbone network is Aicent's MPLS enabled private IP network that provides high speed, reliable and robust networking to the POP's in the access layer.
The IPX Peering is used for Aicent to exchange traffic with other IPX providers, and Aicent has established presence for IPX peering at Amsterdam, Singapore and Ashburn/USA.
Aicent's 24X7 operations center proactively monitors core network and each network access for our customers and ensures the highest service availability and network performance.
Aicent's sophisticated reporting system allows our customers examine our service delivery against the SLA commitment and help our customers for future planning.
Europe and Near/Middle East
Austria
Belgium
Czech Republic
Denmark
Finland
France
Germany
Greece
Hungary
Israel
Italy

Luxembourg
Netherlands
Norway
Poland
Portugal
Russia
Slovakia
Spain
Sweden
Switzerland
Turkey
UK
Asia Pacific region
Australia
China
Hong Kong
India
Indonesia
Japan

Macau
Malaysia
Philippines
Singapore
South Korea
Taiwan
Thailand
The Americas Region
USA
Canada
Mexico
Argentina
Brazil
Columbia

Chile
Panama
Peru
Puerto Rico
Venezuela
Through strategic partnerships with some of world's largest global backbone carriers, Aicent is able to offer MPLS based network and coverage in over 200 countries across five continents.