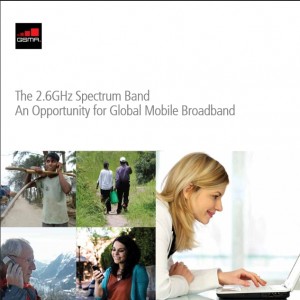 Before discussing high-frequency bands, such as 2.6 GHz (2,500 MHz)band, we need to mention the differences with the lower frequency bands (less than 1Ghz), which are adequate for the roll out of extended coverage networks at lower relative costs, while the use of higher-frequency bands (for example, 2.6 Ghz) have a higher coverage cost but are more appropriate for providing the capacity required to meet the demand for high-speed data transmission from large numbers of users in the urban areas, airports and other crowded places.
This band can be used for mobile broadband around the globe, fostering economies of scale that will benefit equipment manufacturers worldwide, and consequently reducing device and network infrastructure costs. This band could potentially become the common worldwide band for commercial mobile broadband services.
The countries in the region that have already assigned the 2.6 Mhz band for mobile services are  Colombia, Venezuela, Brasil y Chile and soon México, Argentina y Honduras. In Europe, this band is used in United Kingdom, Holland, Russia, Sweden, Spain, Italy, France, Germany, Turkey, Greece, Hungary and Slovenia, among others. In Asia, China, Malaysia and Japan are some of the countries that have already assigned the band to mobile services. For more information, go to "The 2.6 GHz Band: An Opportunity for Global Mobile Broadband".