GSMA Latin America was special guest at the International 4G Forum in Bogota organized by the National Spectrum Agency (ANE) and the Ministry of Information Technologies and Communications of Colombia, in order to "socialize the spectrum auction process for fourth generation networks".
The President of Colombia, Juan Manuel Santos, in the presence of the Minister of Information Technologies and Communication, Diego Molano Vega, was in charge of closing the Forum that brought together the largest companies in the telecommunications sector in that country by stating: "With the 4G technology we will ensure that all Colombians, but especially those with more limited resources, have access to the benefits that the effective use of broadband Internet provides".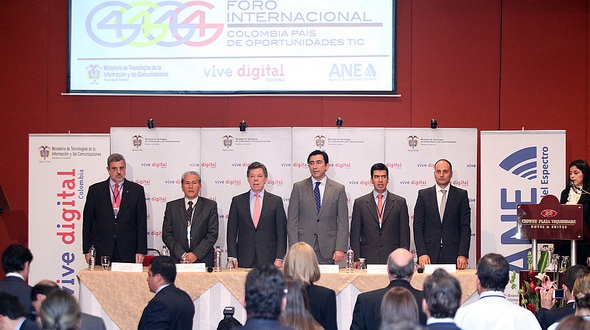 The Director of GSMA Latin America, Sebastian Cabello, remarked that "the provision of spectrum is a key element to provide better services to users, improve coverage and access to telecommunications to the neglected sectors as well as to increase investment, which generates many productive links in the local industry".
In his presentation, the Director of GSMA LA highlighted the role that mobile internet will have in Colombia in a sector of continuous growth that exceeded 100% penetration and now contributes 3.2% of Colombia's GDP . Sebastian Cabello also presented about Connected Living and Near Field Communications (NFC) initiatives which are being carried out by this organization in Latin America and reflect a potential future of greater local growth and production linkages.
The participation of the President of the Republic boosting the progress of the industry accounts for the importance of the enhancement of the electromagnetic spectrum. "The 225MHz that Colombia is about to tender today represents more than double of the spectrum that has been tendered so far. It is important that all the related operators can have access to spectrum to continue growing ", said Cabello.
At the beginning of the day, the ANE director, Oscar Leon Suarez, announced the conditions of the spectrum auction process for 4G networks and explained the obligations to be met by the winner, which include the deployment of fourth generation networks, mobile Internet penetration and migration. The Executive Director of the Communications Regulation Commission (CRC), Carlos Andres Rebellón, presented about the technical and roaming conditions that will allow the use of the frequencies to be auctioned for the deployment of fourth generation LTE services.
During the event, there were also Ricardo Teran, Board member of the Radio Regulations of the ITU, and Erasmo Rojas, 4G Americas Director.
The Forum finished the next day with a Public Hearing with the participation of presidents and representatives of companies and organizations such as ETB Asomovil, Tigo, Comcel, Achiet, Total Play Telecommunications, TV Azteca, Telefónica, INFRACEL S.A and DIRECTV.