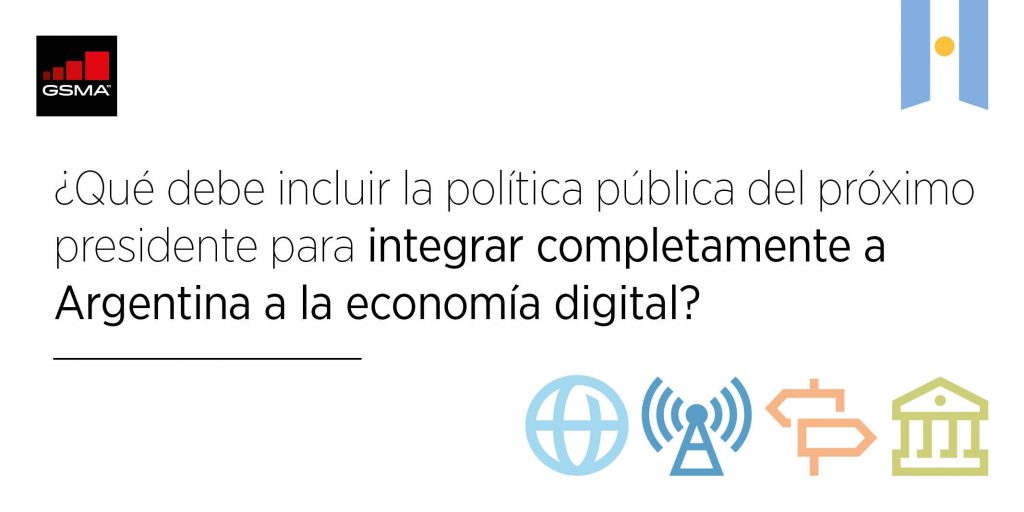 The country can capitalise on the benefits of future technologies to keep pace with others in the region and accelerate recovery in production
17 October, Buenos Aires. Argentina's digital policy over the next few years will determine whether it can become a strong player in the global economy or lag behind the region and the world. This is the message of a new report by the GSMA, titled: What should the public policy of the next president include, to fully integrate Argentina into the digital economy?
Released ahead of this month's presidential elections in Argentina, the study highlights urgent policy reforms needed to grow the country's digital economy. The GSMA calls for the next administration to support the rapid expansion of Argentina's mobile connectivity to ensure the country can benefit fully from the next wave of innovation that will transform industries, built on technologies such as artificial intelligence (AI), the Internet of Things and big data.
"The telecommunications industry can be a strategic ally in Argentina's economic recovery," said Lucas Gallitto, Public Policy Director Latin America, GSMA. "The total economic contribution of the mobile sector could reach $26 billion by 2020, representing 4.6 per cent of Argentina's GDP. This figure takes into account the direct impact of mobile operators but also the indirect effect that this activity generates on the broader economy, and the increased productivity of firms and workers brought about by the use of mobile services.[1]
Looking ahead 5G will generate $91 billion of economic expansion in Latin America – 5.4 per cent of GDP growth – by 2034. Argentina can benefit from the transformational impact of future communications, but to do so, it must urgently review its ICT regulatory framework."
Argentina is lagging behind the region's largest markets like Brazil, Colombia and Mexico, which have been updating their telecommunications laws to create regulation capable of driving investment and promoting innovation.[2] "If Argentina doesn't reverse this lag soon, other countries will capture investments and reap the benefits of the digital economy," added Lucas Gallitto.
According to the GSMA report, one of the areas Argentina must reinforce is its institutional framework. In the last 10 years, significant ongoing changes have occurred in the structures that define industry policy and sector-specific regulation. These changes negatively impact predictability and legal certainty for mobile operators, vital factors for an investment-intensive industry.
The report outlines four key recommendations to modernise Argentina's regulatory framework:
Implement a tax reform to improve affordability of mobile internet access for low-income population. Taxes now make up almost a third of the total cost of mobile ownership, a proportion similar to that in markets such as Turkey and the Democratic Republic of Congo. Removing excise duty on mobile services could increase the national GDP to $1.8bn in five years, adding nearly 1.7 million new connections.
Create a Federal Telecommunications Infrastructure Deployment Plan to facilitate installation of antennas and increase networks capacity. Municipal red tape is the main obstacle for infrastructure deployment. There is an urgent need both to encourage dialogue and cooperation between national, provincial and municipal authorities and to explore innovative models to promote connectivity in remote areas.
Define efficient and predictable spectrum policy to maximise social welfare rather than state revenue. For operators to offer quality services, the telecommunications regulator must ensure access to sufficient spectrum at reasonable prices. It is also vital to create a public roadmap that allows companies to design a future investment plan.
Design intelligent deregulation to ensure legislative simplification and remove outdated regulation. ICT regulation must keep pace with the dynamic nature of the digital ecosystem. A future-proof regulatory framework based on general objectives and principles is needed, to protect users and ensure innovation is not held back. Because many future technologies are driven by the data value chain, Argentina must draw up a new data protection law aligned with the latest international standards.
Resource
Notes
[1] Reforming mobile sector connectivity in Argentina, GSMA/EY (2017).
[2] In 2013, Mexico introduced a Telecommunications Reform that resulted in the creation of the Federal Telecommunications Institute (IFT, for its acronym in Spanish), an autonomous and convergent regulatory entity. In addition, it launched a National Radio Spectrum Programme of periodic updating. Colombia passed an ICT Modernisation Law this year, which also instituted a convergent regulator, extended the duration of spectrum licenses up to 20 years and defined this resource as a tool to maximise social welfare, among other points. Brazil has just passed into law PLC 79/2016, reforming the General Telecommunications Law. This bill focuses on the universalisation and massification of broadband internet access.