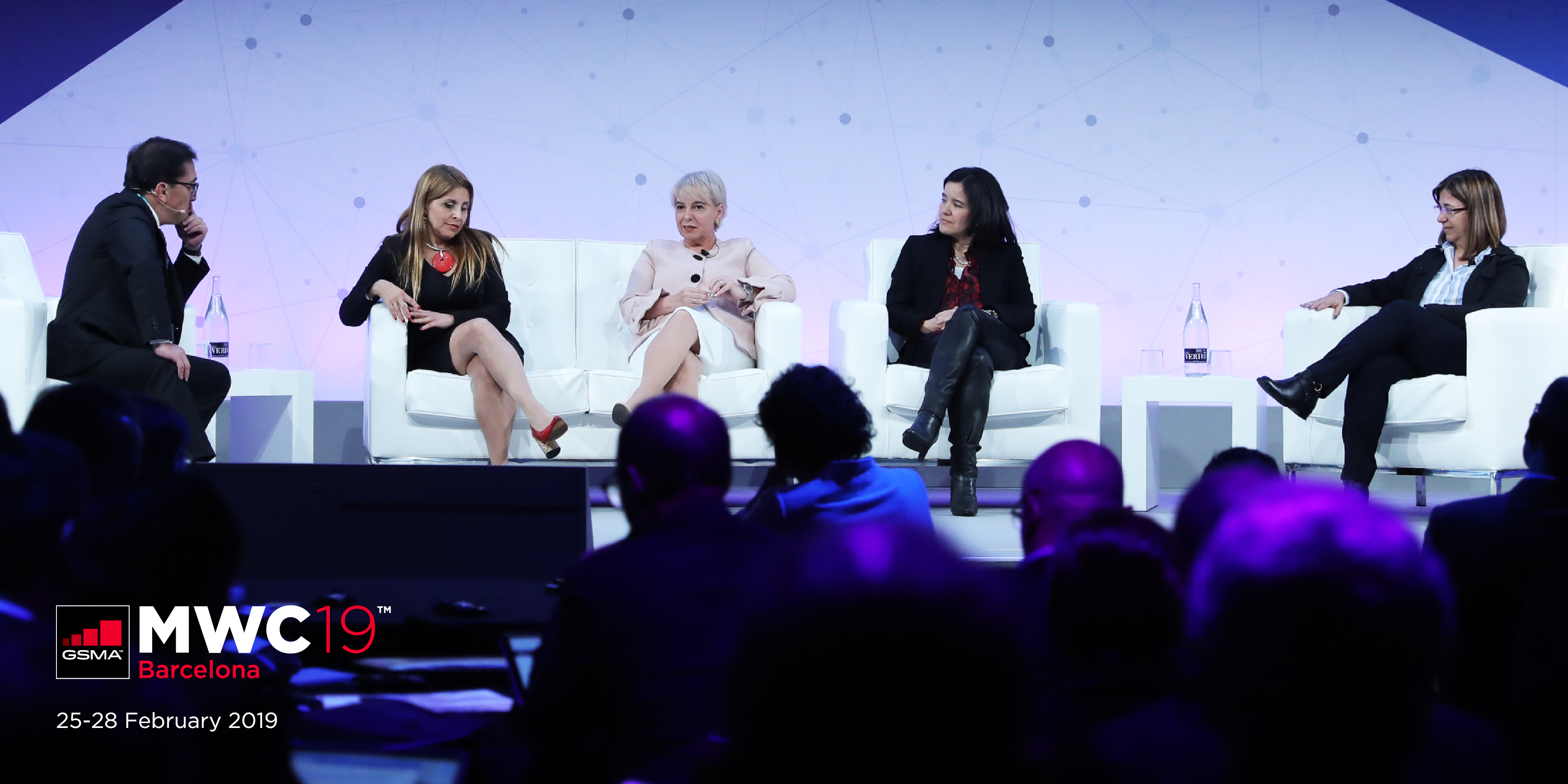 More than 109,000 attendees from 198 countries and territories came together at MWC19 Barcelona, the mobile industry's premiere event. More than 55 per cent held senior-level positions, including 7,900 CEOs. There were 3,640 international media and analysts to report on the latest developments announced over the four-day event. Preliminary economic analysis indicates that MWC19 contributed approximately €473 million and more than 14,000 part-time jobs to the local economy.
GSMA Latin America once again had a key role in the Ministerial Programme, the MWC forum where ministers, regulators, international organisations and executive directors from across the world discuss key developments and policy trends in the mobile sector.
Investing in digital transformation
The Latin American session, the only one in Spanish during the Ministerial Programme main conference, included top-level speakers. Ángel Gurría, Secretary-General of the Organisation for Economic Cooperation and Development (OECD), opened the event with a keynote on policymaking for the digital age.
"New technologies generate progress, but they also pose challenges in the regulatory arena. As a result, governments have a key role in accelerating digital transformation," Gurría said. The Secretary-General of the OECD highlighted the telecommunications reform carried out by Mexico in 2012/2013 as an example of how governments can drive policy for a digitalised society. He also stressed the need for all influential players, including the private sector and international organisations, to work together to face the challenges. "We need the collaboration of all ecosystem players to achieve inclusive and sustainable digital economies that leave no one behind," he said.
Gurría's words were echoed in the first panel of the session, "Which regulations need to be modernised to achieve digital transformation?", whose participants were a much-praised lineup of four women leaders from regulators and ministries. "As policymakers, we have a central role in building the new digital world," said Salma Jalife, Undersecretary of Communications and Transport, Mexico. She was joined by Silvana Giudici, President, ENACOM Argentina; Sylvia Constaín, Minister of Information and Communication Technologies, Colombia; and Pamela Gidi Masías, Vice Minister of Transport and Telecommunications, Chile. "Don't be fooled by what you see; there's still a big digital gender gap and few women in technology, particularly in rural areas," Giudici said, as she talked about policy implemented in Chile to close this gap. The panel was moderated by Jorge Negrete, Chair, Policy & Law Group.

The second keynote of the day was given by Mauricio Ramos, CEO of Millicom. He invited attendees to reflect on two areas of policy that need reform for digitalisation to grow: spectrum and market structure. "Is the function of spectrum to make up for the tax deficit or to drive the digital economy?" Ramos asked.
The second and final panel of the session, "Should we invest in current conditions?", included Bernardo Quinn, President, Telefonica Hispam South; Adriana Noreña, Vice President Google Latin America; Leonardo Euler de Morais, President, National Telecommunications Agency, Brazil; and Sami Foguel, CEO, TIM Brasil. The panel was moderated by Mariana Rodriguez Zani, Associate Director, Convergencia Latina.
GSMA – COMTELCA Round table
For the second year in a row, this dialogue opportunity promoted by GSMA Latin America and COMTELCA was held to discuss policies and opportunities for collaboration that will help to grow the digital ecosystem in Central America. The session was led by Lucas Gallitto, Acting Head, GSMA Latin America; Allan Ruiz, Executive Secretary, COMTELCA; and José Luis Ayala, Head of Government and Industry Relations for Latin America, Ericsson.
The future of 5G, the upcoming WRC-19, and topics related to security and regulatory modernisation had a prominent place on the agenda. Paula Ferrari, Marketing Director Latin America, GSMA, spoke about the vision of the mobile industry on the digital gender gap.

Working Group on Digitalisation in Emerging Markets: Latin America
MWC19 was the platform for the launch of a new working group co-organised by GSMA Latin America and EMnet, the OECD Emerging Markets Network. Participants from the OECD Development Centre were Lorenzo Pavone, Deputy Head of Division, Networks, Partnerships and Gender Division, and Sebastián Nieto-Parra, Head of Unit, Latin America and Caribbean Desk. The round table examined actions in tax policy and digital infrastructure that could boost investment and growth in the region.

LATAM Regional Round Table
More than 60 leaders from the Latin American digital ecosystem took part in this discussion, which included Ajit Pai, Federal Communications Commission Chairman, as special guest. Pai gave a talk (in Spanish) about the FCC's 5G Fast Plan.

After his opening talk, leaders from the public and private sector across the region kicked off the discussion with a short presentation. Topic Leaders were Héctor Huici, ICT Secretary, Argentina; Karim Antonio Lesina, Senior Vice President & International External and Regulatory Affairs, AT&T; Ezequiel Domínguez, Head of America and Europe, Cullen International; Annelise Valdes, Regional Legal & Regulatory Director, Digicel; Sebastián Nieto Parra, Head of Unit, Latin America and Caribbean Desk, OECD Development Centre; and Ana Valero, Regulation Director for Latin America, Telefónica.
In addition to these activities, GSMA Latin America held another meeting of the Brazilian Coordination Committee, bilateral meetings with delegations from participating countries, and a CEO Round Table with key leaders from the region's operators.