During its debut in Argentina, Mobile 360 – Latin America reached record attendance with more than 1,000 attendees from 34 countries and 354 companies, 44 percent of them senior level. This year's successful regional event featured a top-level lineup at the main conference and an extensive range of side sessions, including the 4YFN Startup Zone, the #BetterFuture Stage and the traditional GSMA Latin America plenary meeting of the region's four Working Groups.
The key topics of the event were 5G, Internet of Things (IoT) and artificial intelligence. Attendees had the opportunity to discover the vision of leading figures from mobile operators, regulators and companies such as Ericsson, Facebook, Google, Huawei and Nokia.
"In three years we've installed five times the number of antennas and we're continuing to work to ensure 93 per cent of Argentinians can access a quality mobile service next year," said Andrés Ibarra, Deputy Chief of Cabinet and Government Secretary of Modernisation of Argentina, at the opening conference. Carlos Moltini, CEO, Telecom Argentina, also participated as a keynote speaker at the opening. "We have to view telecom companies as agents of development for the region," he said.

Viewpoint of regional operators and regulators
"The future of digital transformation has to be a future of deregulation," said José Juan Haro, Director for Regulatory Affairs and Wholesale Business, Telefónica, and Chair of Latam Policy Group, GSMA, during the panel on regulatory issues. Other participants in the discussion were Karim Lesina, SVP, International External & Regulatory Affairs, AT&T; Manuel Araya, VP Public Policy, Entel Chile; and Hernán Verdaguer, Chief Regulatory Officer, Telecom Argentina, with journalist José Crettaz as moderator.
Regulatory authorities from the region who participated in the second part of the panel were Silvana Giudici, Chair, ENACOM Argentina; Nicolás Cendoya, Director, URSEC Uruguay; Suzy Sierra, member of the Executive Board, ANTV Colombia; and Abraao Balbino, Competition Superintendent, ANATEL Brazil. Participants exchanged points of view in a discussion moderated by Lucas Gallitto, Public Policy Director Latin America, GSMA.
Argentina's operators announce transparency commitment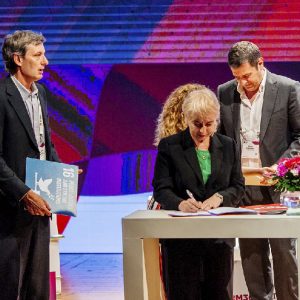 As part of the GSMA "We Care" campaign, Claro, Movistar and Personal agreed on practices to give customers more and better information about how their personal data is processed. The measures are intended to give users clear, easy and quick access to information about what the companies do with their information and the rights customers have over its treatment. "Enlarging the small print, making it truly accessible for users, ensuring it can be properly understood – these are very important steps that show the industry is committed to the sensitive issue of personal data protection," said Silvana Giudici, Chair of ENACOM Argentina, at the signing of the agreement.
Gender equality commitment reaffirmed
After leading the international dialogue on women's digital inclusion during its role as Topic Chair for Women 20 (W20), the GSMA held a round table on this issue at Mobile 360 – Latin America. Participants in the dialogue included leading figures María Inés Baqué, Secretary of Digital Government and Technological Innovation of Argentina; Juliana Bonetto, Executive Director of W20 Argentina; and Suzy Sierra, member of the Executive Board, ANTV Colombia. Executives from the three local operators also took part: Cecilia Solano, legal counsel, Legal and Regulatory Affairs, Claro; Constanza Ferrer, Director, Corporate Social Responsibility, Telecom; and Myriam Álvarez Iturre, Director, Talent Management and Employee Experience, Telefónica.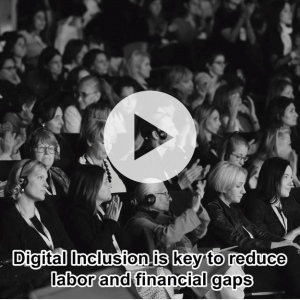 The event included an audiovisual presentation on the key insights into the digital gender gap gained by the GSMA during a year's work. Leading international figures appear on the video: Michelle Bachelet, former President of Chile and UN Human Rights High Commissioner; Mats Granryd, Director General, GSMA; Claire Sibthorpe, Head of Connected Women & Connected Society, GSMA; and Phumzile Mlambo-Ngcuka, Executive Director, UN Women. The video also tells the story of Consuelo, a young Argentinian woman who overcame barriers to access mobile technology that transformed her future.
"Digital inclusion is also business. Bridging the gender gap in mobile ownership and use could unlock an estimated $170 billion market opportunity for the mobile industry by 2020," said Paula Ferrari, Marketing Director Latin America, GSMA.

Ten Latin American startups showcased at 4YFN
Atexto, Blended, CamOnApp, DeepVision, DeGoles, GoSeries, Sytex, Trendio, Vantek and Worcket were the 10 startups chosen for the 4YFN debut at the Mobile 360 Series. The MWC innovation platform participated in Latin America for the first time in a bid to strengthen the regional startup ecosystem. The companies had a space in the Startup Zone and made their pitches on the #BetterFuture Stage. First prize went to Blended, a school management platform, thanks to the audience vote. The Argentinian startup has secured its ticket to MWC Barcelona.
Mobile industry experts participate in Plenary #47
On day three of the event, the meetings of the four GSMA Latin America Working Groups took place: Regulatory (REGU), Security & Fraud (SEGF), Technical & Terminals (TECT) and Wholesale Agreements and Solutions (WASL). Participants analysed and exchanged good practices in technical, regulatory and commercial aspects of the industry.

A meeting was also held of the Latin America Strategy & Innovation Forum (LSIF), the GSMA Latin America forum that studies and anticipates future telecom trends.
In addition, during Mobile 360 – Latin America the 2018 edition of the most complete report on the regional mobile market was launched: "The mobile economy in Latin America and the Caribbean".
Resources