Friday 6 May, 2011 | English News
The first GSMA LA plenary meeting of 2011 held in Rio de Janeiro on 4th and 5th of May had large attendance. More than 150 delegates, including representatives of 19 operators companies of the region and a significant presence of industry suppliers participated in meetings ...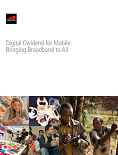 Monday 21 February, 2011 | Uncategorized
The mobile industry is seeking an allocation of at least 100MHz of Digital Dividend spectrum in all regions, awarded on a harmonised basis. With such an allocation, the vision of mobile broadband everywhere can be transformed into a reality. In the developed world, ...