2016 Mobile Industry Impact Report: Sustainable Development Goals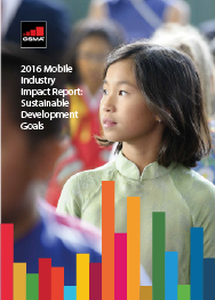 This first-of-its-kind report offers critical insights into the transformative impact of the mobile industry on individuals, societies and economies around the world, in developed and developing markets. Importantly,
it establishes a benchmark through which the industry will assess its success in contributing to the Sustainable Development Goals (SDGs) and serves as a blueprint for other industries as they commit to achieving the SDGs.
The mobile industry purpose, "Connecting Everyone and Everything to a Better Future", was launched at Mobile World Congress (MWC) 2016 in Barcelona, and formally acknowledges the responsibility that comes with owning and operating the networks that have such pervasive reach and such influence on our lives. There are three parts to this purpose:
INCLUSION "Connecting Everyone": Around three billion people remain unconnected and a further 2.4 billion people are connected to voice and simple text services only.
INNOVATION "Connecting Everything": IoT is developing rapidly, but the level of penetration remains low. A core part of the purpose is to contribute to the development of IoT and the promise it brings.
INFLUENCE "A Better Future": The industry recognises that connectivity is transformational and that operators have a collective responsibility to in uence how this connectivity is used.
PDF Downloads