Argentina – Impact of mobile ecosystem: perspectives and opportunities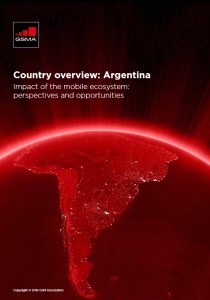 Argentina is the third largest mobile market in Latin America, with 61 million mobile connections and 39 million unique subscribers, equating to 90% of the Argentine population.
The mobile market in Argentina is quickly transitioning towards saturation on a penetration basis as mobile ownership rates approach a ceiling of the addressable population. However, significant barriers exist to mobile technology achieving its full potential for society.
In this report we look at the story so far for Argentina's mobile market and the key barriers to internet adoption. We examine how the country accounts for four of the six 'unicorns' in Latin America, helping put the country on the map and catalysing a wave of entrepreneurialism across a range of verticals. Finally we look at the role that the mobile sector is set to play in future economic growth in the country. The arrival of a new administration in December 2015 offers the promise of a change in the policy environment and  presents a unique opportunity to create a new regulatory framework focused on convergent services, better reflecting the digital ecosystem.
PDF Downloads