Best practice in mobile spectrum licensing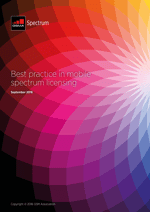 Effective spectrum licensing is critical to support the investment required to further expand mobile access. It is needed to meet the rapid increase in demand particularly for data services and enhance the quality and range of services offered.
Looking closer at this important area, our key report finding is that there is no single best approach to assigning spectrum. Approaches taking into account the specific market circumstances are instead needed.
The best approach will depend on the licensing authority's policy objectives as well as market conditions such as how spectrum is currently used. Also, the competitiveness of the market and the risks to investment and service quality over the forthcoming period.
The following key principles can help guide licensing authorities:
Auctions can deliver strong social benefits as long as they are properly designed.
A presumption of licence renewal encourages longterm network investment
 High spectrum prices jeopardise the effective delivery of wireless services
 Predictable and timely spectrum licensing encourages long-term network investment
 Spectrum licences should be technology and service neutral
 Licence conditions should be used with caution
 Licence duration should be at least 20 years to incentivise network investment
 Competition can be supported by licensing as much spectrum as possible and limiting charges and other barriers to services
 Voluntary spectrum trading should be encouraged to promote efficient spectrum use
PDF Downloads