Brazil Market Insight | 5925-7125 MHz: The 6 GHz Band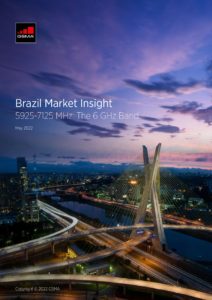 Governments around the world need to make a carefully considered decision as to what the most efficient use of 6 GHz spectrum will be. It represents the largest remaining single block of mid-band spectrum that can be allocated to licensed mobile or unlicensed services in the foreseeable future. 6 GHz spectrum can ensure that affordable 5G capacity is available to drive Brazilian industrial and economic competitiveness in the sustainable, digitised markets of the future.
GSMA Intelligence has recently undertaken a cost-benefit analysis of the 6 GHz band in 24 countries around the world, including Brazil. The analysis looked at the economic benefits of allocating all of the 6 GHz band to licensed (Scenario 1); all of the 6 GHz band to unlicensed (Scenario 2); and the lower part of the band for unlicensed use and the upper part of the band for licensed (Scenario 3).
Based on the amount of spectrum available and the spectral efficiencies enabled by 5G and Wi-Fi 6, the GSMA Intelligence study assesses whether there is sufficient capacity to meet demand for both services over a 15-year period for each of the policy scenarios highlighted above. It considers these three scenarios against theoretical FTTP speed availability of 1 Gbps, 5 Gbps and 10 Gbps, both with or without 60 GHz Wi-Fi.
For all countries studied, there is never a scenario where the allocation of the full 6 GHz band to unlicensed use (Scenario 2) generates the greatest benefit to society. Brazil is one of the countries where the analysis carried out shows that a fully licensed approach is most beneficial.