Brazil Mobile Observatory 2012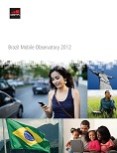 With over 260 million connections, Brazil is the fourth largest mobile market in the world, and as the largest market in Latin America, drives innovation, business ventures as well as social and cultural activities across the region.
Mobile penetration is expected to reach 140% in 2012 compared to fixed-line penetration of 22%, placing mobile as the key provider of all types of telecommunications services to the majority of consumers. This coverage allows mobile technology to connect segments of the Brazilian population that were previously unconnected as well as addressing the digital divide by increasing the availability and affordability of data services. In just four years since the introduction of 3G services, over 60 million 3G and mobile broadband connections have been provided, making mobile the main provider of broadband services.
PDF Downloads