Latin America Mobile Observatory 2011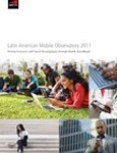 Driving Economic and Social Development through Mobile Broadband.
The first edition of the Latin American GSMA Mobile Observatory provides a comprehensive review of the Latin American mobile communications industry. This Observatory collates the latest statistics and market developments, providing a reference point for participants in the mobile industry, policy makers and other interested stakeholders.
It covers the state of the industry, including the evolution of competition, innovation in new products, services and technologies and the industry's contribution to social and economic development in Latin America.
PDF Downloads