Mobile industry impact and response in the Caribbean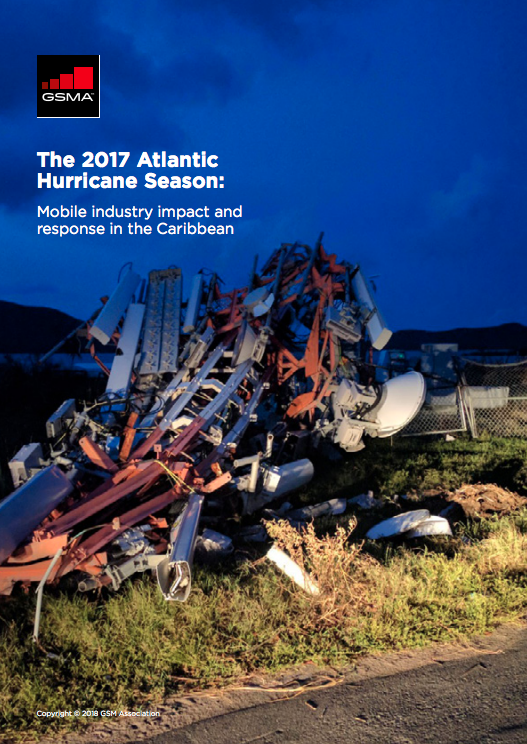 Impact of the 2017 hurricanes in the Caribbean
The 2017 Atlantic hurricane season was one of the worst ever recorded, causing widespread destruction, loss of life and long-term economic damage to multiple Caribbean small island states. Governments, industries and communities continue to recover more than six months after Category 5 Hurricanes Irma and Maria hit multiple islands in quick succession. The telecommunications industry felt the force of the hurricanes to varying degrees across their operating countries, with a number of mobile network operators (MNOs) experiencing unprecedented impact.
The focus of this report: sharing GSMA member experiences of the 2017 Caribbean hurricanes to inform and shape disaster preparedness and response strategies across the mobile industry.
This report captures some of the key ways GSMA members and their partners responded to Hurricanes Irma and Maria in the Caribbean, from before the storms made landfall to the clean-up and restoration efforts. Using first-hand interviews and secondary resources, we have identified the major challenges MNOs faced in preparing and responding to the 2017 Atlantic hurricane season, and highlighted best practices and innovative approaches. The report also draws on lessons learned to provide recommendations for other GSMA members operating in climate-vulnerable small island states, where natural disasters are only likely to increase in intensity with climate change.
The following key takeaways provide an opportunity for the wider mobile industry, particularly in other small island states, and interested stakeholders, to learn from the successes and challenges experienced and consider these against their own preparedness and emergency response plans.