Mobile taxation in Brazil: Supporting Digital Transformation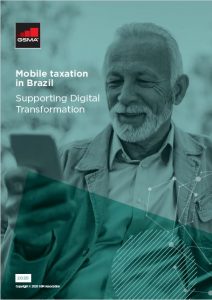 Mobile telephone services are playing an increasingly important role globally in supporting economic growth and social inclusion. Growth in mobile penetration can enhance digital connectivity by expanding internet and broadband access, which in turn facilitates the reduction of barriers to trade, commerce, communication, service delivery, and human development. These benefits can be delivered by, for example, expansion in financial inclusion via the use of mobile money, digitally enabled local entrepreneurship, innovative digital health and education delivery systems, and growing numbers of e-government initiatives.
A conducive regulatory environment provides the support the mobile industry needs to thrive and maximise the opportunities available to consumers, business and governments. The regulatory fee and tax frameworks are an important element of this, and there is a need to achieve the right balance between revenue maximisation, and incentivising investment and economic growth.
In this context, the GSMA has commissioned EY to undertake a study of the economic impact of potential regulatory fee and tax reforms on the Brazilian mobile sector. This report analyses developments in the mobile sector and its regulatory fee and tax treatment in Brazil, and analyses scenarios to estimate the impacts of these policy options on the mobile sector, the wider economy, and the Government's fiscal position.