Safety, privacy and security across the mobile ecosystem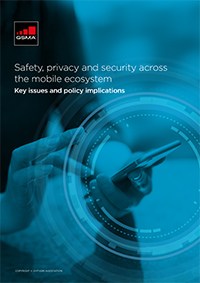 In the last three decades, the market for mobile telecoms services has grown to represent more than 7.6 billion mobile connections, serving 4.7 billion unique mobile consumers globally. This growth is set to continue, and it is anticipated that by 2020, almost three-quarters of the global population will benefit from a mobile subscription.
The impact of this growth can be seen in both developed and developing markets. Mobile services have allowed individuals, companies and governments to innovate in new and often unexpected ways, with consumers across the globe showing a ready appetite to adopt new technologies. The ubiquity of mobile services and smartphones in many developed economies has enabled whole new business models to emerge, supporting new forms of personal and business interaction and allowing the wider mobile ecosystem to generate a contribution of $3.1 trillion in economic value added.
With the growing economic and social importance of the internet in general and mobile internet usage in particular, there is a corresponding need to protect consumers using these services and to ensure that they can continue to use them safely and securely. Without such protection, there is a risk that the benefits of modern communications could be undermined. If consumers cannot trust the integrity of an e-commerce service, or worry that sensitive private information may be intercepted when using communication services, then they are much less likely to use them and would have to resort to costlier and less e cient communication channels. In the most extreme cases, a service that was promoted in the 1990s as o ering security (to car drivers, or vulnerable people travelling alone) and privacy (calls from a personal device instead of a fixed phone in the family living area), could be abused to damage those fundamental needs.