Making smart cities and IoT a reality in Latin America: a quick guide for decision-makers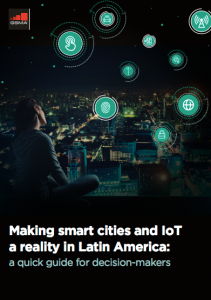 The Internet of Things brings about an enormous opportunity for Latin America. The total revenue opportunity for the region by 2023 is USD 33 billion, according to GSMA Intelligence. However, the overall impact on GDP is likely to be a lot more substantial. For Brazil alone, McKinsey forecasts the impact of IoT by 2020 to be of at least USD 50 billion in the country's GDP.
IoT solutions will innovate across a great variety of industries, such as energy, healthcare and transportation. They will combine communication networks and existing "off-line" services increasing productivity, diminishing waste and improving citizens' wellbeing. If governments and policymakers in Latin America want to realize the full benefits of the IoT and help close the technology gap between the region and developed countries they should take action, they should:
Resist the temptation to consider IoT services as traditional telecom services. Legacy regulation – that is, regulations established long before the IoT became a reality to deal with traditional voice and data services, will be most often irrelevant, will unnecessarily stifle IoT innovation, slow down take up and ultimately damage consumer and business in the region
Facilitate a cross-regulator, cross- department dialogue and strategy across the various government administrations. For example, utility and telecom regulators should define and work together on how to promote smart meters; Transport and Communication ministries should define together how communication networks will serve roads; Smart city planners from different towns should work together to define best practice and work on common standards.