Update: GSMA, UNICEF and Comedy Central win 2015 Eikon Award for 'StandUP Mobile' Campaign. The 'Stand Up Mobile' campaign was awarded the 2015 Eikon Award for institutional communications excellence in the Social Marketing category.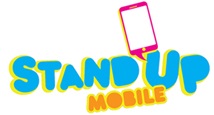 Today, UNICEF and the GSMA, with the support of Comedy Central, launched the 'Stand Up Mobile' campaign to raise awareness of the risks associated with children's mobile phone habits and to promote a safer online environment for them.
Through 'stand-up comedy' skits, this innovative campaign sheds lights on real-life situations that demonstrate that while the use of mobile phone can be fun for children, it can also expose them to a variety of risks. Starting today, three monologues will be presented on a weekly basis featuring several renowned comedians in Latin America, including Ricardo Quevedo (Colombia), Juan Barraza (Argentina) and Fabrizio Copano (Chile). The 'stand-up comedy' shows will be broadcasted by Viacom's TV Channel and Comedy Central, among other channels.
The initiative was born from the dissemination strategy of the 'Guidelines for Industry on Child Online Protection' within Latin America. The guidelines were developed by UNICEF and the International Telecommunications Union (ITU) in collaboration with GSMA. They were designed with the idea of helping mobile operators' safeguard and promote children's rights in the digital world.
Among other actions, the guidelines recommend companies in the information and communication technologies (ICT) industry to collaborate with social organizations to promote children-orientated helplines, advocate against 'cyberbullying', facilitate systems to block and/or report online child sexual abuse, and encourage children's participation in society through innovation and positive use of mobile phones.
Stefan Stefansson, UNICEF's Chief of Partnerships for Latin America and the Caribbean, stated that "nowadays, it is easier for those that have the intention of abusing children to find victims and pursue them through one single 'click'. Unfortunately, online content related to child sexual abundance, and it can be hosted anywhere in the world. The mobile industry urgently needs to take the necessary measures to protect children online and to help them use their mobile phones adequately. Children's rights need to protected not only offline but also online".
The GSMA Head of Latin America, Sebastián Cabello, reiterated the organization's commitment to the initiative and commented that "It is a great satisfaction for the GSMA to be part of this project that seeks to recreate ways to ensure a safe online environment for children. We have been actively working with mobile operators regionally, together with UNICEF, so children in Latin America can enjoy a safer and more secure online environment".
The creative direction of the campaign is curtesy of BasevichCrea marketing agency and aims to reach top-in-class executives and influences of the mobile industry and other private sector entities, parents and children that use smartphone and other devices to communicate.
For more information about this campaign, you can visit the website (in Spanish): www.uni.cf/movilseguro.
To be part of this campaign and to support its message, use the following hashtags in social media: #StandUpMobile #MovilSeguro