The negative impacts of high spectrum prices on consumers can no longer be disputed. A GSMA 2019 report titled 'The Impact of Spectrum Prices on Consumers' confirmed that countries with poor spectrum policies are leading to millions of people being left unable to access mobile broadband services or experiencing reduced network quality.
Based on that global study, this series of reports provide deep dives into the impact of spectrum pricing in Latin American countries.
Document
Thursday 25 Nov 2021 |
This report reveals that the annual cost of spectrum in Ecuador has increased from around 10% of recurring revenue in 2010 to over 16% of recurring revenue in 2019.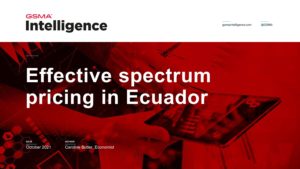 Document
Thursday 16 Sep 2021 |
This report analyses how alternative spectrum prices would have impacted the historical development of the Colombian mobile market between 2014-2019.