The GSMA announced yesterday several initiatives to protect mobile users in Nicaragua with the support of the country's mobile operators, Claro and Movistar, and the Nicaraguan Institute for Post and Telecommunications (TELCOR). Under the We Care campaign, the GSMA aims to provide users with a more safe, secure and convenient mobile experience through a series of industry collaborative actions addressing problems such as handset theft and child protection.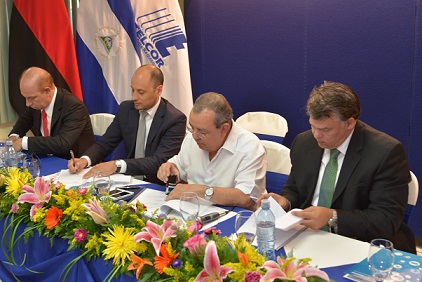 "With nearly 3.47 million unique subscribers and 7.13 million mobile connections by mid-2014, the mobile market in Nicaragua is growing at a fast pace; mobile broadband will connect the vast majority of the population to the Internet, reaching 5.3 million connections by 2018," explained Sebastian Cabello, Director of GSMA Latin America. "This is a kick-starte for mobile operators to work along with the Government of Nicaragua to help public policies promoted by the authorities and to provide answers to problems affecting mobile users."
Also present at the announcement in Managua city were Orlando Castillo, Director General of TELCOR; Marcia Ramirez, Minister of Family, Youth and Children (MIFAN); Antonio Vega, CEO of Claro Nicaragua; and Juan Manuel Arguello, Country Director for Telefónica Movistar Nicaragua. While the national mobile market continues to grow, Nicaragua's leading mobile operators, Claro and Movistar are working together with the GSMA to take active steps to provide users with a more secure, stable and appropriate mobile experience. .
The We Care campaign is seeking to protect mobile users by focusing on two key areas:
Reducing handset theft – In order to reduce crime associated with stolen mobile devices across Latin America and Nicaragua, mobile operators have announced that Nicaragua will be connected to the GSMA IMEI database. This will share information of devices stolen in the region and nationwide, to prevent stolen devices from being activated on other mobile networks. The operators will share the unique identification codes of stolen devices via the centralised GSMA IMEI database, effectively blocking their future use. This wider international partnership will ultimately reduce the rate of theft and control illegal trafficking, as stolen mobile phones will be rendered useless.
Protecting children's rights – Nicaragua's mobile operators are currently working with the GSMA and the global organization, Child Helpline International (CHI). Together, they will support the work of the Ministry of Family, Youth and Children through the promotion of the Line 133 in Nicaragua. This helpline aims to be a tool for people to report and receive information on crimes including the human trafficking of children and teenagers. To support the work of Line 133, Nicaraguan operators will be responsible for:
• Sending SMS to each user to inform them about the services offered by Line 133
• Sending SMS messages with assertive communication tips between parents and children
• Promotion of Line 133 via SMS messages
• Promoting Line 133 in CSR activities
• Include the logo of Line 133 website operators
• Promote Line 133 via social networks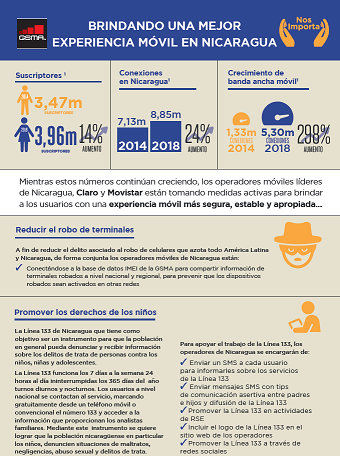 "We thank Claro, Movistar and GSMA for these initiatives that will promote the safety of the public against the theft of mobile phones and the protection of children's rights. Nicaragua's mobile companies are already making efforts in this direction but with this agreement of understanding the scope will be extended from a regional to a global level," said Director General of TELCOR, Orlando Castillo.
Child Helpline International (CHI) is a global network of 178 helplines aiming to promote and protect the rights of children and teenagers in approximately 143 countries. The Executive Director of CHI, Nenita La Rose said: "we welcome the initiative developed by GSMA Latin America, and we appreciate the interest and support of operators and the Nicaragua's regulator to work alongside Line 133 operating within MIFAN. The helpline, provides a key tool of prevention, support and consultation for the children and teenagers of Nicaragua. We hope that the outlined initiatives help to generate greater access and response, providing children and teenagers an accessible way to contact these services. These services constitute a pathway in which they trust when seeking help".
The GSMA's We Care campaign was first launched in February 2014 at Mobile World Congress (MWC) in Barcelona. During MWC, the Brazilian Communications Minister, Paulo Bernardo and the General Director of the GSMA, Anne Bouverot announced a collaboration among Brazilian mobile operators to implement a number of initiatives to address problems such as SMS spam, handset theft and child protection.
Memorandum of Understanding regarding handset theft in El Salvador

In turn, on 14 August in El Salvador a memorandum of understanding was signed in regards to terminal theft.
With Eng. Blanca Coto Noemi Estrada, Superintendent of Electricity and Telecommunications (SIGET) as witness, El Salvador's mobile operators, Claro, Digicel, Movistar and Tigo agree to share information on mobile devices reported as lost or stolen.