IN Mobile Selects IPLOOK and SigScale to Deploy its Commercial 4G Network in Mongolia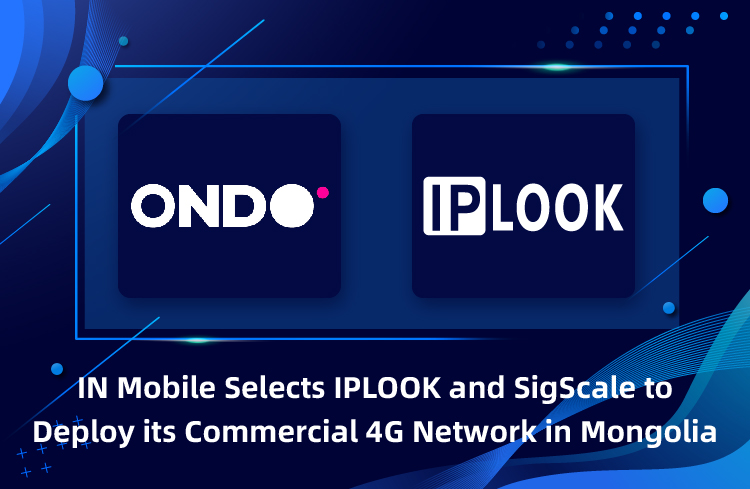 IPLOOK Technologies, the leader in end-to-end mobile networks for operators, cooperated with SigScale, an open-source company focused on software solutions for communications service providers (CSP), announced they have been selected as the provider of IN Mobile's 4G LTE mobile core network solution.
IN Mobile is the fifth mobile operator in Mongolia, a new operator committed to providing 4G, 5G and IoT network services.
The joint solution is a carrier-grade, fully-integrated and high-scalable solution that combines IPLOOK EPC – "IKEPC 500 series" and SigScale Online Charging System (OCS), performing successful interoperability with IN Mobile' s self-developed Operation Support System (OSS). It leverages technologies from both companies, which enables IN Mobile to rapidly deploy 4G network that can be upgraded to converged 5G network smoothly.
"We are delighted to collaborate with IPLOOK and eager to help IN Mobile advance the market opportunities with this powerful combined solution," said Vance Shipley, CEO at SigScale. "SigScale OCS partners with IPLOOK EPC to provide more innovative and cost-effective solutions for MNOs in emerging markets."
The IKEPC 500 series combines MME, SGW, PGW, HSS, PCRF, IMS and DRA network elements in one X86 COTS platform which are 100% 3GPP compliant, it supports all eNodeB vendors openly and multi-charging mode (like RADIUS, OCS, CG), and provides 3GPP standard interface for roaming with MNOs. And SigScale OCS is relied upon by global CSP to provide real-time charging of prepaid voice, data and messaging services, it provides TM Forum standard interfaces for charging services. The companies have complete and cost-effective solutions, flexible options, and a worldwide support network for global mobile operators.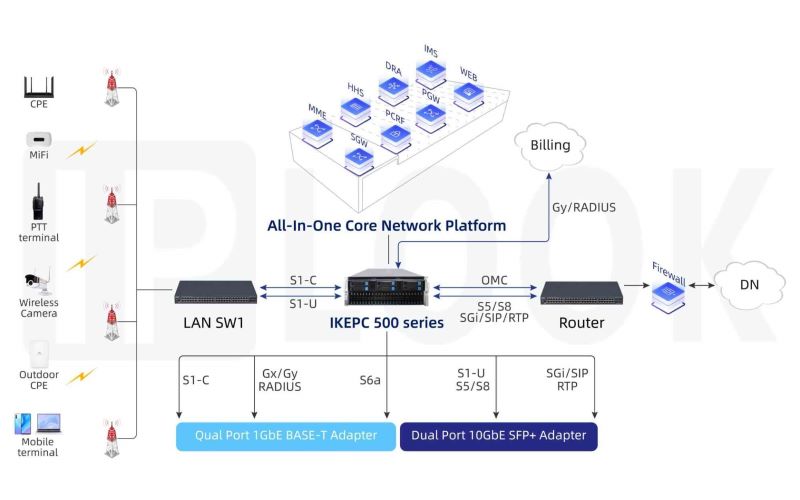 IPLOOK All-In-One LTE platform — IKEPC 500 series
"IPLOOK and SigScale have a long-standing relationship, and we support customized and differentiated network services to be created and deployed quickly for Mobile Network Operators (MNOs) and Communications Service Providers (CSPs). We will continue to work with reliable technology leaders to deliver uncompromising, high-quality technology solutions to serve the needs of our customers." said Jarod Wang, VP at IPLOOK Technologies.
Working together, IPLOOK , SigScale and IN Mobile have successfully delivered the 4G commercial mobile networks in Mongolia. It provides IN Mobile with several business benefits including an accelerated ability to deliver new services to market, and significant CPAEX reductions required to build and operate IN Mobile's next-generation network infrastructure.
"IN Mobile is the latest telecommunications operator in Mongolia, we are committed to providing resilient and reliable connectivity to our customers," said Nyambayar Purevsuren, CTO from IN Mobile. "After reviewing both the legacy and emerging architectures available, we have decided for our EPC platforms that a integrated solution from IPLOOK Technologies and SigScale provides the network capacity and the service agility necessary to achieve our business objectives related to this new market opportunity."
As part of the ongoing strategic partnership among the three companies, IPLOOK and SigScale will continue to support IN Mobile, helping to oversee the day-to-day operations of the 4G network and the future of 5G network upgrades for the next 5 years.
About IN Mobile Network LLC
IN Mobile holds licenses of specific frequency coverage of 4G & 5G, providing O-RAN based mobile data network, enterprise solutions and IoT solutions at economical prices in Mongolia to enable users with internet services that cater to their needs. Under the brand name "ONDO" (translating to "different" or "unique" in Mongolian), IN Mobile Network is aiming to express ONDO' s exceptional perspective through their products, services and marketing.
More information can be found at: https://ondo.mn/
About IPLOOK
IPLOOK Technologies, an industry-leading software company of 3G/4G/5G core network with flexible development, customized service, providing highly scalable, virtualized and cost effective end-to-end mobile core solution for MNO, MVNO, WISP and Private Networks.
Dedicated in core network more than 9 years, IPLOOK has accumulated commercial experiences of telecommunication industry. The core network solutions provided by IPLOOK has been deployed in over 30 countries worldwide, connecting over 30M subscribers.
More information can be found at: https://www.iplook.com
About SigScale
SigScale is an open source company focused on software solutions for communications service providers (CSP).
The core competency of SigScale is in signaling and distributed fault tolerant systems. SigScale has developed their own protocol stacks (SIGTRAN, MAP, RADIUS, EAP) in Erlang, allowing them to build microservices with very low footprint and massive scalability.
More information can be found at: https://sigscale.com/
Disclaimer: The views and opinions expressed in this article/press release are those of the authors and do not necessarily reflect the approved policy or position of the GSMA or its subsidiaries.