Squire Technologies partner with IPVision Technologies to deliver world-class connectivity in Latin America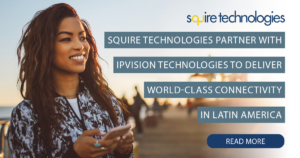 Despite a surge in mobile adoption during the COVID-19 pandemic and recent investment in 5G networks, Latin Americans (LATAM) are continuing to experience the effects of a digital gap between their region and more developed nations. GSMA reported in 2022 that around 40% of connections in LATAM are still via 2G/3G networks, and 5G adoption is only likely to reach 11% of people by 2025. Additionally, the findings of a 2020 investigation by the Inter-American Institute for Cooperation on Agriculture, the Inter-American Development Bank, and Microsoft revealed the worrying extent of the digital gap, discovering that 32% of the Latin American and Caribbean population have no internet access at all.
While developed nations can leverage cutting-edge technology and investment the extra revenue from having more connected populations, limited network coverage hampers LATAM nations. Poorly connected or unconnected citizens can't access online education and social services. Nor can they benefit from online information about health or employment options that are essential in developed nations. Poor coverage and expensive data costs cause many citizens to choose not to have a mobile phone. Without that revenue, network operators can't invest in improving legacy networks as rapidly as they might want to, and the gap widens. The self-perpetuating problem needs a fix quickly.
Squire Technologies and LATAM-based software developer IPVision Technologies, have partnered to provide solutions for these obstacles. The customer-focused approach of both companies creates the perfect package for operators looking for cost-effective and problem-specific solutions to update and expand their networks.
IPVision Technologies is highly qualified and expert in solution design, deployment, and support for NGN/IMS/LTE & VoLTE Core IP networks. With first-hand knowledge of customer needs in LATAM, the company uses their VoIP softswitch and gateway products, and the signalling, routing, and monitoring products of businesses like Squire Technologies, to provide bespoke software customisations for core VoIP networks in the region.
The partnership is an excellent fit for both companies. IPVision Technologies' experience with VoIP networks and their location, working out of Florida, Ecuador, Argentina, and Aruba, make them the perfect business to help deliver Squire Technologies' suite of world-leading network solutions to the region.
Squire Technologies is a specialist in signalling solutions, and the company has spent over two decades developing and enhancing a range of evolved network intelligence products. Sigla, the company's smart centralised signalling platform, provides a high degree of agility to customers, unifying all mediation, routing and interworking, security, and measurement between multi-generation networks. It solves numerous issues created by multi-protocol networks and legacy technologies, including:
Unnecessary network complexity;
Vendor lock-in;
End-of-life scenarios;
Security and revenue assurance vulnerabilities;
Increased operational costs; and
The lack of a single point of monitoring, analysis, and reporting for multi-generation networks.
Sigla seamlessly traverses legacy and next-generation networks. So, operators can better manage signalling even when extending or upgrading their networks to meet increased user traffic or 5G and IoT demands. It gives operators the toolkit they need to meet the social and economic demands of an accelerating tech-scape.
"Squire Technologies is a business that is focused on quality and is a world leader in the field of signalling solutions", says Ivan Alizade, Managing Director at IPVision Technologies. "We're thrilled to be working with them and incorporating their products into our offer to our customers, which could be a game changer for businesses, governments and people across the region."
"It's near impossible for developing nations to close the digital divide by just rolling out the same, off-the-shelf technology that developed nations are using.", says Ben Teversham, Sales Manager at Squire Technologies. "A cost-effective answer is to transform their existing networks, using customised solutions that enable forward and backward network compatibility, rather than building all new infrastructure. IPVision Technologies are expert in designing those types of customised software solutions, and we are delighted to partner with them and have them deploy our products in Latin America."
For further information about IPVision Technologies please visit: www.ipvision.com.ar
For further information about Squire Technologies please visit: www.squire-technologies.com
Disclaimer: The views and opinions expressed in this article/press release are those of the authors and do not necessarily reflect the approved policy or position of the GSMA or its subsidiaries.