A Trial System of IPLOOK 4G/5G Converged Core in New York IDC
Overview of the Trial System
IPLOOK's 4G/5G converged core network including IMS core network was deployed on the server in New York IDC, and successfully connected with eNodeB/gNodeB based at IPLOOK R&D center through IPSec tunnel.
The trial system has been operated stably for over two months, completing the test for stable 4G/5G data services and VoNR/VoLTE calls. Positive feedback was gained from our new customers, who have experienced the system.
The Test Environment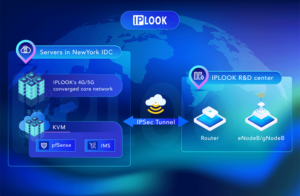 Core network side in New York IDC:
Install CentOS 7 and KVM on two servers; deploy IPLOOK's 4G/5G converged core network on one server and IPLOOK's IMS core network and pfSense on the other server.
Radio equipment side in IPLOOK R&D center:
Prepare the routers supported IPsec (or install pfSense on a server) and eNodeB/gNodeB.
With simple operation, this test enables worldwide customers to directly verify the capability of our mobile core network and the quality of network services.
Check out the test guidance in detail: IPLOOK 4G 5G Converged Core in NY.pdf
IPLOOK 4G/5G Converged Core 
IPLOOK cloud converged core is a fully-converged core network solution meeting full access of 2G/3G/4G/5G/Fixed networks.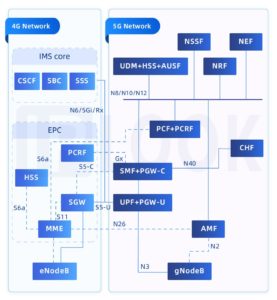 From single network architecture to a fully converged network architecture, IPLOOK 5G converged core helps Operators smoothly migrate to SA 5G at the fastest speed and lowest cost.
Contact us for more details if you are interested!
About IPLOOK
Founded in 2012, IPLOOK is an industry-leading mobile network provider. Its virtualized 3G/4G/5G core networks can be deployed for Mobile Network Operators (MNO), Mobile Virtual Network Operators (MVNO), Wireless Internet Service Providers (WISP) and Enterprises.
More info:https://www.iplook.com/. Follow IPLOOK on LinkedIn @IPLOOK Technologies
Disclaimer: The views and opinions expressed in this article/press release are those of the authors and do not necessarily reflect the approved policy or position of the GSMA or its subsidiaries.