Anritsu selects COMPRION SIMplifier for fully automated mobile device testing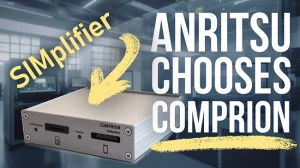 COMPRION has announced that Anritsu, a leading test equipment vendor in the telecommunication industry, has seamlessly integrated the new COMPRION SIMplifier hardware in its test setup to offer their customers a fully automated test solution for speeding up and easing GCF/PTCRB conformance and carrier acceptance testing.
The COMPRION SIMplifier, a compact and portable hardware device, aims to improve the efficiency of mobile device testing by eliminating the manual process of removing and reinserting the SIM card for profile updates. This is achieved by integrating a PC/SC card reader and a device connector. Udo Willenbrink, Product Manager at COMPRION, explains: "The device is specifically designed to optimise productivity and streamline various test procedures such as GCF/PTCRB protocol conformance testing, regression testing and development testing. In addition, it can be seamlessly integrated into existing test systems, offering versatility for a wide range of use cases. We are pleased that the COMPRION SIMplifier meets Anritsu's requirements for full test automation."
Anritsu has integrated the SIMplifier hardware in its ME7834NR 5G NR Mobile Device Test Platform which is used by MNOs, chipset and mobile device manufacturers to perform network operator carrier acceptance and GCF/PTCRB conformance tests. For these type of tests, physical SIM cards had to be exchanged in order to make profile updates. "By integrating the SIMplifier in our test setup, we save time, simplify configuration changes and unlock total automation to enable our customers to run tests overnight without the need for a test engineer present. In order to contribute to the expansion of the 5G mobile market, we would like to future strengthen our collaborative relationship with COMPRION," says Keiji Kameda, General Manager of Mobile Solutions Division at Anritsu Corporation.
For further information, please visit the SIMplifier product page.
About Anritsu
Anritsu is a provider of innovative communications test and measurement solutions. Anritsu engages customers as true partners to help develop wireless, optical, microwave/RF, and digital solutions for R&D, manufacturing, installation, and maintenance applications, as well as multidimensional service assurance solutions for network monitoring and optimization. Anritsu also provides precision microwave/RF components, optical devices, and high-speed electrical devices for communication products and systems. The company develops advanced solutions for emerging and legacy wireline and wireless technologies used in commercial, private, government, and other markets.
To learn more visit www.anritsu.com and follow Anritsu on Facebook, LinkedIn, Twitter, and YouTube.
Disclaimer: The views and opinions expressed in this article/press release are those of the authors and do not necessarily reflect the approved policy or position of the GSMA or its subsidiaries.