Fibocom to Acquire Sierra Wireless Automotive Embedded Module Product Line through its Joint Venture Company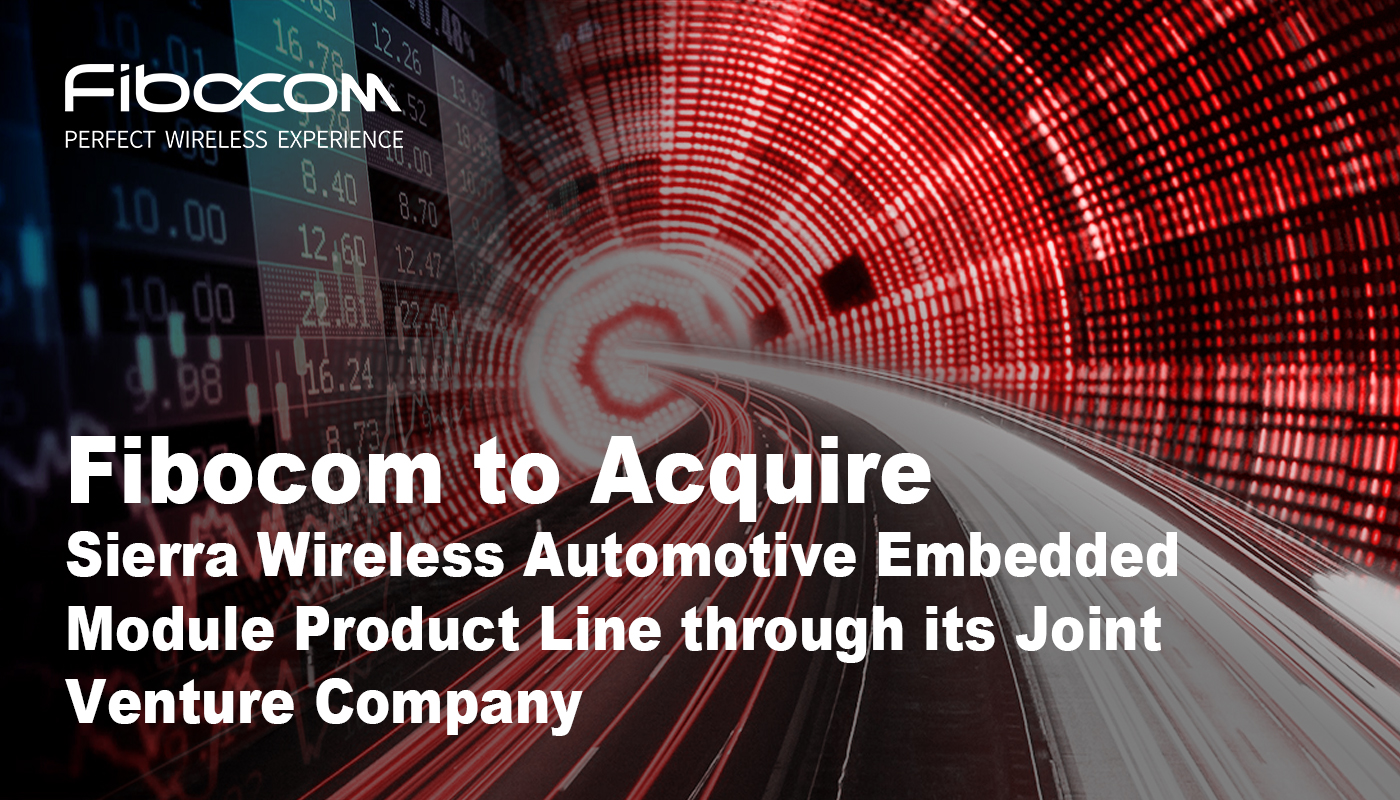 Shenzhen China – July 27th, 2020 – Fibocom (Stock Code: 300638), a leading global provider of IoT (Internet of Things) wireless solution and wireless communication modules, reaches an agreement with three investment institutions to acquire the automotive embedded module product line of Sierra Wireless (NASDAQ: SWIR) (TSX: SW) through its joint venture company.
Fibocom signed an agreement with three professional investment institutions, namely SHENZHEN CAPITAL GROUP CO., LTD., Shenzhen Jianxin Huaxun Equity Fund Management Co., and Shenzhen Qianhai Red Earth M&A Fund Partnership (Limited Partnership), planning to jointly increase investment in Rolling Wireless Technology Co., Limited, a joint venture company invested by the four parties. The funds will be used for the acquisition of the automotive embedded module assets of Sierra Wireless through Rolling Wireless (H.K) Limited, the subsidiary of Rolling Wireless Technology Co., Limited. After the acquisition, the joint venture company Rolling Wireless (H.K.) Limited will operate the global automotive embedded module business independently.
As an important milestone in Fibocom's globalization, this strategic move will strengthen Fibocom's industrial advantage in IoT sector and will help to further enhance its global market share in the automotive embedded module business.
Mr. Zhang Tianyu, Chairman of Fibocom, says: "We have been dedicated to providing high-speed, stable and reliable embedded wireless modules to the IoT industry for more than twenty-one years. The acquiring will allow us to dive deeper into the automotive vertical industry and continue to provide more market-oriented high-performance embedded wireless modules and total IoV solutions for global customers in the automotive industry."
About Sierra Wireless
Sierra Wireless (NASDAQ: SWIR) (TSX: SW) is the leading IoT solutions provider that combines devices, network services and software to unlock value in the connected economy. Companies globally are adopting IoT to improve operational efficiency, create better customer experiences, improve their business models and create new revenue streams. Whether it is an integrated solution to help a business securely connect edge devices to the cloud, or a software/API service to help manage processes associated with billions of connected assets, or a platform to extract real-time data to make the best business decisions, Sierra Wireless will work with you to create the right industry-specific solution for your next IoT endeavor. Sierra Wireless has more than 1,300 employees globally and operates R&D centers in North America, Europe and Asia. For more information, visit www.sierrawireless.com.
About Fibocom
Founded in 1999, Fibocom is a leading global provider of IoT (Internet of Things) wireless solution and wireless communication modules. We are committed to bringing reliable, accessible, secure, and intelligent wireless solutions to every IoT application scenario for the increasingly digitalized industries and enriched smart life of the whole society. In 2017, Fibocom become the first stock-listed (Stock Code: 300638) wireless module provider in China.
We provide technically advanced and high-performance 5G, 4G, NB-IoT/eMTC, 3G, and 2G, smart, auto-grade, GNSS, Wi-Fi/BT wireless modules. By technically embedding Fibocom's wireless solutions into IoT devices that will become smart and remotely manageable with stable data transmission between devices and operation center, we empower the intelligent future of all industries that mainly include smart retail, ACPC (Always Connected PC), industry 4.0, smart grid, smart homes, smart agriculture, smart cities, telemedicine, metering, smart security surveillance, and the intelligently connected cars, etc. We have many long-term industry customers including Fortune Global 500 enterprises, which is an important driven power of our fast development.
Fibocom is headquartered in Shenzhen, China. We have R&D centers in both Shenzhen and Xi'an, and subsidiaries in the U.S., Germany, India, Taipei and Hong Kong as regional operation centers. We have more than 1000 global employees and provide products and services in more than 100 countries and regions.
Reference link on Nasdaq
https://www.nasdaq.com/press-release/sierra-wireless-reaches-definitive-agreement-to-divest-automotive-embedded-module
Media Contact
Ellie Yuan
market@fibocom.com
+86 755-26733555
Disclaimer: The views and opinions expressed in this article/press release are those of the authors and do not necessarily reflect the approved policy or position of the GSMA or its subsidiaries.