LANCK Telecom is Compliant with the GLF Code of Conduct to Prevent Fraud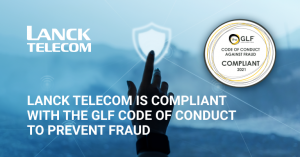 It is with great pleasure that we announce that the ITW Global Leaders' Forum (GLF) has attested that LANCK Telecom is fully compliant with the Code of Conduct terms that we signed a year ago.
This means that LANCK Telecom has all the necessary capabilities and systems to comply with the principle described in the document.
This recognition is extremely important to us, notably because it testifies that LANCK Telecom is meeting key fraud prevention commitments, including:
Actively monitoring and reporting on fraudulent activity
Assisting in the investigation of fraud
Taking appropriate and swift steps to stop payments to those who commit fraud
Implementing standard contractual clauses to harmonize the commitment to preventing fraud across the industry
GLF, with support from Delta Partners, conducted an independent assessment of the responding operator's current systems, processes and policies against the benchmarks set in accordance with each of the six principles of the Code of Conduct. Each item was further supported by evidence.
The GLF published the names of organisations committed to being compliant with the GLF Code of Conduct to prevent fraud in international telecommunications in their Fraud Report at the Capacity Europe event on October 19, 2021. We are proud to be on the list.
Greetings to all the other responsible operators and gratitude to the GLF team for the significant research performed.
To know more about fraud protection that LANCK Telecom provides for free click here.
Disclaimer: The views and opinions expressed in this article/press release are those of the authors and do not necessarily reflect the approved policy or position of the GSMA or its subsidiaries.