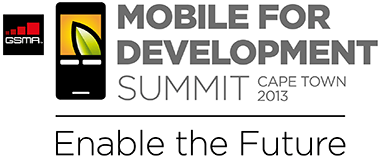 Mobile for Development Summit 2013 featured morning sessions on the Summit's four main themes, outlined below. The afternoon sessions were split into smaller topic-specific seminars.
1. What is Mobile for Development? The landscape today: The Mobile for Development sector creates partnerships out of what could be considered strange bedfellows. Board rooms making investment decisions can now include representatives from mobile network operators, foundations, international development organisations, and governments. Motivations for deploying a mobile service can vary from providing essential health education to customer loyalty, but the method for delivery may look the exact same. We will discuss how differing motivations can create both challenges and opportunities when developing new business models and new ways of gaining access to hard-to-reach populations.
2. Creative Financing: Mobile for Development (M4D) brings unique new challenges for the impact investor and entrepreneurs interested in mobile products and services. We will discuss the dilemma of the entrepreneur – Do you position yourself as the next hot tech start up in order to attract venture capital or do you focus on your potential impact to get more patient impact-driven funding? What are the unique or unusual financial vehicles that investors are introducing into this space when structuring deals? What does a mobile network operator see as the investment opportunity in this space?
3. Data, Design & Innovation: How does opening up access to data lead to opportunities for innovative mobile services that have social impact? Will this give rise to viable partnerships between smaller agile players and larger ones with the required reach to drive scale? And what is the role of user-centric design in enabling the adoption of these services?
4. Internet Players – Disruptors or Enablers?: Over the last few years, in the developed world, we have seen a huge increase in the choice of mobile applications and services as over-the-top players offer more and more web based services/applications.   Companies such as Facebook, WhatsApp and Skype offer social media, instant messaging and VOIP.  In the developing world, mobile internet access is on the rise, and over-the-top services are emerging.  This brings the potential for a wider range of impactful products for the underserved.  But in parallel it poses a risk to mobile operator's traditional voice and messaging revenues.  How can operators form partnerships with over-the-top players to harness disruption?  How can we use these new services to deliver more impactful services to the underserved?  And finally, how can mobile operators disrupt other industries?