Since June 2017, the GSMA mAgri programme has been working with the Digital services team at Dialog Axiata PLC (Dialog) in Sri Lanka to explore opportunities for developing a business-to-business (B2B) service for last mile digitisation in agriculture.  Sri Lanka has a large population reliant on agriculture with 82% [1] of the 21m population living rurally; agriculture (value added) contributes 8% of GDP.[2]  Dialog has the largest network coverage in Sri Lanka and commands approximately 45% of pre-paid market share.[3]
With a strategic interest in driving rural adoption of their eZ Cash mobile money service, Dialog* and the mAgri programme worked together to develop an holistic agribusiness digital solution, which includes the facility for digitising smallholder farmer (SHF) payments. This project was built on the successes achieved by Dialog's sustainability team and the mAgri programme through the development of Govi Mithuru (farmers' friend), a business to consumer (B2C) service, which provides context-specific agricultural advice across 14 crops.
Value chain assessment
From initial desk research tea, rubber, dairy and tropical fruits were all value chains of interest to the mAgri team due to the relative formality of these value chains in Sri Lanka.  By formality we refer in part to the presence of established agribusinesses procuring directly from smallholders, where the roles and economic relationships between SHF and agribusinesses are well defined. See below for further detail: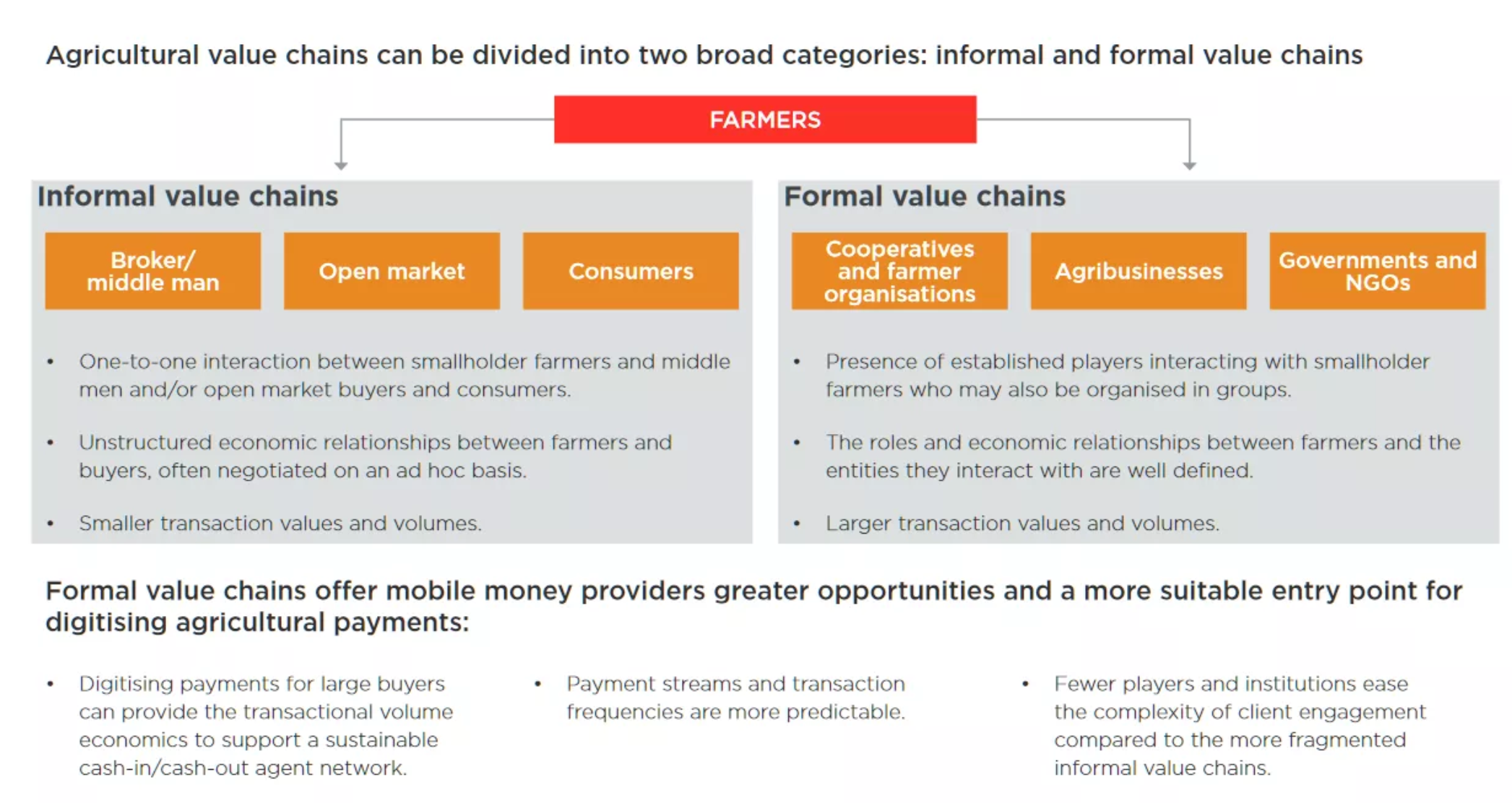 Further validation of these value chains was achieved through field research concentrating on exploring the dairy and tea sectors in greater depth.  The field research team comprised representatives from Dialog, the GSMA mAgri programme and local digital research agency, Innovation Quotient (IQ); It is important for the MNO's product manager join the field research in order to develop empathy for the context in which the service will be used and to ensure that further product iteration decisions are made from a strong knowledge based.  In-depth interviews were conducted with a variety of stakeholders within agribusinesses (management, admin, extension services and collection agents) and SHF involved in their supply chain across a number of geographical zones in Sri Lanka.  A great deal of insight was gained by the research and it was extremely interesting to see how different the local context was when compared to other markets
Using a human-centred design approach, the research team were able to gain a great deal of insight into the specifics of the value chains.  For instance, interviews revealed the density of tea factories in some areas and lack of direct supplier-factory contracts, which really highlighted the need for agribusinesses to invest in their relationships with SHF (e.g. through extension services, payment advances and of course competitive prices) to ensure regular delivery of green leaf from SHF.  The dairy industry by comparison was far less concentrated, with location really limiting the choices farmers had in terms of to whom they could sell their milk.
Product development and pilot
Following completion of the field research, a comprehensive synthesis of research findings took place to understand stakeholders' pain points, identify opportunity areas and evaluate whether a digital solution was suitable.
The need for a strong relationship management tool in the tea sector was highlighted as an opportunity to add value to both the farmer and agribusiness and formed a large part of the functionality included in the minimum viable product (MVP) presented to Dialog and validated with agribusinesses who participated in the research phase.
Dialog opted to build their solution in-house rather than adapting an off-the-shelf agri-tech service to meet the MVP requirements.  While this approach potentially increases upfront costs and takes longer to field test and refine, it does mean that only essential features are included, making the beta version lean and arguably easier for the agribusiness staff to learn.  Choosing this route also meant that an MVP can be piloted and richer features validated for further development.  However, it is important to note that this approach will not work for all operators and does depend on market dynamics and context.
In March 2018, the pilot service was launched along two collection routes with a tea factory in Ratnapura district.  The system has been designed so that the complex actions (requiring more than basic technical literacy) are in the hands of the agribusiness admin staff and collection agents, who are already computer literate and familiar with smartphones.  At present, SHF need only respond to an SMS in order to notify the factory of their readiness for crop collection.  While the pilot is still ongoing, valuable learnings have already been accommodated such as the agribusiness supporting their collection agents with data top-ups, white listing farmers responding to the SMS shortcode and some user-interface changes to help ensure the most relevant information is available to collection agents as they reach the farmers.
Further SHF are currently being enrolled into the pilot and Dialog's eZ Cash presence is being bolstered in readiness for implementing digital payments in the coming weeks.
*eZ Cash is end to end inter operable with Etisalat and Hutch
[1] http://www.fao.org/faostat/en/#country/38
[2] http://www.fao.org/faostat/en/#country/165
[3] GSMA intelligence:https://www.gsmaintelligence.com/operators/319/data/?report=5a86a69279568