Over the past two years, the GSMA Ecosystem Accelerator programme has been closely following the developments of Nairobi-based EdTech start-up Eneza Education. After deep-diving on the synergies they drive with Safaricom in Kenya in our "Building synergies" report, we had a chance to showcase Eneza's innovative usage of mobile operators' APIs in a short video. Earlier in January, Peter Ndichu, Market Engagement Manager in the GSMA Ecosystem Accelerator team had the opportunity to interview Millicent Mwendwa, Eneza's Chief Business Development Officer, at their offices to find out their latest news and more about their current geographic expansion, in collaboration with mobile operators.
Could you refresh our memories and tell us what service Eneza Education provides in Kenya and abroad?
Our main goal at Eneza is to offer a full access to digital education on every device from basic 2G handsets to mobile web and fully online. As of January 2018, 99 per cent of our users are on the SMS platform. In addition to SMS, we deliver our services via Mobile WAP, Premium Web, and Android.
Our core features include: lesson assessment based on the national curriculum; an ask a Teacher service where students ask real live questions to teachers and get responses within 15-30 minutes; and other additional features such as SMS Wikipedia, Reader Boards (for students to compete based on number of lessons completed successfully), and other non-curriculum content such as health education.
Our response rate is about 78 per cent during peak months (holiday and exam periods) and about 95 per cent during off-peak months.
Currently, we have a total of 3.8 million unique users, 3.5 million are in Kenya and about 200,000 in Ghana. In Kenya, the base of monthly active users fluctuates between 400, 000 and 600,000. We have also found that 70 per cent of our customers are mothers/women who pay for service on behalf of their children.
After its launch and growth in Kenya, Eneza's services are now being rolled out in several other African markets. Could you tell us which countries those are and what the traction has been in each of these markets so far?
Our main reason for moving to new markets within Africa is to de-risk our current model and acquire a larger customer base. Currently, we are live in both Kenya and Ghana. We launched in Ghana in April 2017 in collaboration with MTN, then with Airtel and Tigo in Dec 2017.
We try to partner with as many mobile operators as necessary to have partnerships with a combined mobile subscribers market share of at least 70 per cent. With each mobile operator, we usually start with a Proof of Concept to demonstrate the value that we bring to the operator. However, we have learned that each mobile operator and market is unique. For example, the way airtime is loaded to phones and whether it is sold as a bundled service could have a big impact on the uptake of our product.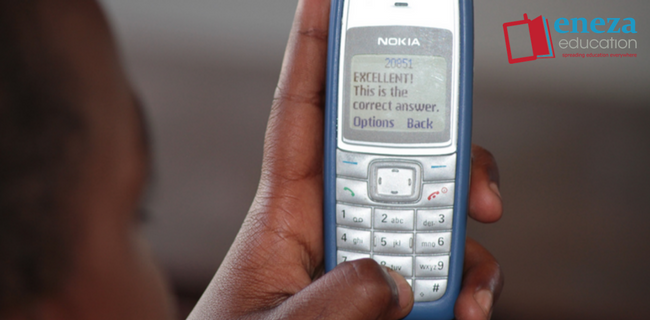 Being a content-based educational service, we assume that service localisation efforts are significant when you launch in a new market (languages, school curriculums etc.). What is your approach to make this localisation successful?
What we have found is that hiring a local team is very important to our success. At Eneza we always hire local content developers and country managers. In order to successfully launch our service in a new market, the service has to fit into the local culture – local staff enable us to bridge this gap. Beyond the team, our content is usually reviewed and approved by educational bodies even where compliance is not necessarily required. Finally, we carefully vet and train teachers on how to deliver impactful digital content, allowing us to maintain great quality of service to students.
What could be the next step, in Kenya and elsewhere, for your collaboration with mobile operators?
Francophone and Anglophone markets are the priority markets, with Ghana and Cote d'Ivoire being the anchor markets. This year, with the support of Orange, we plan to launch in Cote d'Ivoire while we continue expanding in Kenya and Ghana.
What did you learn from engaging and collaborating with several mobile operators in different African countries?
We learned a lot from our work with mobile operators globally. Here are the key lessons:
Each mobile operator has unique motivations. You need to speak to each of them specifically in order to understand the challenges they face and how you can add value to their work
Start-ups need to understand that each operator has different processes. You need to take the time to understand the processes ahead of launching
Mobile operators are very data-driven businesses. Start-ups need to master their data and their metrics. Specifically, ensure your KPIs are clear in advance so that you can clearly demonstrate the traction of your service to all stakeholders.
In some cases, we had challenges obtaining data from mobile operators and making use of it. However, over time we have developed capacity in-house to analyse mobile operators' data and we have clear data requirements for our stakeholders from the start of the project.
With a new year starting, what can we hope to see from the Eneza team in 2018?
We plan to launch our WAP service to keep data costs low. In Kenya, nearly half of mobile users are on feature phones. As internet penetration grows and mobile smartphone usage rises, Eneza will begin to focus more on the app economy. We are also exploring B2B models that enable us to run education campaigns that target niche mobile users in different sectors.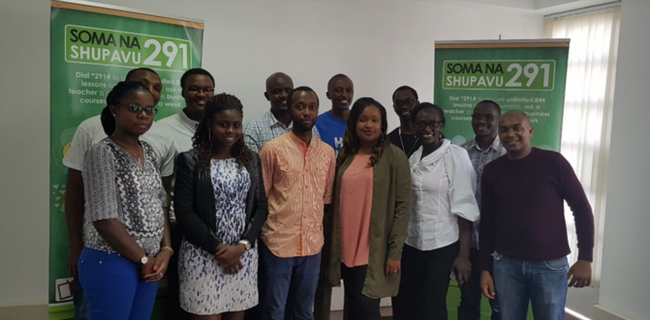 The Ecosystem Accelerator programme is supported by the UK Department for International Development (DFID), the Australian Government, the GSMA and its members.