SkyEye is a Samoan start-up that provides localisation and mapping solutions to solve logistical challenges in Pacific Island countries. In November 2018, the Ecosystem Accelerator programme – supported by the Australian Government and UK Foreign, Commonwealth & Development Office (FCDO) – awarded SkyEye an Innovation Fund grant to launch Maua. Maua is an e-commerce platform that matches supply and demand, and facilitates the movement of goods between buyers and sellers. The project was completed in March 2020. The GSMA recently conducted a light-touch evaluation to review the impact of the grant and understand how the results were achieved, complemented by a qualitative study with 27 Maua customers, vendors, drivers and partners. This blog shares some of the findings and examines SkyEye's growth in the period after the grant project concluded.
Figure 1: Timeline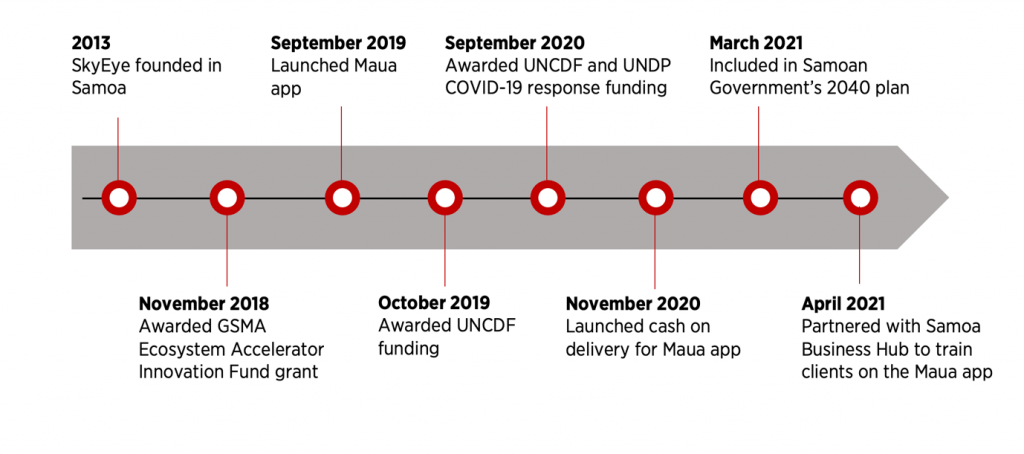 Revisiting the grant period
SkyEye has a strong technical team with experience of developing solutions that harness mobile and geospatial technologies. However, the start-up had less experience in app development, so the GSMA identified consultants to support SkyEye's management team. A technical advisor was hired to offer advice on the most suitable software stack for the Maua app. This helped SkyEye save time and ensure it chose technologies that would be suitable when integrating with partners. The GSMA also hired Paul Meyers, a specialist who provided coaching and mentoring services to the start-up's management team, while also engaging a digital marketing consultant to drive buyers and sellers to the Maua app.
A major part of the app development process was integrating mobile money services with the Maua app. Although mobile money services have existed for a few years in Samoa, take-up has remained stubbornly low, reflecting limited use cases and investment in mobile money infrastructure (e.g. agent networks). By integrating the mobile money services of the two local mobile operators (Digicel and Vodafone Samoa), SkyEye hopes to reduce these barriers and give mobile operators more confidence in generating a return on their mobile money investments. Partnerships such as this can also help accelerate the modest mobile subscriber growth in the Pacific Islands. Q1 2021 data from GSMA Intelligence shows that only half the Samoan population subscribe to mobile services. Introducing new services that are accessible and relevant to the local population, such as e-commerce, is an important factor in addressing the digital divide.
The Maua app launched in September 2019, accumulating 1,858 active users in the first six months. This exceeded the project target by almost 200 per cent, reflecting Maua's strong marketing efforts and the shift to e-commerce during a curfew in November and December 2019, instituted following a measles outbreak. SkyEye is focussed on driving adoption of Maua among certain segments of the Samoan population, particularly women, rural vendors and those with disabilities. To do this, SkyEye is building strong relationships with grassroots organisations, such as the Women in Business Development Incorporation (WIBDI) and NOLA (an advocacy group for people with disabilities), as detailed in a previous blog. These initiatives help ensure everyone has equal access to Maua, while also enabling local vendors to significantly boost their income through e-commerce. Many families earn over $200 each fortnight through the app, helping them pay for essential items, such as education and utilities.
Despite exceeding its target for active users, SkyEye did not meet the target for total unlocked income, reflecting the lower-than-expected number of transactions per user. There was some resistance among vendors to the use of mobile money, as it cannot immediately be used to pay staff and other operational costs. Furthermore, some vendors and buyers required additional e-commerce training to drive more consistent usage of Maua.
Overcoming barriers to e-commerce adoption
In 2020, SkyEye received a $40,000 grant from the UNCDF to build a new payment gateway for the Maua app. In addition to mobile money, users can now complete transactions on Maua using credit and debit cards, as well as bank transfers. This helps Maua attract users in Samoa who do not have a mobile money account, as well as those living overseas. Buying food items on Maua has become a popular alternative to sending remittances for the Samoan diaspora living in Australia and New Zealand.
SkyEye also received a COVID-19 response grant in September 2020 from the UNDP and the UNCDF's Pacific Financial Inclusions Programme (PFIP). Although Samoa did not record a COVID-19 case until November 2020, restrictions on international travel, public transport and public gatherings have resulted in lost incomes and jobs. In response, Maua is aiming to accelerate e-commerce adoption in Samoa to provide vendors with an alternative way of selling their goods. It has hired three new staff members to focus on vendor onboarding and made improvements to the accessibility of the Maua platform to address potential language barriers.
An example of how SkyEye is helping vendors replace lost income is the WIBDI/Maua app monthly Virtual Market. The WIBDI identifies produce from their network of rural village farmers, fisher folk and other informal sector vendors that can be sold through Maua. SkyEye then uploads descriptions, images and costs on the Maua app, allowing buyers to pre-order items that would normally be sold at WIBDI's physical market, which could not take place due to COVID-19 restrictions.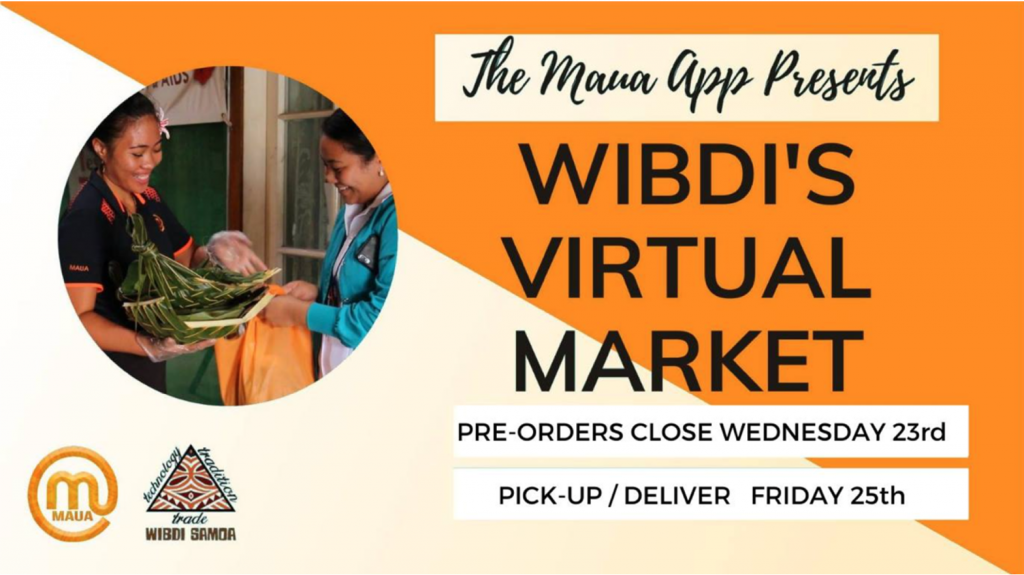 "A man who sells a Samoan dessert sold 50 of them at the virtual market today. He would normally spend his whole day just stopping people in the street or going from door to door trying to sell. He will come in the morning and at the end of the day he goes home on the last bus. If he doesn't sell any desserts, he just takes them back home. Whereas at the virtual market he knows how many to make and we sell it for him. He gets his money as soon as he brings it in the morning." – Partner
Although Maua is very well received by users, online payments and mobile money are very new for some people in Samoa. There is an initial lack of trust in the system from vendors, and concerns that they are not going to be paid. Partners are working with their clients in providing training on how the payment system works, demonstrating the benefits of Maua to offset any negative sentiment. SkyEye are engaged with government and other private and third sector partners to improve education and trust around mobile money.
Maua generates social and economic outcomes, especially for vendors
Qualitative research with SkyEye stakeholders reveals social and economic outcomes across six SDG areas.
Driving digital inclusion in Samoa
Participants in the research all stated how important technology is for Samoa's future and how digital services such as Maua can help transform the lives of people in Samoa. The pandemic has underscored the importance of mobile technology in the digital transformation of the Pacific Islands. This is recognised in the Government of Samoa's 2040 Plan, which highlights SkyEye as a company offering sophisticated digital solutions to real-world problems. Maua is a perfect illustration of this. With the support of the GSMA's Ecosystem Accelerator Innovation Fund, SkyEye has been able to offer Samoan businesses a new way to sell their products to buyers. This can deliver long-term benefits in the form of higher earnings potential and reduced travel costs, while allowing buyers to access a wider range of goods and services. Moreover, SkyEye's decision to work closely with vulnerable populations ensures these benefits can be realised by all Samoans.
The Ecosystem Accelerator programme is supported by the UK Foreign, Commonwealth & Development Office (FCDO), the Australian Government, German Federal Ministry for Economic Cooperation and Development (BMZ), the GSMA and its members.