In 2018, the GSMA launched the Mobile Money Regulatory Index, a tool that provides a quantitative assessment of the extent to which regulation has been effective in establishing enabling regulatory environments. The first index covered 83 countries across four continents and was based on an assessment of regulatory instruments that were in force in 2018.
We are pleased to announce that the Mobile Money Regulatory Index has been refreshed covering 90 countries with data current up to 2019.
The Mobile Money Regulatory Index 2019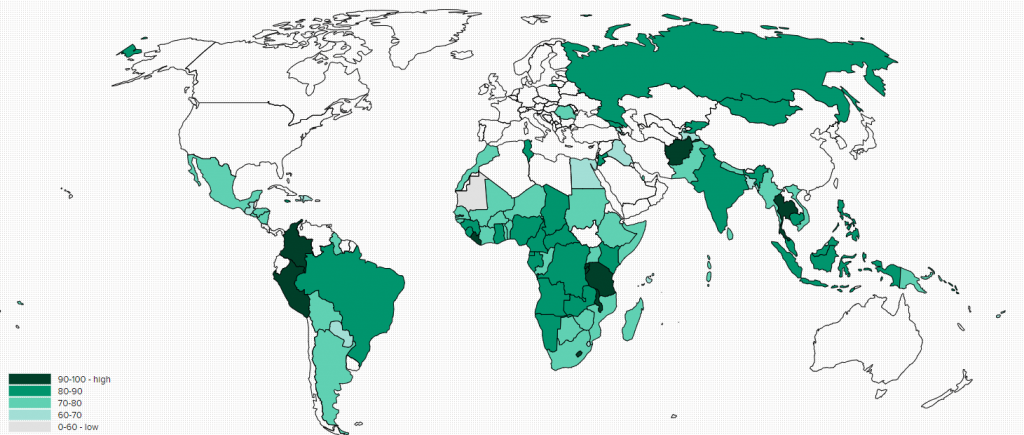 This refreshed index allows users to interrogate the drivers of an enabling mobile money regulatory environment and view progress indicator by indicator, year-on-year.
The refreshed Index is comprised of 26 indicators within six dimensions:
Authorisation: examines the eligibility to provide mobile money services;
Consumer protection: examines the general consumer redress and disclosure mechanisms and the provisions for safeguarding of customer funds;
Know-Your-Customer (KYC) Requirements: examines the permitted identification requirements and their proportionality;
Agent networks: examines the eligibility criteria for agents and permitted activities;
Transaction limits: examines the proportionality of account balance and transaction limits; and
Investment and infrastructure environment: examines the policy and infrastructural environment within which mobile money services operate.
Consistent with last year's index, the Mobile Money Regulatory Index 2019 focuses on the indicators that have the greatest impact on the development of scalable and responsible mobile money business.
In order to ensure consistency in our approach and accuracy of data, we first re-examined all 2018 indicators and data, then assessed the regulatory instruments in force in 2019. We have made every effort to take into account regulatory reforms that took effect in 2019 in the countries under review.
Taking stock of the payments regulatory practice area, mobile money has evolved over the years from a value-added service provided by mobile network operators to a key player in domestic payments, according to the State of the Industry Report 2019. Indeed, there has been a growing trend towards the provision of mobile money services through established 'payments institutions' or direct licensing of mobile network operators. As a result, a majority (73) of countries allow mobile operators and other non-banks to offer mobile money services through payment institutions or direct licensing, which has proven successful for rapid adoption of payments accounts and deepening of financial inclusion.

The Mobile Money Regulatory Index 2019 interrogates these regulatory models along with other factors that impact the ease of adoption and use of mobile money services within the core principles of safety and efficiency.
For mobile money providers and regulators, the Mobile Money Regulatory Index 2019 will support dialogue on reforms that can promote mobile money market growth and foster financial inclusion. For the development community, the Index will help identify subject areas where technical assistance may be provided to governments. For the donor community, the index will help identify markets where philanthropic capital may have the greatest impact for financial inclusion.
In the coming months, we shall publish a detailed report outlining the key country findings and analyses. We welcome your feedback on the Mobile Money Regulatory Index 2019.
Regulatory Index ToolRegulatory Index Report
Receive the latest insights on mobile money straight to your inbox by subscribing below.