Between 11 and 16 November, the GSMA Ecosystem Accelerator team was invited to participate and contribute to three major events in the African tech ecosystem – Africa Early Stage Investor Summit (AESIS), AfricaCom and AfricArena – which gathered most of the key ecosystem stakeholders (investors, mobile operators, start-ups, tech hubs, governments, among others) over five days in Cape Town. Beyond these three events, the team was also invited to run two mentoring workshops in partnerships with the Village Capital Communities Africa 2018 and MTN sponsored Solution Space Venture Incubation programmes. As usual, we thought we'd share some of our insights from the week.
1. Mobile for Development, more than ever at the heart of African mobile operators' strategies
Three of the largest mobile operators in the continent – Orange, MTN and Millicom – took the stage during AfricaCom to reiterate their positioning and initiatives within the 'mobile for development' space.
According to MTN CEO, Rob Shuter, across Africa, MTN has 220 million customers but only 72 million of them have devices with access to mobile internet. In this context and with the aim to boost digital inclusion throughout its footprint, the yellow-brand operator announced the launch of a '3G smart feature phone' with a price tag at around $20-$25.
Beyond this, the critical importance of local content was also emphasised by the newly appointed group CEO. "We are passionate about digital technology and the way it can improve the lives of Africans. Our ambition is to play an active part in the socio-economic development of the continent."
With these words, Alioune Ndiaye, Orange Middle-East and Africa new CEO, Alioune Ndiaye, introduced Orange's ambitions for Africa around the group's eight main Mobile for Development areas: Healthcare, education, entrepreneurship, agriculture, energy (with the deployment of solar home systems across seven of Orange footprints, including two that received a grant from the GSMA Mobile for Development Utilities Innovation Fund), gender inclusion, environment and financial inclusion.
Orange booth at AfricaCom 2018
Mobile operators participating in the conference repeatedly affirmed their ambition to ensure the 'fourth industrial revolution' was about improving the lives of people across Africa. "We need to make sure this digital revolution leaves no one behind", insisted Millicom's Africa CEO, Mohamed Dabbour.
2. Social impact and commercial returns are the same story for African start-ups
A number of the participants at both the Africa Early Stage Investment Forum and AfricaCom AHUB track debated on the lack of alignment on what 'investor readiness' means for start-ups in Africa. It was striking to hear a real alignment across investors and entrepreneurs alike on a crucial point – social impact and commercial returns go hand in hand when it comes to start-ups in Africa.
Whether they are making logistics easier and creating jobs for the youth like our portfolio start-up Musanga Logistics in Zambia, proving solar energy-as-a-service to homes and businesses in Nigeria like Arnergy, or driving financial inclusion for MSMEs across South Africa like Yoco, the start-ups we met throughout the week were all "making money by doing good", as Startupbootcamp co-founder Zachariah George put it in a panel discussion.
Left: Njavwa Mutambo – CEO and co-founder of Musanga Logistics – and Marcello Schermer – Expansion head at Yoco – interviewed on AfricaCom Ahub stage by Martin Karanja – GSMA Ecosystem Accelerator Market Engagement Director / Right: Samson Oluwafemi Adeyemo pitching Arnergy on stage at AfricArena
This aforementioned point was strongly echoed by international development banks (AfDB, Proparco, IFC) and VC investors (Knife Capital, Silvertee, Greentec Capital) present at the events throughout the week. Unanimously encouraging the ecosystem players to think outside the Silicon Valley and Unicorns boxes, investors insisted that start-ups on the continent should continue to focus on "building real solutions to real problems", impacting millions of lives and creating millions of jobs on the way.
In this context, it was encouraging to observe the increasing focus, of investors and international development donors toward Francophone Africa's tech ecosystem. The World Bank, in partnership with VC4A announced the launch of a follow-up initiative after XL Africa, now dubbed L'Afrique Excelle. The six-month accelerator programme is aimed at supporting Francophone Africa region start-ups at late seed or pre-series A stages, in partnership with large regional corporates, like mobile operator Orange and their CVC fund Orange Digital Ventures Africa.
3. Looking at the respective value propositions of start-ups and mobile operators to drive strong collaboration between them
On the AfricaCom stage, MTN's Innovation Strategy Executive, Herman Singh summarised the challenge clearly, "The key question when a start-up wants to work with a mobile operator is: What is the value proposition. There should be value for the start-up but also for the corporate."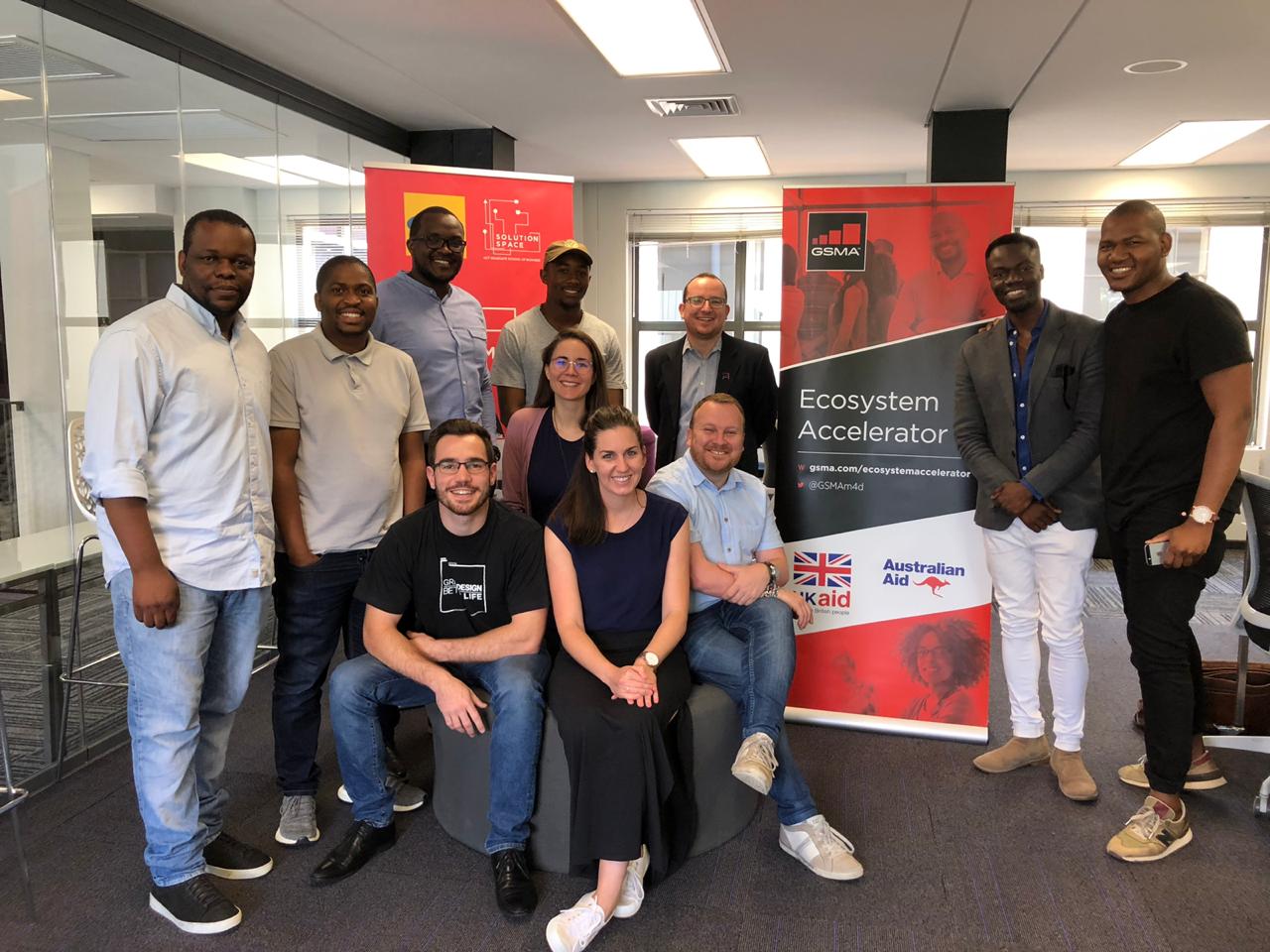 GSMA Ecosystem Accelerator team with MTN-sponsored Solution Space Incubation Programme cohort of start-ups after a workshop on, 'Start-ups & Mobile Operators Partnerships'
Throughout the week and across not less than 10 sessions, panels and workshops at the different events, the GSMA Ecosystem Accelerator echoed this message when addressing start-ups and mobile operators: Identifying and understanding the 'Haves' and 'Needs' on both sides is essential for mobile operators and start-ups to engage and partner successfully. And this is true across the different types of partnerships the two parties can sign: Joint offering (example: Jamii & Vodacom in Tanzania), API integration (example: Twiga & Safaricom in Kenya), Investment (example: Yoco and Orange in South Africa), Sales and distribution agreement (example: Fenix International, Engie & MTN in Uganda) among others.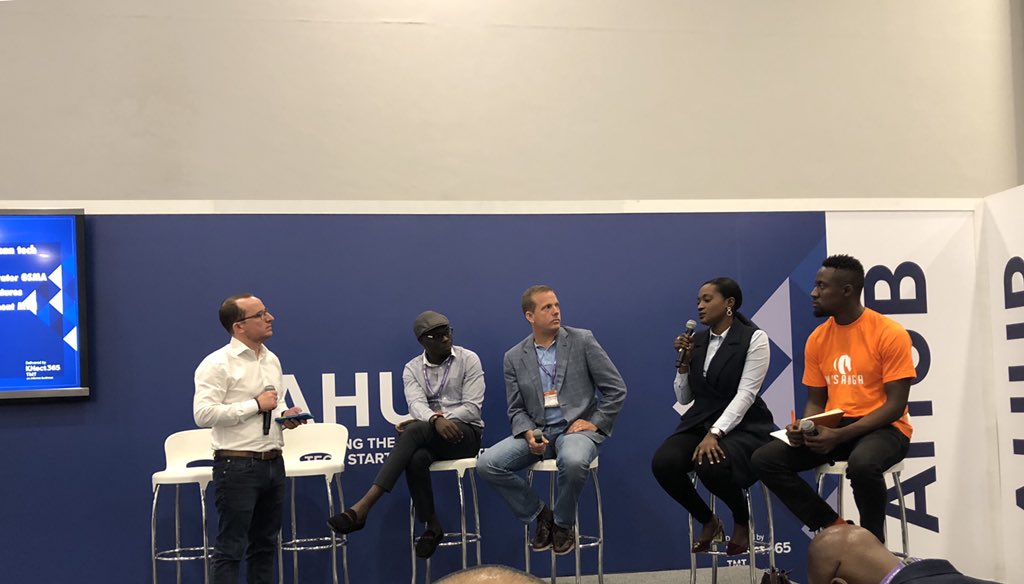 'Building synergies between MNOs and African tech start-ups' panel at AfricaCom Ahub with Francis Obirikorang – CEO and Co-founder of AgroCenta -, Eero Tarjanne – General Manager Ecosystem Development at MTN Group -, Marieme Diop – VC investor at Orange Digital Ventures -, Njawa Mutambo – CEO and Co-founder of Musanga Logistics – moderated by Maxime Bayen – GSMA Ecosystem Accelerator and M4D Utilities Insights Director
We would like to end this blog post by thanking the teams of AfricArena, AfricaCom, VC4A, ABAN, Village Capital and Solution Space to inviting us to their respective events and for allowing us to contribute.
The Ecosystem Accelerator programme is supported by the UK Department for International Development (DFID), the Australian Government, the GSMA and its members.