Climate change is the most pressing challenge facing humanity and we continue to witness its impact across the world. This includes more extreme and unpredictable weather events, sea-level rise and changing ecosystems. People in low- and middle-income countries feel the impact of climate change most, and often find it hardest to adapt and recover.
Digital technology can be a unique lever in helping create a more resilient and sustainable future for communities vulnerable to climate shocks and stressors in these countries. Mobile services, digital payment services, data assets and frontier technologies such as Internet of Things (IoT), artificial intelligence (AI) and blockchain present a range of possibilities for digital and mobile-enabled solutions in the climate context.
While some tech-driven models such as Pay-As-You-Go have shown promise in the last decade, there is still much to learn, particularly with regards to business models aiming to build resilience to climate change. There is a need to test technologies and use cases linked to climate change resilience and adaptation and to support partnerships and ecosystems to help them create sustainable change.
With this in mind, in November 2021 at COP26, the GSMA Innovation Fund for Climate Resilience and Adaptation was launched, with funding from the UK Foreign, Commonwealth and Development Office (FCDO) and the Swedish International Development Cooperation Agency (Sida).
The objective of the Innovation Fund is to support the launch and accelerate the scaling of mobile and digital innovations that could enable some of the world's most vulnerable communities build their resilience to climate change. We will be supporting start-ups, small and medium enterprises (SMEs) and social enterprises working on climate action. Successful applicants will be awarded between £100,000 and £250,000 in grant funding, alongside additional support on technical assistance, partnership facilitation with mobile operators and connections to investors. An announcement about the successful applicants and the solutions proposed will be made at COP27 this month.
The Innovation Fund received a total of 524 applications from 70 countries. We analysed the applications to observe trends and study the range of locally founded innovations in climate change resilience and adaptation in LMICs. Please see the Terms and Conditions for details on the types of organisations the fund has been looking to support and the eligibility criteria for applying for funding.
High representation of locally led innovation from Africa
The fund was open for applications from Africa, South and Southeast Asia and for limited parts of Latin America, Eastern Europe and Western Balkans. However, in line with the scope of the fund, most applications received were for projects based in Africa (78%), followed by Asia (19%). Pockets of extreme climate vulnerability also exist in Latin America, the Caribbean and small island states, yet only a handful of submissions were made by start-ups in this region. The top 5 countries with the most applications were Kenya (62), Nigeria (47), Zambia (19), Ghana (17) and India (16).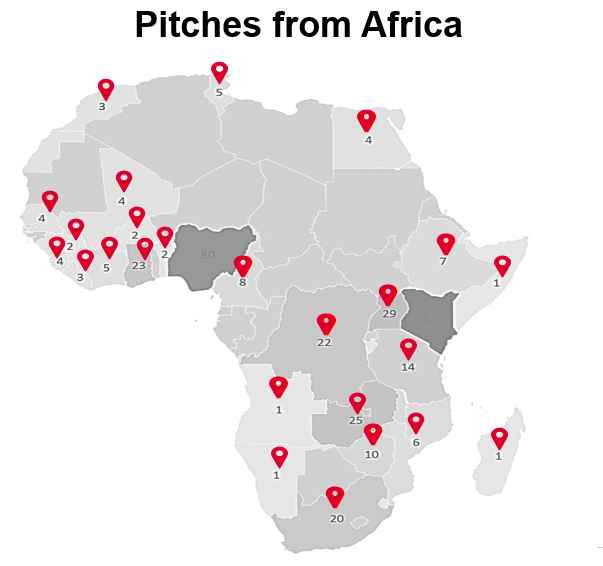 We particularly encourage applications from local entrepreneurs, with good representation of homegrown talent at all levels of the organization. We know that locally-led solutions, where affected communities are rooted in the design and implementation of projects, are critical to their success by ensuring that the solutions are relevant and appropriate to the context, or that there is a sense of ownership of the project deliverables and outcomes. As such, it was encouraging to see that almost all (90%) of project applications were being designed and delivered in-country.
A focus on agriculture and smallholder farmers
Agricultural solutions dominated the pool of applications, with 46% of eligible projects pitched focusing on this sector – particularly in North, East and West Africa. As a result, smallholder farmers were the most common target user groups.
Other sectors with high numbers of digital solutions proposed included utility services (39%), natural resource management (32%) and insurance and financial services (22%).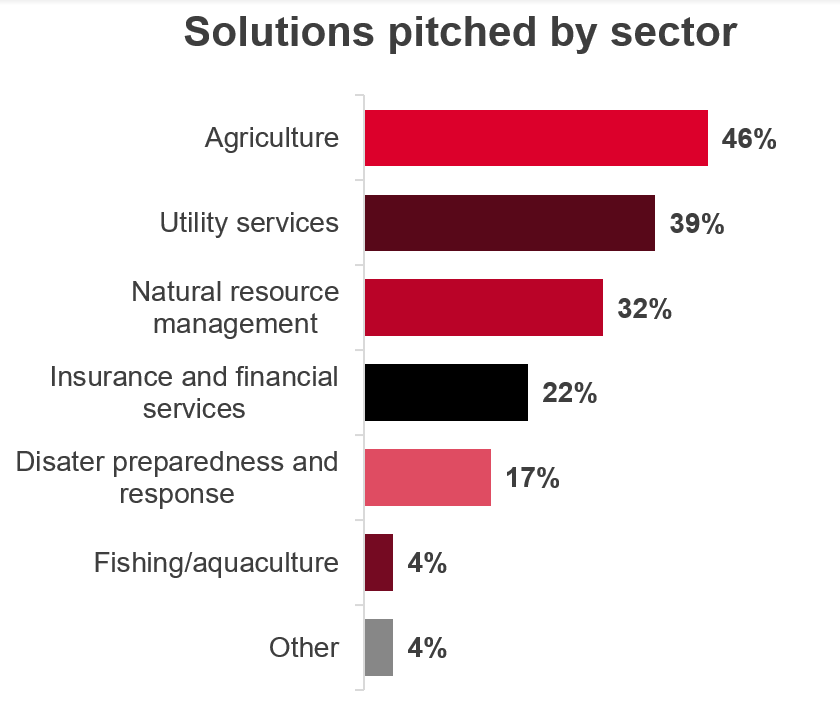 The prevalence of agriculture within the applications highlights the growing awareness of the linkages and dependencies between agriculture and climate change. It also suggests scope for further support to other sectors that can either build climate resilience, mitigate climate change or safeguard natural resources.
Mobile apps most common; use of innovative tech still nascent
Most of the applicants were using a combination of different technologies within their projects. The most popular solutions being pitched were more traditional ones – such as mobile applications or mobile money.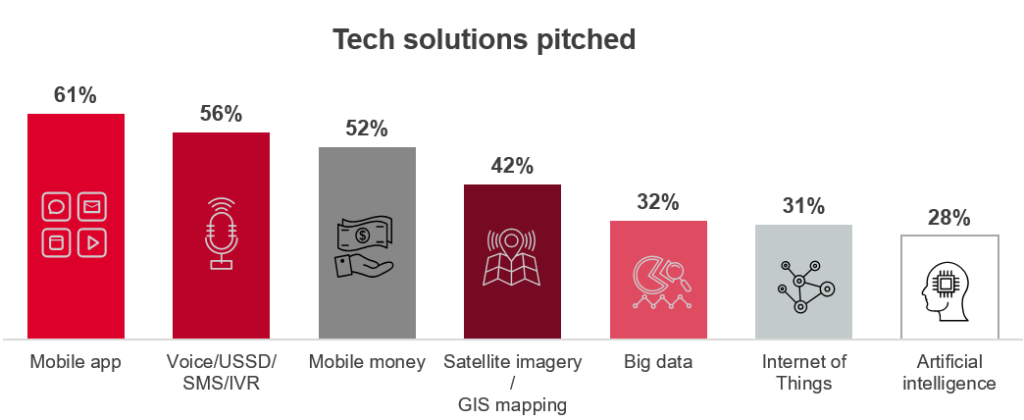 For example, access to digital financial services and marketplaces are often used to help vulnerable communities adapt to and absorb financial risks associated with climate shocks and stressors.
In contrast, more innovative technologies – such as artificial intelligence, satellite imagery or the use of big data – were pitched by less than a third of all applicants. At the regional level, the use of frontier technologies was much more common amongst start-ups in Asia, compared with the Africa region.
This indicates the use of innovative technology for addressing climate issues is happening and promising, but still nascent.
Looking ahead
The Innovation Fund offers a unique opportunity to work with start-ups to further generate and test insights. This will help provide a body of evidence on how to improve the sustainability and scalability of digital climate resilience and adaptation solutions with impact on the lives of people vulnerable to climate risks. To hear about the latest research, please sign up to our newsletter here.
An announcement about the successful applicants and the solutions proposed will be made on 12th November at COP27. Before then, you can explore the full GSMA Innovation Fund portfolio of organisations here.
This initiative is currently funded by the UK Foreign, Commonwealth & Development Office (FCDO) and the Swedish International Development Cooperation Agency (SIDA), and is supported by the GSMA and its members.