It is estimated that by 2050, 68 per cent of the world's population will be living in urban areas. 90 per cent of this growth is projected to be in African and Asian cities. As urban centres expand and the number of people living in informal settlements increases, further pressure is placed on already strained utility services and service providers. To work towards more equitable and sustainable cities, there is a need to build upon and scale innovative solutions and service models that respond to the concurrent challenges of rapid urbanisation, climate change, and inequality.
In May 2021, The GSMA Innovation Fund for Digital Urban Services (henceforth referred to as 'the Innovation Fund') was launched, with funding from the UK Foreign, Commonwealth and Development Office (FCDO). Through this Innovation Fund, we aim to catalyse investment in start-ups, small and medium enterprises (SMEs) and social enterprises working in Africa, South and Southeast Asia that leverage digital technology to deliver digital urban services. The Innovation Fund covers four sectors: Plastic and waste management, energy, sanitation, and water. Successful organisations will be awarded between £100,000 and £250,000 in grant funding, alongside additional support on partnership facilitation with mobile operators and technical assistance. An announcement about the successful applicants and the solutions proposed will be made in April 2022.
This blog outlines some of the trends we saw from the applications that were submitted, and in doing so, provides a snapshot of those organisations working in the utilities sectors currently seeking catalytic capital.
African organisations lead the way with the highest number of applications
We received 335 applications from 43 countries across Africa, South and Southeast Asia. Three-quarters of these came from Sub-Saharan African countries, with the highest concentration being from West Africa. It is notable that the majority of applications were from where we'd expect in the region, in line with the investment trends. Five African markets accounted for nearly half of all the applications: Nigeria (15 per cent) Kenya (12 per cent), Ghana (eight per cent), Uganda (six per cent) and South Africa (five per cent).
The remaining applications came from South and Southeast Asia, led by India (nine per cent), Bangladesh (three per cent) and Pakistan (three per cent). This is congruous with the booming tech ecosystem in these countries, accelerated by increased internet and smartphone penetration.
While some of these trends were predictable, they also highlight a need for deliberate efforts by funders and investors to reach innovators from other overlooked ecosystems, which also face considerable urban services gaps.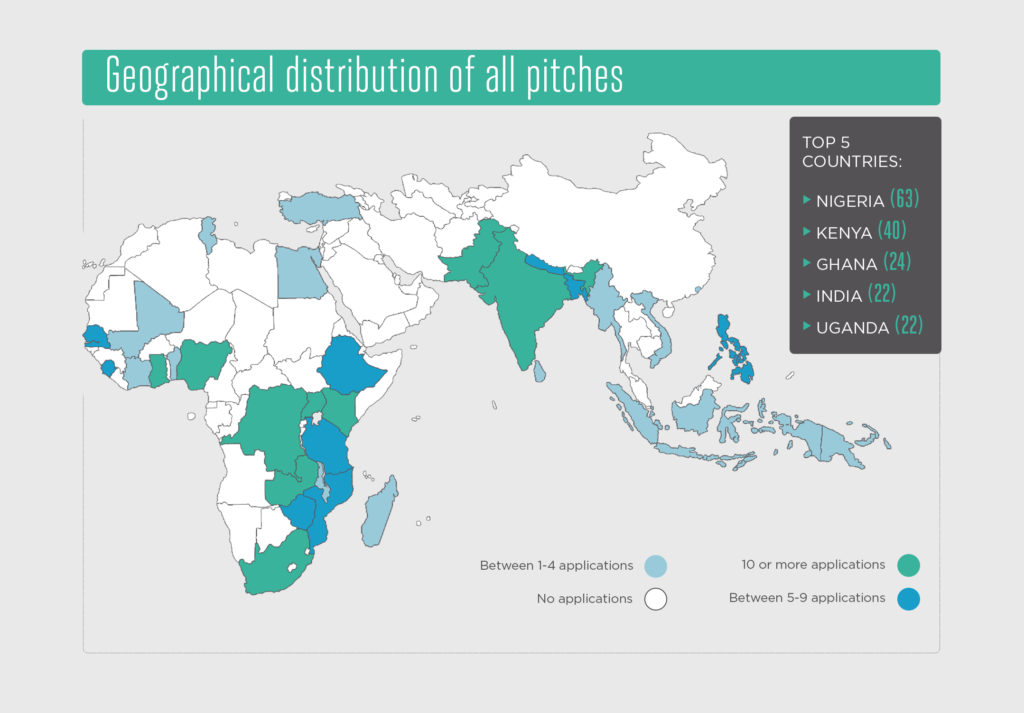 The energy sector continues to see significant innovation with plastic and waste management in close contention
As explained, our Innovation Fund intends to leverage digital technology to deliver digital urban services covering four sectors: Plastic and waste management, energy, sanitation and water.
In practice, the lines between these sectors are not as clearly demarcated, as the water, sanitation and waste management sectors often tend to have overlapping value chains and stakeholders. This trend was also reflected in the type of applications received for our Innovation Fund. Nearly a third of the applications (94 in total) worked across two or more sectors.
The energy sector continues to be a favourite amongst start-up founders with nearly half of the applications being in this category. 80 per cent of all energy projects were in Sub-Saharan Africa. With wide energy access gaps in the region, where 600 million people continue to have no access to energy, there has been continued interest both from public and private sectors in enabling more reliable and affordable energy provision. It was interesting to see that over half of the eligible applications that had previously raised over £1 million were in the energy sector.
30 per cent of all the applications we received were in plastic and waste management. With the rapid increase in urban waste especially from plastic packaging, and the lack of safe and environmentally friendly waste management plans, this sector is beginning to see a lot of innovation. Organisations in East and Southeast Asia showed particular interest in this sector, with about 40 per cent of all pitches coming from the region.
Pitches from the water and sanitation sectors accounted for 35 per cent and 28 per cent of pitches from East and Southeast Asia, and Sub-Saharan Africa respectively.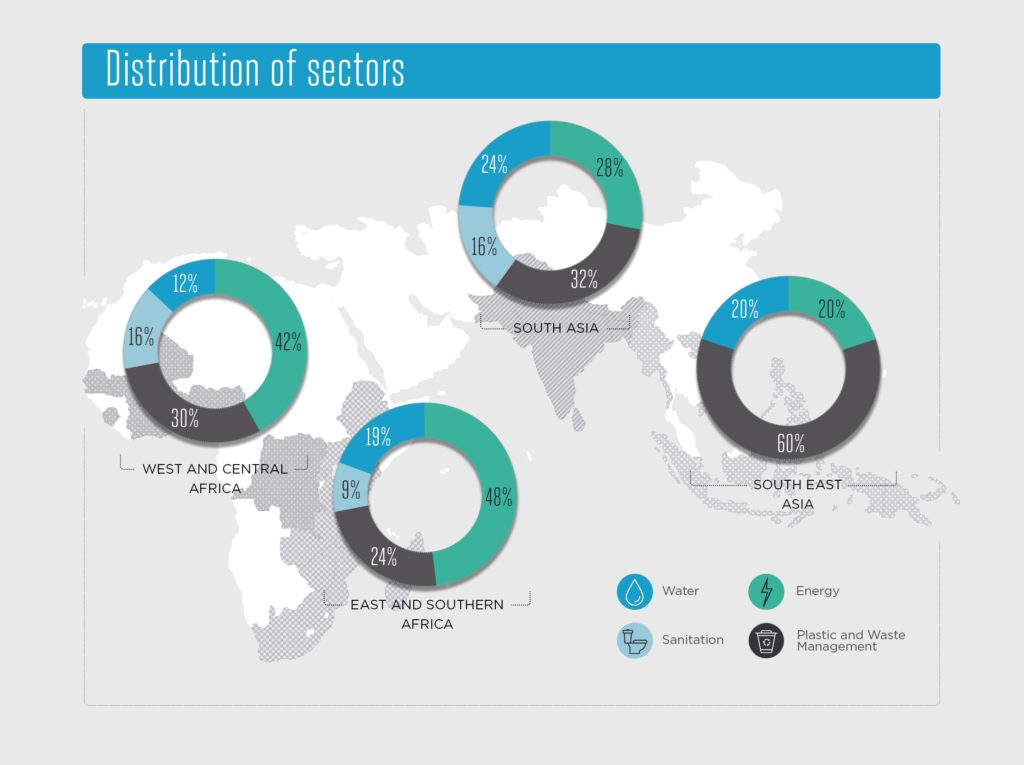 There is a need to close the funding gender gap within the utilities ecosystem
The GSMA seeks to support local innovation ecosystems through our funding, and locally led solutions can often lead to more inclusive, sustainable, and equitable outcomes. We were pleased to see that nearly 90 per cent of the applications received were from organisations whose headquarters were in the same country where the project is proposed to be implemented.
Analysis of all deals over $100,000 in African markets by The Big Deal, revealed that less than seven per cent of the funding has gone to female CEOs in 2021; and less than one per cent to female-only founding teams. 38 per cent of all organisations that applied to our Innovation Fund were founded or co-founded by women entrepreneurs. This figure is comparable to, but slightly lower than, the 44 per cent from our previous Innovation Fund round. We also looked at female representation in the organisations beyond ownership and found that an average of 40 per cent of management positions across the applications were held by women, with 38 per cent of all employees being female. Among the top 100 pitches, 92 per cent of organisations had at least one woman in their management team.
The gender disparity in the utilities ecosystem, especially within the energy sector, still remains high. While we are a long way from reaching parity, we hope that with an inclusive start-up ecosystem and equitable funding, this gender gap can be closed.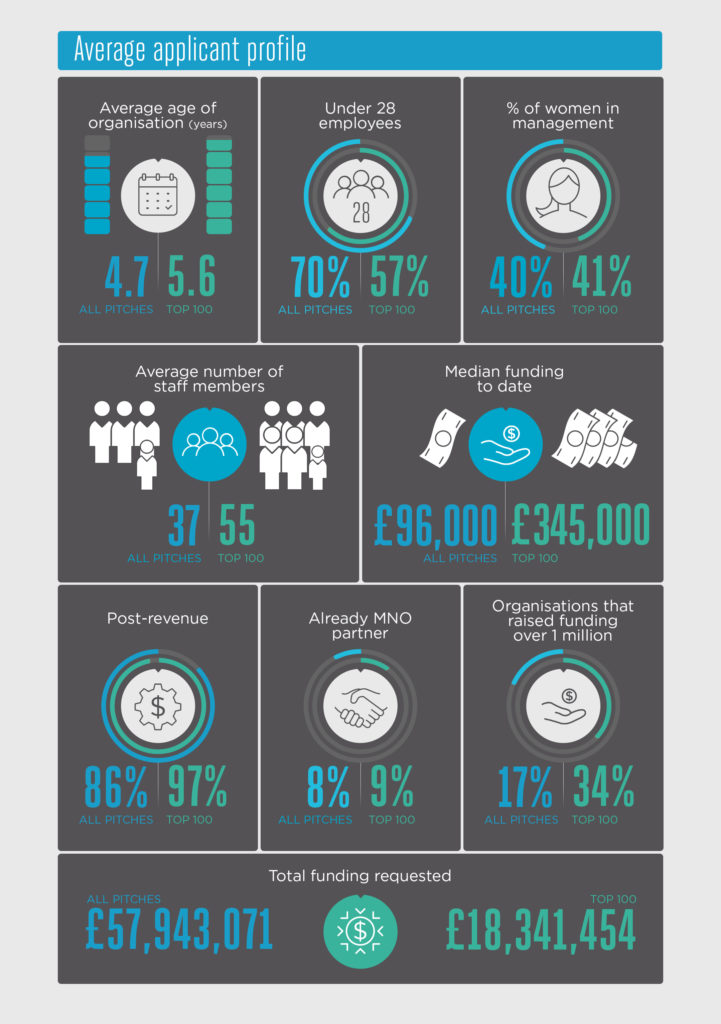 We were encouraged by the high number of good quality applications that we received. From the top 100 pitches, those that progressed to our shortlist and panel stages were those that were generally smaller, younger and had higher representation of women as well as local talent. This, in part, reflects the aim of our Innovation Fund and that we seek to catalyse innovations that hold the potential to scale further down the line, but need de-risking capital to launch or scale their innovations. We will soon announce the new cohort of successful grantees. Before then, you can explore the full GSMA Innovation Fund portfolio of organisations here.
The Digital Utilities programme is funded by the UK Foreign, Commonwealth & Development Office (FCDO), and supported by the GSMA and its members.