Overview: It all began with COVID-19
It is no secret that the COVID-19 pandemic has left the global economy struggling, with low– and middle-income countries facing the most pronounced challenges and macroeconomic headwinds. Growth is slowing, inflation is on the rise, and many businesses are noticing the effects. Even well-established, large corporations are feeling the squeeze, so it is no surprise that many start-ups are struggling.
This blog takes stock of the start-up investment landscape in APAC in the context of the macroeconomic challenges facing the region in the wake of the pandemic and rising geopolitical tensions, and begins to look at some of the likely implications for start-ups and venture investment trends in the region. It also highlights some of the unexpected opportunities that this new investment landscape might provide, and how start-ups can adapt their strategies to become more resilient.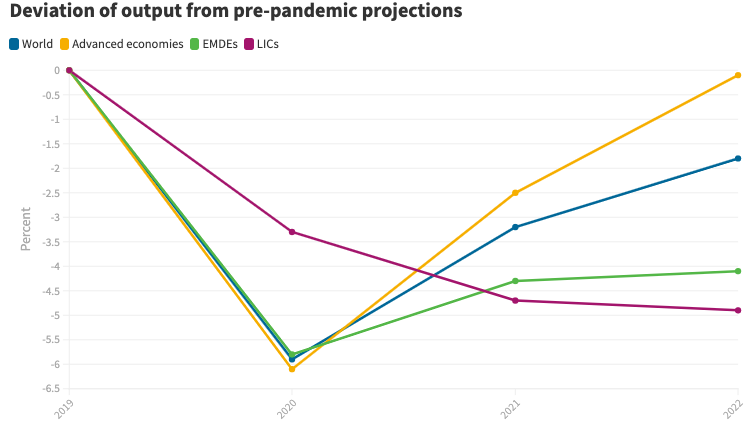 Source: World Bank
With so much economic uncertainty, and less venture funding readily accessible to fund their expansion, start-ups are shifting their focus from growth to profitability just to make sure they stay afloat. Some Southeast-Asian start-ups are having to make hundreds of workers redundant, with investors stating that this is simply the beginning of what will be more job cuts across the region's tech industry.
While bigger companies may be at the forefront of this rise in layoffs, start-ups are also being careful not to scale their teams too quickly given the uncertainty of what the future holds. The decline in the number of deals being completed, mergers and acquisitions, and venture financing deals does not bode well for the immediate future.
While the recent spike in COVID-19 cases account for some of the downturn, fears of an impending recession play just as big of a part in the ongoing decline. The global economic slowdown, geopolitical instability, inflation and rising interest rates, and a general decrease in tech stock valuations have all been cited as factors in the start-up funding decline.
Start-up funding in APAC
Pakistan's start-up sector is seeing an immediate detrimental effect after total company shutdowns by Airlift and layoffs made by JOVI and Dukan. According to the National Incubation Center Islamabad, Pakistan – the uncertain economic future and political instability is forcing investors to adopt a 'wait and see' approach to funding. Current trends indicate a market correction is underway and some are very excited about this market 'reset', as it represents an opportunity for mission-driven founders to thrive.
In Nepal, the Confederation of Nepalese Industries Nepal Start-up Fest 2022 is a top start-up competition where seven innovative start-ups receive a combined pledge of $1.9 million in seed money, which also happens to be one of the highest raised at a start-up fest. Mobile developer, inGrails and building inspection/renovation start-up, Skill Sewa grabbed the bulk of funding with $650,000 each. Industrialist, Binod Chaudhary, the country's leading entrepreneur believes that start-ups can assist in creating new jobs which supports solving Nepal's unemployment problem and that the Nepalese government should help facilitate start-up growth. The issues that local start-ups face, as pointed out by CNIYEF coordinator, Ayusha K.C, are not limited to capital but they also lack mentorship, proper teams and partnership opportunities. Venture deal activity in the Asia-Pacific region overall fell a substantial 29.4 per cent per cent from April to May 2022 . That marks the second consecutive month-to-month decline for the region. On a year-over-year trend, venture capital funding also decreased over 10 per cent in APAC as witnessed according to a report by KPMG Private Enterprise.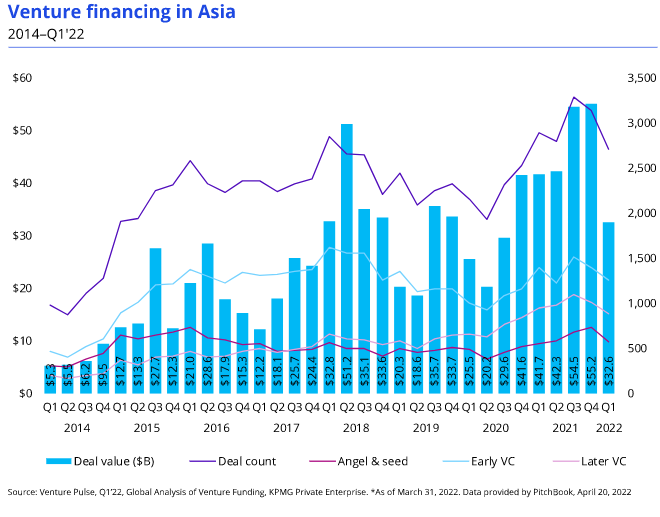 Source: KPMG Venture Pulse
Opportunities created through uncertainty
While the pandemic has had a disastrous effect on both the global economy as a whole, it has also presented other and new opportunities. With more people refraining from going out for physical services, there has been a huge turn towards digital services. In Asia Pacific, an estimated 60 million people have become digital consumers over the past few years, meaning that they have purchased at least one online service. These previously 'analog-only' consumers do not seem to be looking back, either, as nine out of 10 people who began using online services in 2020 continued to use them into the next year.
Source: GSMA Mobile Economy 2022
This has created a demand for even more digital services, an area where start-ups seem to excel. Young businesses are looking to tackle financial, social, and urban resilience in a changing world. They're doing this by focusing on emerging technologies that are either being underutilised or haven't reached their full potential. These technologies include artificial intelligence, IoT, blockchain, health technology, and decentralised finance, as well as other types of financial technology, such as pay-as-you-go (PAYG).
There has also been a strong focus on sustainable tech, given that Asia and the Pacific are responsible for half of all global energy consumption. According to Bloomberg New Energy Finance, the Asia-Pacific region has become the center of global energy growth as investments in renewable energy and the demand for sustainable tech is larger there than in any other region given the rate of urban growth. Experts expect the total investment of Cleantech funds to hit $1.3 trillion by 2030. Organisations like Storm4, a GreenTech, recruitment agency, are bringing their operations to the region to connect with local start-ups. APAC is already outperforming the rest of the world in renewable energy tech and the influx of investors and cooperating organisations is only going to push that lead even further. Additionally, one particular space which has seen a recent buzz in the sustainable-tech space has also been the utilities sector. Other than the launch of the GSMA Innovation Fund for Digital Urban Services, organisations such as the likes of Imagine H20, National Incubation Center, Climate Launchpad and the Green Feature Fund have also launched accelerator programs to catalyse innovation in the utilities space.
Recommendations
One thing is certain when it comes to start-ups, not just in the Asia-Pacific region, but the world over – tough times are coming. Experts can agree that a global recession is on the way. However, the severity of said recession, how long it will last, and how various start-ups will fare throughout is all up for debate. Despite certain current downturns, one could make the argument that the APAC start-up world is doing extremely well, and even with the rough period ahead, many start-ups are positioned to ride it out, especially the digital utilities start-ups who are providing alternatives to rising energy costs and access to affordable utility services. They won't see the growth they'd like to see, but they'll survive it, and could very well come out the other side ready for substantial expansion.
Here are the four key principles that utility/sustainable-tech start-ups should reconsider in this volatile time:
Revaluate Business Model: Start-ups need to realise that venture capital money or seed money is not a substitute for a strong business model. While innovating on the business model side, start-ups need to create value to attract customers rather than offer discounts.
Establish a strong product market fit: Start-ups should focus on creating a strong product market fit by carrying out small pilots where the cost to fail is low. Investing in a product which may look attractive in other markets might not be the right product for the 'current market'.
Focused market approach: In the current volatile market, situations with interest rates being expected to rise further globally, it is essential for start-ups to stay focused on their core product and continuously adapt to the existing market conditions. A focus on developing more partners rather than more products should be at the core of the start-ups market strategy.
Engage proactively with policymakers: Start-ups should keep engagement with policy makers more frequent than ever. In such volatile times, working closely with relevant government stakeholders at times leads to new initiatives such as tax breaks, connectivity incentives and the formation of special zones for start-ups.
To learn more about start-ups working in the digital utilities sector, make sure to check out our other publications on the GSMA Digital Utilities website.
The Digital Utilities programme is funded by the UK Foreign, Commonwealth & Development Office (FCDO), and supported by the GSMA and its members.