For longer than a decade, Lebanon has hosted more refugees (mostly from Syria) proportional to its population than any other country in the world. The economic reality for these people is difficult, with nine in 10 families living in extreme poverty, compounded by broader trends in the country such as currency depreciation, inflation, and impacts related to the Beirut Port explosion and the COVID-19 pandemic.
North and Akkar Governorates are particularly underdeveloped and more economically fragile than the rest of the country. It is estimated that a quarter of residents are refugees. In 2021 and 2022, the GSMA partnered with UNHCR and The Research People to conduct research to understand how Syrian people and the Lebanese communities who host them in North and Akkar access and use mobile technology, what future preferences may be, and the barriers and challenges that they face.
This blog highlights some key insights related to access, but far more information can be found in the Lebanon-specific case study.
Access to mobile phones
Promisingly, our study found that almost nine-in-ten people, from both the refugee and host communities, own a phone. However, this high figure masked some important and less positive disparities; refugees were far less likely than their Lebanese counterparts to own a smartphone (proportionately, roughly 40% less likely in both locations) and while women's ownership was generally on par with men, they also were also much less likely to own a smartphone or use mobile internet.  Similar trends were seen when looking at the experiences of older people and those with disabilities.
These findings are important to consider when talking about how 'nearly ubiquitous' phone access within these communities opens channels for digital communication and services, as it indicates those most likely to face marginalisation are also those less likely to be able to use internet-enabled services.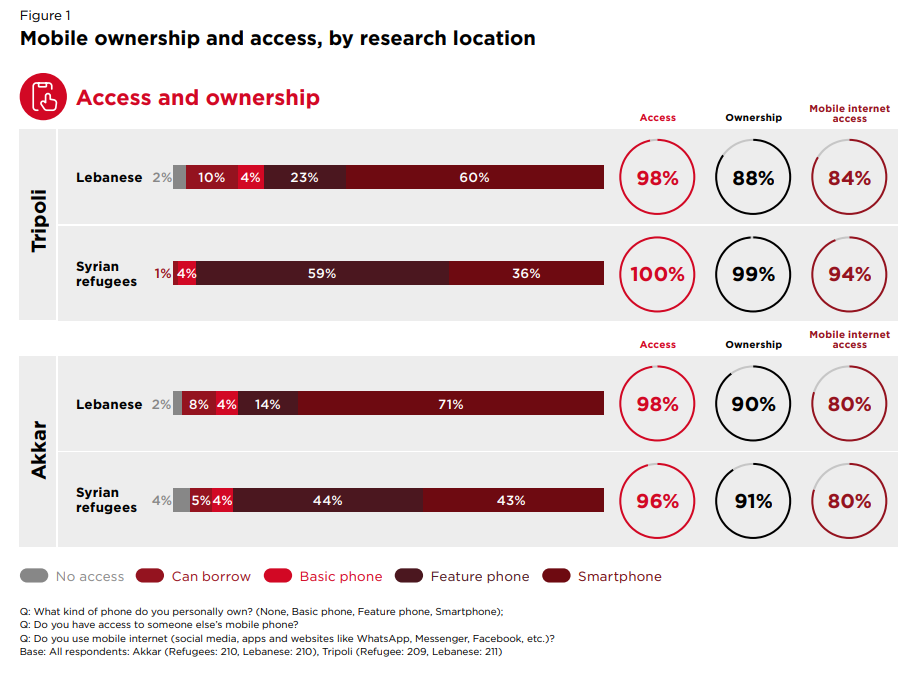 How people use their phones
For those who do have access to a phone, our research found that they use them for a wide range of things. These include communication, taking photos and videos, and using the inbuilt torch. Those with smartphones also talked about social media when they could access the internet.
When talking about the core use case, communicating with loved ones, we found that many Syrian people spent hours each day calling and messaging. They most commonly report using WhatsApp for this, as it is free to use (especially when using Wi-Fi) and works on slow connections. Additionally, they report keeping a very small public footprint online, preferring to communicate with a smaller group of people drawn from their own community.
Challenges
Research participants told the research team several things about phone use which frustrated, challenged, and discouraged them. For many Syrians, there was an inherent distrust of social media, which was linked to the history of censorship and surveillance in Syria. Additionally, several people, especially women, are worried about experiencing abuse and confrontation when they're online – especially in the form of hate speech and anti-refugee sentiment. These fears related to surveillance and aggression meant that people deliberately curtailed the size of their networks, communicate only with people they already know, and often use pseudonyms.
Participants also complained that prohibitive costs restrict their ability to use phones as much as they would like. More than half of those who don't own a phone says it is because of costs and for those who use phones, 20% said that the cost of a data bundle is one of the main challenges they face to ongoing usage. This is exacerbated by the fact that the ongoing economic hardship in Lebanon has led to rolling blackouts which come with periods of network downtime, cutting off connectivity even for those who can afford it.
This insight comes from a larger piece of research looking at the role of mobile technology in the lives of displaced people and the communities who host them in Lebanon, Papua New Guinea, and South Sudan conducted by GSMA, UNHCR, and The Research People. Those interested in these topics should download the full report:
---
This initiative is currently funded by the UK Foreign, Commonwealth & Development Office (FCDO), and supported by the GSMA and its members.