MWC Barcelona and 4YFN 2022 kicks off on Monday 28 February and runs until Thursday 3 March. When you're at MWC in person, you very quickly realise that it really is the world's largest and most influential connectivity event. The impressive exhibits and conference agenda ensure that there really is something for everyone. This year, the GSMA Innovation Fund and Connected Society teams have been working hard to ensure that when we say 'for everyone', we really mean it. We're pleased to share an overview of some of our upcoming activities at MWC and 4YFN related to the digital inclusion of underserved population segments.
Meet Our GSMA Innovation Fund Grantees
This year, we're pleased to say that several of our GSMA Innovation Fund for Mobile Internet Adoption and Digital Inclusion and Assistive Tech grantees will be at MWC22 Barcelona. If you're looking to connect with passionate people who are leading truly impactful innovations, then be sure to swing by the M4D start-up pod (4YFN, Hall 6 Stand 6C7.2, roster):
Omer Iqbal | Knowledge Platform | Pakistan
Knowledge Platform's EdTech solutions like Learn Smart Classroom and Learn Smart Pakistan are bridging the education divide for Pakistan's youth.
Bola Lawal | ScholarX | Nigeria
An EdTech start-up that developed a digital skills learning app called LearnAM which will provide basic digital skills to the underserved.
Akeel Khalid | Vceela | Pakistan
Vceela's eCommerce platform is connecting artists and artisans to the local and international markets, enhancing their ability to source raw materials, market and sell their products, collect payments and receive microfinance.
Ezana Raswork | Africa 118 | Ethiopia
Africa 118 provides affordable Mobile Digital Starter Packs to Ethiopian SMEs to help them to build a strong digital presence and grow their business.
Ali Shabbar | DeafTawk | Pakistan
DeafTawk's digital solution provides on-demand access to quality sign language interpretation services for the Deaf.
Tarun Sarwal | SignAble Communications | India
The SignAble app connects the Deaf community with sign language interpreters for enhanced communication.
Shakul Sonker | I-Stem | India
I-Stem have developed an online and app-based platform that provides AI-enabled, high quality accessibility conversion services for people with disabilities.
Luke Muleka | Signs Media Kenya Limited | Kenya
Signs Media's assistALL app provides on-demand access to quality sign language interpretation services for the Deaf.
Liliane Munezero Ndabaneze Chabuka | WidEnergy Africa | Zambia
Providers of last-mile delivery of clean, reliable and affordable energy and connectivity solutions.
Mayur Ghella I iSAT Africa | Uganda
Providers of end-to-end rural connectivity solutions including Passive, Active, Power and Backhaul solutions.
TBC | NuRAN Wireless | Ghana
Provider of carrier grade low CAPEX and low OPEX Mobile Broadband Infrastructure Solutions.
Sign Language Interpretation – an MWC First!
In addition to several other efforts to enhance accessibility at MWC, this year, deaf MWC attendees will be able to access conference content in their first language! DeafTawk and Jazz Pakistan are partnering with the GSMA to provide universal sign language interpretation at all MWC keynotes, D4T sessions and the 4YFN session on Reaching Underserved Population Segments.
Connected Society sessions at MWC22 Barcelona
The Reaching Underserved Population Segments 4YFN session on Tuesday, 1 March will take place at the Agora stage in Hall 6 and will showcase learning from operators and start-ups on how to serve the needs of the underserved and how doing social good can be good business. The session participants include:
Max Cuvellier, Head of Mobile for Development, GSMA
David Woolnough, Deputy Director Research, Foreign, Commonwealth & Development Office
Claire Sibthorpe, Head of Digital Inclusion, GSMA
Zainab Hussain Siddiqui, Telenor Group
Ali Shabbar, CEO and Co-Founder, DeafTawk
Ezana Raswork, Managing Director, Africa 118
Shakul Sonker, Co-Founder, I-Stem
If you have a Ministerial Programme pass, you can hear from and meet our grantees, WidEnergy Africa and ScholarX at the NEXTECH: Pushing The Boundaries of Technology session taking place on Wednesday, 2 Mar at 14:15 – 15:30 CET.
For other M4D sessions at MWC please access the agenda here.
Meet Our GSMA Innovation Fund and Connected Society Teams at the Event
Some of our team members will be available at the event to share our latest insights with you, present more information on our GSMA Innovation Fund grantees and give you the latest updates on our programme activities. Don't hesitate to reach out to them ahead of the event and schedule meetings if you want to know more about our work!
Claire Sibthorpe, Head of Digital Inclusion
Melle Groenestege, Advocacy Director, Digital Inclusion
Martin Karanja, Director, GSMA Innovation Fund
Follow Us on Social Media
To stay updated on event highlights follow Mobile for Development on LinkedIn and Twitter. Other M4D colleagues worth following for Digital Inclusion updates: Max Cuvellier, Claire Sibthorpe, Kim Viljoen, Martin Karanja, Wade Owojori and Melle Groenestege.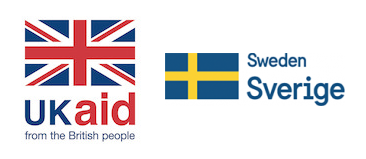 The GSMA Innovation Fund and Connected Society programmes are supported by the UK Foreign, Commonwealth & Development Office (FCDO) and the Swedish International Development Cooperation Agency (SIDA).
---